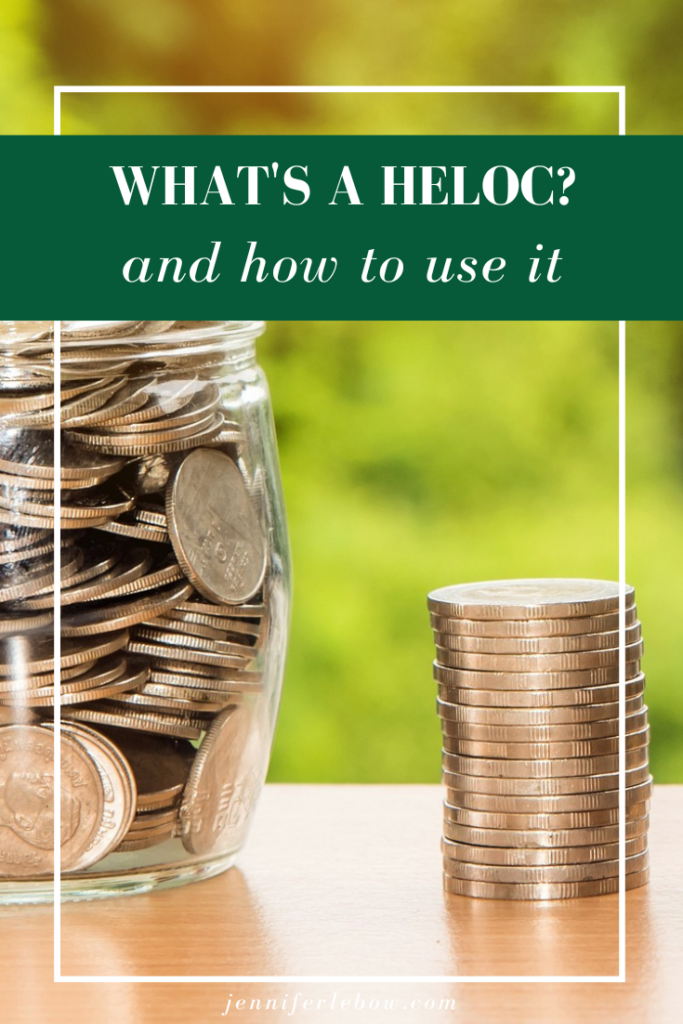 What is a HELOC?
Let's talk a little about what a HELOC is and how/when it can be useful. First, a definition of some terms:
HELOC: a home equity line of credit
Equity: your home's current value minus the amount you owe on the mortgage
Variable interest rate: a rate that changes based on the Fed's prime rate
A HELOC (home equity line of credit) is "potential" money. The idea is that, based on the amount of equity you have in your current home (see definition above), you can secure the ability to borrow up to a certain amount, using the equity you have in your home as collateral. While you need to speak to your lender about your specific situation, one example might be:
Example
Your home is worth $800,000. You still have $500,000 left on your loan from when you purchased the house. The bank may only want your total loan + HELOC amount to remain under 80%. So 80% of $800,000 would be $640,000. You already owe the bank $500,000. So they would probably (again, this is just an example; every scenario is individual) allow you to secure a HELOC of up to $140,000.
Pay interest only on what you use
The nice thing about a HELOC is that if you don't actually borrow any of that money, you pay no interest on it. If you do (let's say you take $50,000 to remodel your kitchen), you make a monthly interest-only payment on just the $50,000. So, different than a conventional mortgage, you are NOT paying off any principal unless you choose to. The requirement is only that you pay the interest. At what rate? At whatever the current rate is, and it fluctuates. So, again, dissimilar from a fixed rate mortgage, your payment is NOT the same every month. Not only are you only paying interest, but you are paying it at a variable rate.
When should you consider getting a HELOC?
Before you need it–it takes around 3-4 weeks to get the paperwork done and once you have it, again, unless you actually borrow against it, it doesn't cost you anything.
When your property value is at its highest–remember, the amount of the HELOC is based on the value of the home at the time you apply for it, so when property values are high, you stand to have access to the highest amount of money to borrow if you need it. So if you secure the HELOC today, when your property is worth $800,000, even if next year, it's only worth $700,000 (and value is based on the bank's appraisal software's valuation), the amount you can borrow does NOT decrease.
What can you use HELOC money for?
You can use these funds for anything. It's basically like a checking account. You could pay your kid's college tuition one semester if your income falls a bit short. You can use it to purchase a car, or repave your driveway. So while you can use if for anything you want, write those checks after careful reflection. You will not only have to pay interest on whatever you use, but, of course, you eventually have to pay that money back (and, if you haven't paid it back prior to selling your home, you must pay it back when you sell).
If you have a good deal of equity in their current home and are trying to buy another home, you may want to discuss with your lender whether it makes sense to use HELOC funds to help with the cash portion of the purchase. It's possible that doing so could reduce the amount you need to borrow, which can make your interest payment more manageable. Just keep in mind that you would need to pay that money back upon the sale of your current home.
HELOCs are best looked at as emergency money or a "rainy day fund". When the house's value is high (and when you have a reasonable amount of equity), it may just make sense to apply for one "just in case". Remember, if you never use it, there's no fee, interest or penalty.
What are the potential negatives of using a HELOC?
With a variable interest rate, you can't predict how much you'll need to pay every month for the interest accrued for whatever amount you've actually used.
Just like with any loan, you need to be sure you can pay it back. If you are planning to sell your home, be sure to estimate your proceeds conservatively and earmark what is needed to pay the HELOC off. If, though, you are not planning to sell, make sure that you have the means to eventually pay off whatever amount you've used.