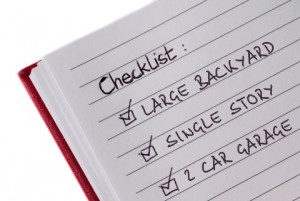 The process of actually identifying a house that you would like to buy is the biggest chunk of the home buying experience in terms of time, energy and effort. The first step is to define, in the abstract, which features you really want.
The first thing that I do with my buyers is address the "soul searching" component that I think is required of all buyers in order to clarify their priorities and end up with a house that they love. As elementary as it seems, I have found that, in order to zero in whether prospective buyers really should be buying and, if so, how to focus their search so they end up with the best fit is to ask the (deceptively) simple question: "Why are you considering buying a house?"
The reality is that, once that question is posed, if buyers truly consider it, the ensuing discussion yields the most useful information necessary to identify IF a purchase makes sense and, if so, what kind of home I should be helping them find. So, for example…
Well, our house is too small. We had no kids when we bought it and now we've outgrown it. Great. That comment lets me know that, no matter how nice a neighborhood is or how well updated a given house on the market is, if it doesn't give them measurably more space, it's not going to be a good fit.
I have a new job and the commute is too far. Ok. Makes sense. So what is the maximum commute that buyer is willing to do and is it by car? Or does he want to be near a train station? Is it easy to get a parking permit at train stations in the areas he's considering?
More often, answers sound more like this: We'd like a nice neighborhood, not on a double yellow line road. We want a garage and a big yard and schools are really important to us but we don't want to be more than about half an hour from our jobs. Oh—at least four bedrooms and two full baths and an updated kitchen and finished basement are important to us but, if we could find something that needed those things for a little less, we might be able to do the work ourselves…. Aha. So now it starts to get complicated because, invariably, no matter the budget, it's difficult to find one property that has everything a buyer is looking for.
That's where prioritizing and compromising come in. I always tell my clients that they need to be honest with themselves about what they can and can't live with. If big closets are important, then I need to be sure that there's enough room for clothing storage (sometimes there's room for creativity, like if there's a small 5th bedroom that could be converted to a great closet). And if a garage would "be great but we've lived without one this long, so it's not a deal killer," I start to understand which properties might work and which are simply not good solutions.
Generate an honest, but open-minded list of house/neighborhood features you can and can't live with, and ones you can't live without. This includes commuting distance and school district as well as lot size, condition, number of bedrooms and whether there is a garage. Be really self-critical in this step (though you may need to see a few properties before you can re-evaluate this list).
Be financially realistic–if the property on your wish list is simply not available in your price range, regroup and see how you can adjust your parameters–could you spend more? could you look in a less expensive area? could you make due with something smaller?
Listen to your agent.  He may have insight that causes him to caution you about certain houses or, conversely, suggest you look at ones you might not have put on your list.
The point is that taking some time to ask yourselves "why" you are moving can really put your priorities into focus. I also always hope it will plant the "you're going to have to be open to compromise" seed. Some buyers like to use a spreadsheet or point system when comparing/considering houses to feel confident in determining if a house would be a good fit. Here's my two cents on this topic:
It's a great idea to put those things down on paper to help you clarify what's most important. Point systems are great because they not only force you to rank things, but they can show you if you and your significant other don't necessarily agree on those criteria (which is hard, but must be addressed). Now, that said, sometimes, quantifying things like the value or closet space or a flat backyard can be like nailing Jello to a tree, but I do think it's worth trying. Once you've done your best to set up the objective analysis piece, remember that, in order to make a wise choice in a home purchase, you need the emotional component of "I could see myself living here" or "It feels like home". Sometimes, a house's characteristics, on paper, make it seem perfect, but if "you're just not feeling it", don't ignore your gut. That visceral response is equally important.