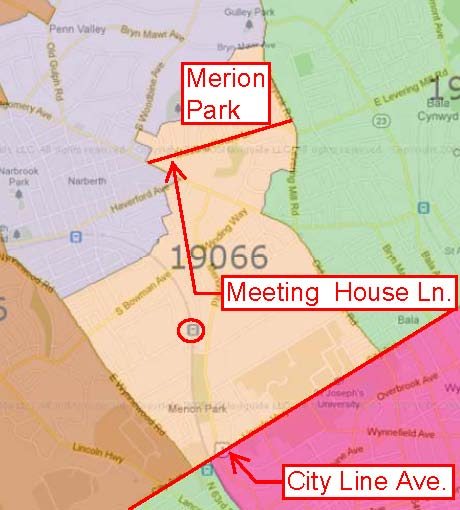 Merion Highlights
Shopping: gifts, women's accessories, clothing, jewelry
Food: coffee shops, restaurants, delis
Entertainment/Culture: Merion Meeting House, parks/playgrounds, Merion Tribute House
Merion is a great example of the Main Line's variety in a microcosm. You'll find modest twin homes that are among the least expensive on the Main Line as well as moderately priced homes like the ones in Merion Park. This section of Merion is a wonderfully "neighborhoody" neighborhood in that it houses a lot of families and the park is the natural meeting place. Because of its two playgrounds, a ball field, walking trail, tennis and basketball courts, it is a big draw. Dog walking is a prime activity and, like the College Park section of Bala Cynwyd, there is very little drive though traffic.
Across Meeting House Lane (named for the Merion Friends' Meeting House, built in 1695 and still in use today), is Montgomery Ave., which comprises most of the shopping area. Hungry people often stop in at Hymies, a deli institution. There are several salons, accessory shops and jewelry stores in this area. Just down Montgomery Avenue, you'll discover Merion Mercy/Waldron Academy, a beautiful example of traditional stone and slate-roofed Main Line architecture. Directly across the street is the brick-paved section of Merion Road, another one of those quirky historical Main Line mysteries (why was it never paved?)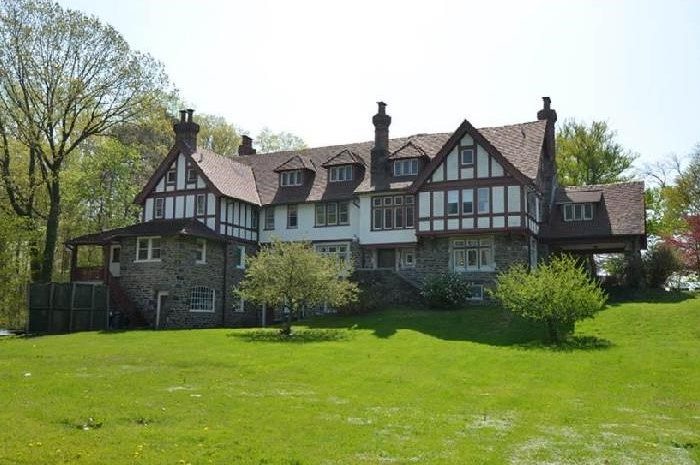 Moving south, into the section known as Merion Station, expect a variety of housing styles and neighborhoods. There are modest twins as well as some of the most impressive in the area, like those on South Latches Lane. This street was the location of the original Barnes Foundation which was recently relocated to center city after years of battle. This street is a quintessential Main Line estate block. It is also home to a portion of St. Joe's campus. This area is also home to the Merion Tribute House and Merion Botanical Park with specimen trees, a creek and a walking trail. Merion represents many of the characteristics associated with Philadelphia's Main Line in a relatively small geographic area. Even the train station is historic and very charming.
For more information on Merion, click here.
Read more about Merion on Wikipedia.
Merion Neighborhood Report