Ardmore Highlights
Shopping: Suburban Square, shoes, pharmacies, athletic equipment, art supplies, clothing, gifts, home accessories, department store, Clover Market, car dealerships, Apple store, jewelry
Food: Trader Joe's, Farmer's Market, Head Nut, coffee shops, several restaurants and cafes including Asian, Italian, French and Mediterranean
Entertainment/Culture: Skating club, Merion Golf Club, library, pool, senior center, parks/playgrounds
North Side Ardmore
The Lower Merion Township, Montgomery County side (north side) has larger, more expensive properties than the south side.  It has some tucked away, smaller streets with good-sized traditional homes including many stone Dutch Colonials. Porches are common and lots are usually around 1/3 of an acre  (but there is plenty of variety). Mature trees provide privacy from neighbors and once you're off the beaten path of Lancaster Avenue, it's almost exclusively residential.

There is a large shopping area right in the heart of Ardmore called Suburban Square , which is an  outdoor shopping center with stores like Nike, Lulu Lemon, West Elm, Free  People, Gap, Lily Pulitzer and one of very few Apple stores.  There are also some "non-chain" stores as well as a Starbucks, Trader Joe's and a very nice, year-round, indoor Farmers' Market with seating available for a quick bite. Other shops, businesses and township services have grown out from that central location and include several restaurants, shoe stores, drug stores, some one-of-a-kind gift stores and a very good art supply store called Merion Art and Repro. Don't miss the Skating Club either, where ice hockey leagues play and teenagers enjoy group skating on Friday nights.

South Side Ardmore
Ardmore is one of those communities along the Main Line that straddles two counties. The Haverford Township, Delaware County side (known as south side) tends to have smaller lots, including some twins and row homes. Homes located conveniently just south of County Line Rd., near the shopping, restaurants, library, senior center, community pool and train station clustered around Lancaster are  the most modestly priced in Ardmore. At the south western-most boundary of south Ardmore is the Merion Golf Club. The homes on its eastern edge are some of the most expensive on the south side of Ardmore which is often referred to as the "estate section" of the Delaware County section of Ardmore. Other south side neighborhoods border Havertown and feature older, more modest 3-4 bedroom homes that are mostly around 2,000-2,500 sq.ft. as well as some twins that are a little less expensive. This community (loosely referred to as Ardmore Park) is located very close to the 100 train line and the Head Nut , which is a place like no other selling every kind of tea, coffee, spice, dried fruit, flour, hot sauce and candy you could imagine.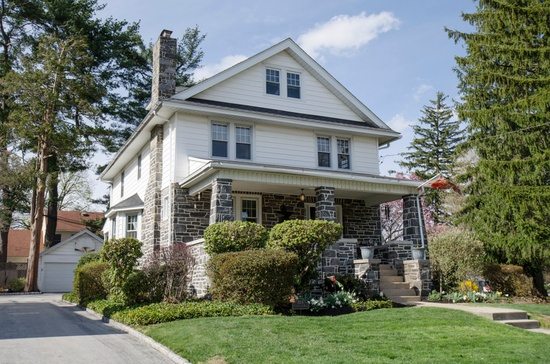 Ardmore has one of the most heterogeneous populations along the Main Line, which keeps it vibrant and active. It houses students (there are many colleges along the Main Line), single adults, "just marrieds", families, empty nesters and seniors. Due to the availability of lower cost housing, including apartments, people new to the area or in transit often find housing in Ardmore, even if temporarily, so there really are people from all walks of life.
For more information about living in Ardmore, click here.
Read more about Ardmore on Wikipedia.
Ardmore Neighborhood Report