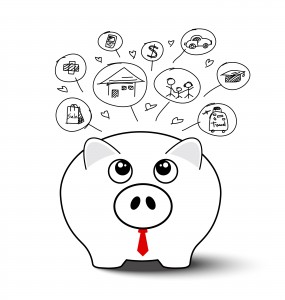 While your mortgage professional will try to get a picture of how much money you can afford on a monthly basis for your mortgage, interest, real estate taxes and homeowners insurance, there may be some expenses that he or she doesn't think to ask you about. The last thing you want when buying a new house is to find you can't afford to live there. Here are some questions buyers I've fielded from buyers that you should consider:
What if there's a homeowner's association that charges $225 per month?
What if a house I'm considering have propane ($$) heat or other costly utilities?
What if the roof is old?
Oh, there's a pool? What does that cost to maintain?
Speaking of maintenance, how much should you budget for maintenance a year? And not just for the house itself, what about the yard and the driveway? I heard tree work can be expensive. And my cousin had to spend $4700 to replace the sewer line to the street.
How much will it cost to furnish this place? We're coming from a 2-bedroom apartment.
How much does a mover cost?
And what about your financial situation? Do you have student loans? Is your money liquid? Thinking about what you can afford, if you do it right, requires you to prepare a budget or at least come up with a number in terms of what you spend a month.
Do you like to go out to dinner?
Do you want season tickets for the Eagles?
Is travel important?
Do you pay for any club memberships?
What about summer camp and orthodontia?
Be honest about these expenses. Being house poor is no fun and no matter how terrific a house seemed when you bought it, if it's costing you so much that you can't do any of those other things, you'll grow to resent it. Discussing these costs with a lender will help you understand and answer these questions. Then, you will have a much clearer picture of what you qualify for and what you can afford to spend on/for a house. Now you can see why these two numbers may not match.
So, I've made the financial obligations of buying and owning a house seem a little daunting, haven't I? Don't kid yourself: they are. I'd rather have my buyers go in with their eyes open so they don't end up house poor or, worse, forced to sell (possibly at a loss) because they are overextended and cannot afford their home. That said, there are actually some hidden financial benefits, which you should be aware of as well. As you know, as you pay down your mortgage, you are building equity. The idea is that, when you sell, you will most likely walk away with a profit (though you need to figure about 7% in closing and real estate fees). Clearly, there is zero profit to be made if you've been renting–you walk away with nothing to "show for" all the rent you've paid. What you might not know is that, when you pay a mortgage, the interest  is tax-deductible. So are your property taxes and, if you work from a home office, there are additional tax savings you could qualify for (ask an accountant for specifics).