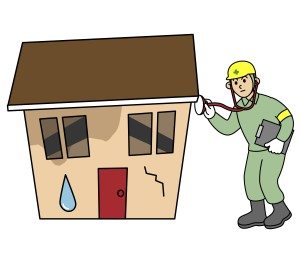 Digesting and understanding an inspection report (and separating the important stuff from the fluff) can be challenging, particularly if you are unable to be present for the actual inspection. However, most inspectors are very willing to go over the report with you and explain anything that requires clarification. Many also will give you a price range to remedy material defects or safety issues (the items they are required to note on their reports), which can be useful when negotiating, especially if it's too expensive or there's not enough time to have individual contractors come out for quotes.
Understand the scope of the inspection.  Read the section that explains what they are responsible for reporting (safety concerns and material defects, which are systems that have failed or are not functioning properly) and what they can't be expected to know about a house (like the condition of electrical wiring behind walls). They are not meant to comment on carpet stains, bent curtain rods and other cosmetic features.
Be clear about the "snapshot in time" concept.  The inspector can only report on what is evident at the time he inspects it. If a pipe that is intact the day he inspects it begins to leak a week later, he is not responsible for not having been able to predict its failure.
Think about the purpose of the inspection.  The goal is to educate you about potential problems with the house and help you figure out how to alleviate them/budget for repairing them.
Remember that the inspector's job is to look for problems. Even well-maintained houses will have items that are reported on an inspection. Realize you're buying a "used" house and don't be unrealistic in your expectations.
So, realize that the inspector is looking for defects and safety issues and don't be surprised when he finds some.  On the flip side, make sure you don't imbue him with super powers, like x-ray vision. He can only inspect what is visible and what he sees on that day. Even though inspections definitely have value to the buyer, there is still a certain portion of "buyer beware" that you need to assume.
Negotiations — Which items?
Every buyer has certain things that he or she thinks the seller has a responsibility to repair. Most of the time, that list doesn't exactly match the seller's ideas about what he or she should fix. And therein lies the reason we have these negotiations. When, as a buyer, you are deciding which things to ask for the seller to repair or to credit you for, (and it's important to talk to your realtor about the differences in the two scenarios—back to that shortly) please keep two things in mind:
You are not buying new construction, so it's unrealistic (not to mention unfair) to expect the seller to render the house brand new.
Put yourself in the seller's shoes. My most "reasonable" buyers, when it comes to writing a reply to inspection, are the ones who are also selling their homes at the same time and know what it's like to receive a reply to inspection that seems "nitpicky" or "ridiculous".
Negotiations—Repair or credit?
If  the seller chooses the contractor, the buyer has no control over the quality of the work.  (That said, any repairs the seller does are to be done in a "professional manner" and the buyer must be satisfied with the work.)
If the buyer is going to redo the bathroom and the inspection shows a leaking shower pan, do you really want the seller to repair it (vs. give you a credit)?
If the seller agrees to repair something and the job ends up being more expensive than anyone had thought, the seller is responsible for completing it, regardless.  If a credit is agreed on and the buyer discovers it's a bigger project than anticipated, he's usually not very happy.
If a buyer accepts a credit to repair something, he can't have that work done until he takes possession of the house.  Consider your time line for moving in and whether any repairs will delay you (which can cost you money).
There is also a psychological point to consider: some sellers are less likely to give you a cash credit than spend the same amount fixing things because they suspect (sometimes accurately) that the buyer is just trying to squeeze money out them and may not even intend on fixing the items that they claim the credit is for.
Remember, you can also be creative here: might a home warranty or water company insurance satisfy your concerns about something on the report, or be a compromise you and the seller can both tolerate? Your agent should be able to give you guidance during this negotiation and help you think about how much certain things will cost, which things on the list are most important to you to have remedied, how long you might be able to wait (and save) to do them, etc. Your agent should also guide you as to when it's wise to have a specialized contractor come to the house to provide a quote and when it's "safe" to rely on the home inspector's estimate. Sometimes you have more to think about after an inspection than when you originally decided to buy the house!