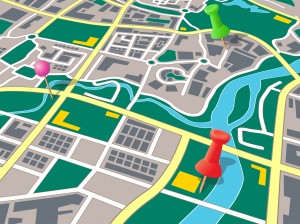 We all know that certain areas are more expensive than others.  When you are identifying neighborhoods that you are interested in, be sure you know why you've selected them.  What is it about those areas that is attractive? What does "location" mean when you're considering buying a house? Well, several things.
Commuting distance to school/work
Accessibility to places and activities you frequent, like the airport, ballet lessons and the drug store
Which school district you're in, (which on the Main Line, is a huge consideration)
The kind of street you're on—double yellow line road?
Whether you're within hearing distance of a highway?
How much privacy you have from neighbors, including lot size
The style of homes in the area
The general "feel" of the neighborhood
Let's say you can't find something that meets all of your priorities (I know, inconceivable, but just humor me). If you've set a 30 minute maximum on your commute, but you want a minimum of four bedrooms and an updated kitchen and baths as well as a finished basement, what happens when any house that meets that criteria in the area you've chosen exceeds your budget by 25%? What do you do? Maybe you look in a different area. Maybe you borrow less and choose to liquidate some savings you hadn't planned on using so you can increase the budget but keep your monthly payment the same. Maybe you decide you'll consider houses with older bathrooms and commit to spending half of what you have in the past on travel and set a goal to save enough to redo them within four years. Or you decide that the finished basement can, with some creative thought, serve the guest room purposes you needed that fourth bedroom for.
My point? You need to be honest about what you really need (or can't abide) AND be prepared to be flexible and willing to compromise on the rest. Remember, too, that no matter what the budget, it's nearly impossible to get everything you want and nothing you don't want in a single property. So don't expect perfection and you're less likely to experience disappointment.
Please note a Pennsylvania idiosyncrasy regarding school districts that greatly affects housing values and how you search for houses. While in most places, if you live in a fairly small town, all the houses are within the same school district. That is not the case here. We have towns as well as townships and their borders are rarely the same. As a result, our townships, which dictate which schools any given property is districted to, sometimes divide towns right down the middle. Certain towns, like Wayne and Newtown Square each funnel to three separate school districts, so be aware of that fact when you are searching. So, if you can find a search engine that allows you to plug in school district, you might want to use it. Or, better yet, let me search for you!