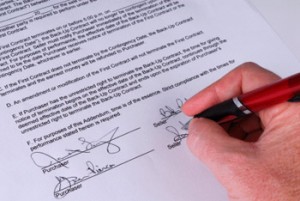 Once you've seen some properties, you may find one that you're considering making an offer on. For some people, that thought is immediately followed by this one: "What if I'm making a mistake? What if this isn't the right one?" People often ask me how they will know when they've found the "right house". Here's my answer:
Although it makes me smile when my buyers walk in to a house and say, "This is it. This is the house," there is not one single "right" house, which, by definition, implies that all the others are "wrong". Obviously, there will be houses that are not the right fit. The goal is to find a house, choosing from what's available at the time you're looking, that meets your needs "on paper" AND resonates with you on a more emotional level. I just caution you to not set yourself up for disappointment by expecting that there will necessarily be a house out there that, if you could but find it, would be so obviously "the one". There isn't just one.
Review your financial situation, double check with your mortgage person about all the costs as well as timetables involved. Also check your priorities list again, to make sure you're not being swayed by one factor, like curb appeal, if the house really doesn't meet some of the other important criteria.
The nuts and bolts of an offer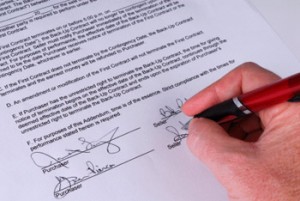 Once you've decided that a certain house could work for you and that you want to make an offer, your realtor will walk you through the process. While not an exhaustive list, here's a good guide for what you need to consider when writing an offer:
Pre-qualification letter
Financial obligations and resources for the purchase (down money, closing costs, moving costs) as well as monthly (including taxes, insurance and home maintenance)
Seller's assist
Settlement date
Inspections–which ones and the time period in which they must be completed
Mortgage information including commitment date
Inclusions and exclusions
Buyer's responsibilities to avoid default
First thing: make sure you have that pre-qualification letter I mentioned from the lender. It will need to be fewer than 30 days old. I'm not going to mention every single thing that goes into an offer, as every state is a little different, but some major things to consider, other than the offer price include the settlement date, which inspections the purchase will be contingent on, how many days you have to perform and negotiate those inspections, how much you will be putting down in deposit money and when those deposits are due (make sure funds are liquid enough so you're not in default of these dates) and be sure to specify inclusions and exclusions (like window treatments, washer and dryer, swing sets, etc.
Be sure that you are VERY clear on when you are required to formally apply for the mortgage, furnish the reply to inspection and the second deposit check, provide the mortgage commitment, and any other date-sensitive responsibilities. Understand that the seller can potentially terminate the deal if you do not meet those deadlines and he might, if he thinks he has a "better" buyer.
You should also think about whether a seller's assist is in your best interest. In essence, a seller's assist is when you inflate the purchase price by a certain dollar amount that the seller then contributes toward your closing costs at settlement. So, for example, if you were going to offer $400,000 for a house, but find you're a little short of cash for the closing costs, you could offer $408,000 with a $8,000 seller's assist. The seller still nets $400,000, but you will have $8,000 of your closing costs already taken care of. You will have a tiny bit more cash out (as, if you borrow 80%, you will now have to put down 20% of the original $400,000 as well as of the additional $8,000 you're building into the purchase price, which is an additional $1600) as well as a title insurance amount that might go up $20 or so and your 1% transfer tax will be on $408,000 instead of $400,000, but you still have a lot more cash with the $8,000 to be provided by the seller.
Seller's assist discussions flow perfectly into the topic of appraisals. The most important thing to think about if you are considering structuring an offer with an assist is this: your mortgage company will agree to lend you a certain percentage (usually 80%, 85% or 90%) of the APPRAISED VALUE of the house, which everyone starts by assuming is going to equal the purchase price. It usually does, but if you start to artificially inflate the price to get a seller's assist, you need to be aware that the property might not appraise for the inflated price. If the house only appraises for, say, $403,000, then the bank will lend you, for example, 80% of $403,000, not 80% of $408,000. That means the difference in cash due will be made up by you.
The agreement of sale in Pennsylvania states that if the appraised value is less than the purchase price agreed to by the buyer and seller, the buyer can terminate and receive all deposit money back or the buyer and seller can renegotiate something satisfactory to both parties. So just be careful, even if you are not asking for an assist, that your agent looks at comparable sales to get a sense of what appraised value might be (appraisals are not completely objective; no two appraisers will be identical, but the goal is for them to find comparable sales that support the price agreed to). While your deposit money is protected in the event of a "bad" appraisal, if you and the seller are unable to compromise to reach a new agreement, it means the contract is terminated and you have to start your home search all over again.
Read the seller's disclosure carefully; if the roof is 21 years old, you should be budgeting for a new one. Your offer should reflect that you've read and understood that document. (Of course, there will be discoveries as the result of inspections and those negotiations happen after you're already under contract so they are a second, totally separate set of negotiations.)
Once you've made the offer, expect a counter from the seller. It's rare that an opening bid is accepted as is. Sometimes, in situations where a buyer offers above asking price, it might be. However, if you considered putting in an over-asking price bid, chances are, another buyer might, too. So there can still be negotiations and counters from the seller, even if you offer asking or above. Buyers who find themselves in multiple bid situations sometimes consider signing a form called an escalation clause which gives the listing agent permission to increase your bid by a specified amount in case another buyer's bid is higher. In any event, be sure that your agent communicates clearly with you so you can make quick but informed decisions about counter offers.
Negotiating an offer
It's rare that a seller accepts an offer exactly as it's written. A huge part of your agent's job happens at this stage of the game. There's a delicate balance between playing hardball and recognizing that you get more flies with honey than vinegar. There's always the pressure of trying to guess what the seller's bottom line really is and how any bluffing might go over. I have found it does pay to try to find out what matters to the seller, so, if it's not a hardship for you, you can offer something that you know the seller wants (like settlement a week sooner than you'd originally offered) in the hope of getting something you want in return.
Once you're under contract
Immediately schedule inspections! They can take five or more days to schedule, especially in the spring when the market is busiest and one way to make your offer to a seller more attractive is to have a shorter inspection period. Why? If you choose to walk away after inspections either "just because" or if you and the seller can't agree on what should be repaired, the seller can get his house back on the market sooner and lose less time. The other reason to try to get the home inspection done early in the specified time period (this period is a number of days you and the seller have agreed to as part of the contract) is that you want as much time to schedule other contractors (plumbers, roofers, electricians, etc.) so you can get estimates for issues that the home inspector brings to your attention. Also, as soon as you have an executed (signed by all parties) agreement of sale, formally apply for your mortgage.
A common concern at this stage of the game is "What if I get cold feet?" Understand when you're committed! Certain states have attorney review, and the deal is not actually executed until the end of that time period; in Pennsylvania, no attorney need be involved and we don't have that period. Once buyer and seller sign, it's a legal binding document and you can only get out of the deal and get your deposit money back under specific conditions. Make sure you understand what they are (ask your agent).