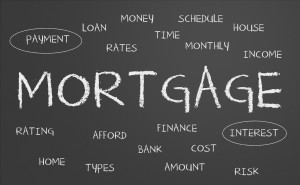 The very first thing you should do if you are considering buying a house is talk to a couple of mortgage professionals. I say "a couple" because there are lots of different options and programs out there and no one person has them all to offer. Additionally, you may be able to obtain a better rate if the person you're talking with knows that he or she has competition and that you may get your loan from someone else.
What do you qualify for?
What are the different types of loans? FHA? Conventional? 30-year fixed? ARM?
What are the guidelines to get the best rate?
Alphabet soup—what's a GFE? What's APR?
The formula the mortgage industry uses to determine what you qualify for is based mostly on your income and your liabilities (car payments, student loan payments, etc.). Your mortgage professional will calculate your debt to income ratio in order to determine the amount you qualify for as a first step. Sometimes, there are factors which can alter this number. For example there are "doctor" loans which take into account that, at the time a doctor is finishing residency, he probably has a lot of debt and not a terrific income, the expectation is that that scenario will change and those loans may qualify him for more than just the debt to income formula would. Your income may be commission-based or include performance-based bonuses, which may lead to more questions. The mortgage company will require even more documentation if you are self-employed. Once your lender has a clear picture of your financial situation, the next thing to tackle is type of loan.
Most buyers go with a conventional 30-year mortgage with a fixed rate, but there are shorter-term loans as well as adjustable rate loans. There are VA and FHA loans as well, designed for people who don't have much cash for a down payment. While they allow for smaller down payments, they may have mortgage insurance for the life of the loan (it never "rolls off" until the entire loan is paid off) and may have slightly higher rates. Be sure to discuss whether you want your taxes and home owner's insurance fees built into your monthly payment (so that you have the same financial obligations each month) or whether you just want to pay the bank your principal and interest each month and handle your taxes and home owner's insurance separately, in a lump sum when those bills come in. Most buyers go with the PITI (principal, interest, taxes, insurance) payment, but it's not the best choice for every buyer.
The "rate" that is published as today's interest rates assume a credit score of well into the 700s and often a down payment of 20%. Let's address the credit score piece first. I can't tell you how many buyers I've had who think they have great credit only to discover that getting rid of two credit cards they never used lowered their credit score! Sometimes one late car payment can do a load of damage. By the way, checking your credit too often can actually lower the score. Did you know that? If your credit is under about 740 (it vacillates with the economy), you probably won't qualify for the best rate. It can take six months or more to "clean up" a credit report, so be sure to know where you stand early on in the process.
As far as down payment amount goes, if you can't put at least 20% down, not only will your interest rate be higher, but you will probably have mortgage insurance added to your monthly payment. (If you are choosing a conventional loan, as soon as you have paid off enough of the loan so that the lender is owed LESS than 80% of the property's value, mortgage insurance typically disappears, but be sure to check with your lender.) Also, make sure your mortgage contact explains the difference between your rate and the APR (which can hide other bank fees and increase your monthly obligation). Insist on seeing a GFE (Good Faith Estimate) that outlines all of the mortgage company's fees, both for securing the mortgage as well as for making the monthly payment.
Finally, keep in mind that many buyers who already own a home (as opposed to renters) have to sell before they buy either to have the necessary down payment on the new house, to qualify for the mortgage, or both. Talk with your lender about your options–What's a bridge loan and do you qualify for one? What about gift money? Your mortgage professional is the first stop when you are looking at the financial aspects of buying a house, but there are other considerations, though, too, in terms of affordability.