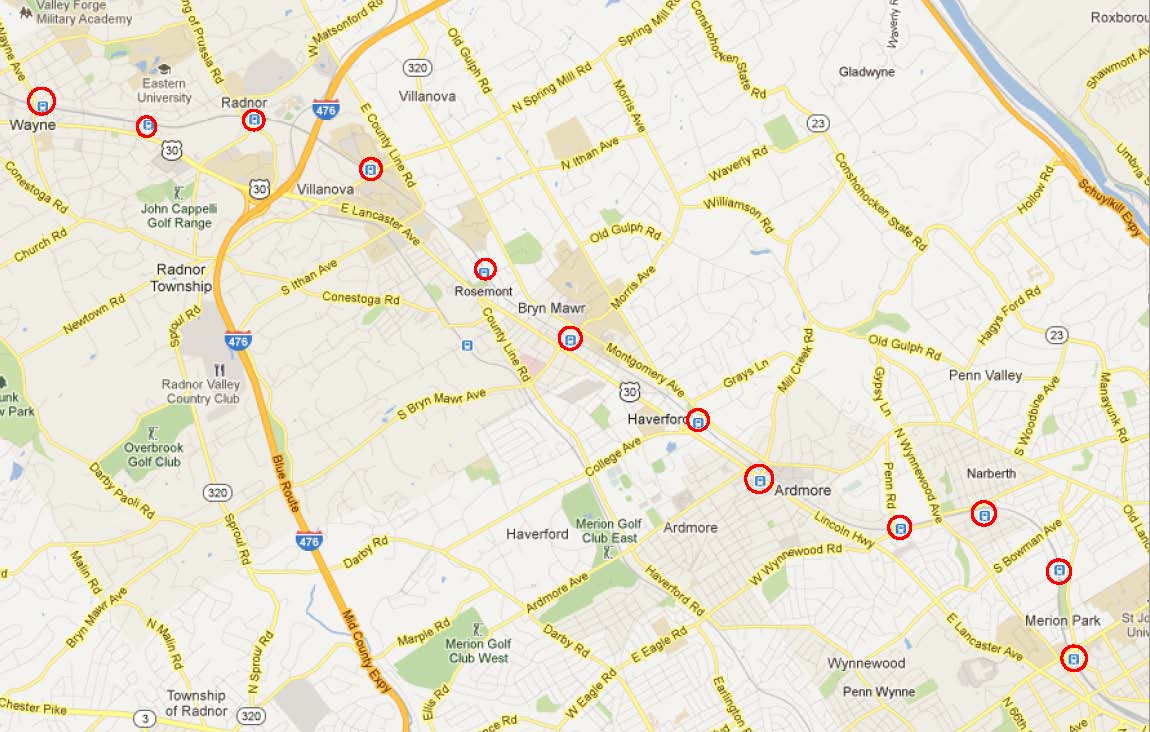 One of the best ways to visualize the Philadelphia suburbs known as the Main Line and understand some of its physical layout is to learn a little of its history. The moniker "Main Line" refers to the Pennsylvania Railroad train line that was built in the area beginning around the 1850s. Originally, many of the small towns were founded by prominent Philadelphia families who built summer homes "away from the city" but who used the newly built railroad to travel back and forth. So, while the Main Line now refers to areas slightly north or south, most of the towns are laid out along the railroad line, which runs parallel to Lancaster Avenue, also known as Route 30 (the oldest paved road in the country). As a result, many of Philadelphia's Main Line towns have a kind of town center clustered around services and businesses on Lancaster Avenue.
This mnemonic device has helped generations of riders remember the order of the stations on the Main Line. The first seven depots, comprising what is commonly considered the eastern section of the Main Line (and the oldest) are:
Old (Overbrook)
Maids (Merion)
Never (Narberth)
Wed (Wynnewood)
And (Ardmore)
Have (Haverford)
Babies (Bryn Mawr)
The remaining stations (western Main Line) are:
Really (Rosemont)
Vicious (Villanova)
Retrievers (Radnor)
Snap (St. Davids)
Willingly (Wayne)
Snarl (Strafford)
Dangerously (Devon)
Beagles (Berwyn)
Don't (Daylesford)
Period (Paoli)
Finally, there are Malvern, Exton, Whitford, Downingtown and Thorndale, but those are a little beyond the scope of this guide!
The north side (of County Line Road or Lancaster Avenue, depending on which town you are in) was where most of these well-to-do families built their mansions and the south side was where most of their employees and service people lived. So, the south side has more modest, less expensive homes on smaller lots. It is important to know in which township a given property is located. In addition, understand that even though some of these towns are only a few square miles, they may lie across more than one county. Therefore, taxes and schools, among other things, are affected by the particular location of a home in many of these towns. Purchase prices per square foot are usually higher in Lower Merion, while taxes are usually lower than in Haverford Township, but don't make the erroneous assumption many people do that lower taxes mirror "worse" schools. Lower Merion schools rated #4 in the state in a 2016 Niche study. Radnor taxes and prices are usually somewhere between the other two townships'.