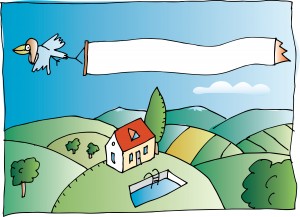 Every agent has his or her own marketing methods, but be sure to discuss how they plan to showcase your home. Obviously, a very strong internet presence is your number one priority—it should be prominently displayed on several real estate sites (both the brokerages as well as sites like realtor.com, zillow.com, trulia.com, etc.). Recognize, though, that it's the quality of what is on the internet that needs the most attention.
What should you expect from your home's on line listing, other than the items required by the MLS (including price, taxes, address, school district, number of beds and baths, utilities info, etc)?
Well-composed, clear, well-lit, high quality images of tidy spaces
Room dimensions
An accurate and appealing description of the house, property and neighborhood highlighting the best features
"Extras"–video tour, mapping feature (so people can see how far their commute is, for example), walkability score, mortgage estimates, ability to share/save the listing, links to school information, community demographics, etc.
Special incentives–a $3000 carpet credit? offer of a lease back or very long/quick settlement date? leaving the outdoor furniture?
As far as your home's on line presence, ask the agent how/where the listing is being advertised.  Is it on all the real estate websites? Will it be showcased as a "featured" listing? Remember that marketing is an effort to notify buyers that your property is now available and to focus their attention on all of its advantages. Some agents only pay attention to the house itself.  I think that's a mistake, because people aren't buying just a house, they want a new home, which is much more than the physical structure. So if you can paint them a picture of what it's like to live there (focus on the positives, obviously), you're a step ahead of your competition. Marketing should include, at least:
On line presence on real estate sites
Social media
Promotion within the real estate professional community–broker's opens, electronic postcards, office meetings, direct contact with other agents looking for properties like yours
Advertising to neighbors–just listed cards, open houses, sign
Open houses
Print materials left in the house providing information about the house, neighborhood, schools, community demographics
List of improvements seller has completed (new roof, replaced windows, refinished hardwood floors)
"Why we've loved living here" message from seller (near playground, great Halloween party, neighborhood book club)
Table tents/signage in the house drawing buyers' attention to hidden/special features (heated bathroom floors, electric shades for skylights, double deep pantry)
How will your agent continue to market your property once it's been on the market for a month? How responsive is he to agents who have questions about your property or requests to show it? Is he soliciting feedback from showing agents as well as agents attending the broker's open house and any prospective buyers who come to a public Sunday open house? Find out what he suggests you do if you don't get many showings, or, after a given period, you've received no offers. What is his recommendation? Are there additional repairs/improvements he thinks you ought to make? How will he broadcast news of a price reduction? To be honest, bringing people's attention back around to a house that's already on the market after the initial splash it (when it first hits all of the internet sites and pops up on people's saved searches) is difficult, at best. This fact is one of the reasons that setting the right price at the outset is so important. You only get one shot at that first "unveiling" of a new listing, so use it wisely!