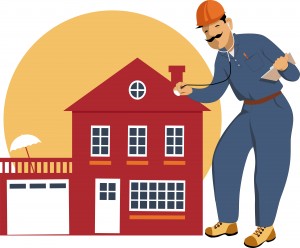 Once inspections have been completed, the buyer will send you a reply to inspection, which enumerates repairs they would like you to make and/or a dollar amount they would like credited to them at settlement. This reply should be accompanied by the inspection report which delineates the material defects or other problems the inspector has found. A few things to keep in mind are:
If it was disclosed, forget it. If something was noted on the seller's disclosure, and the inspector finds it (as it was disclosed and not "worse") and the buyer asks to have it addressed, I often respond with "well you knew that when we executed the contract."
It's not new construction. Since the buyer is not purchasing new construction, I don't believe he should expect all systems (roof, water heater, a/c units) to be new. As long as they are operating as they should, even if they are old, I don't normally recommend sellers credit toward those things.
Credit or repair? Sometimes, buyers use the inspection to ask for a credit back that they have no intention of using toward repairs. One way to combat this situation is to offer to have certain things repaired, as opposed to crediting money toward them. However, when a seller fixes things for a buyer, there can be some concerns. The buyer may assume that the seller is fixing it "on the cheap" so he has the smallest cash outlay possible. To combat this argument, ensure that the work is done by a licensed, insured contractor and that receipts are provided at settlement. It can also be inconvenient for you, the seller, to repair certain things while you're still living in the house. If it will upset the household, you might be better off giving the buyer a credit.
How strong a negotiating position are you in? Part of the negotiation strategy is to try to determine just how badly the buyer wants the house. Before I continue, I will say, at this juncture, that everybody has his or her own set of ethics. Take this example: If you think the buyer would still take the house if you didn't give any credit or repair anything, however, the inspector discovered a leaking sewer pipe that you hadn't known about, it's up to you to decide if you want to repair it or not. You might be able to sell the house as is and not be out a dime for a plumber. On the other hand, you might feel that, were you buying a house and a leaky pipe was discovered, you'd expect the owner to "do the right thing" and fix it. Your call. On that point, just as with negotiations on an offer, being able to put yourself in the other party's shoes is often the simplest way to come to terms everyone agrees on.