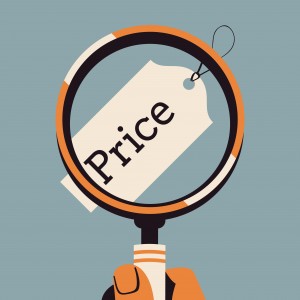 Setting the right price is possibly the most important piece of selling a house. If the owners' particular circumstances dictate a quick sale above the very highest net proceeds possible, a more competitive (lower) price might be the way to go. The other advantage to that strategy is that it sometimes invites multiple bids, which encourages prospective buyers to move more quickly (so they don't lose the house to another eager buyer). Even if time is not of the essence, (some sellers will say, "We're not in a hurry"), overpricing a house is rarely successful. All of the data shows that houses that are priced more than about 10% above their market value end up selling for less than that value. Why? Because that price brings in buyers who are looking at other things in that range. If your house is priced way too high, the people who see it not only feel that they could buy a "better" house for that price (that's called higher value).
Many sellers say, "Well, tell them to make an offer!" The problem with that approach is that the buyers who can afford a house in a much lower price range (whose offer you might take) aren't even coming to see your house, because it's so much above their means. So your house sits on the market. The longer a house has been on the market, the lower the offers, because the public knows it's overpriced (or someone would have bought it). They also assume the seller is more desperate to sell as time goes on. Price reductions, while often necessary at that point, produce the same sentiments and the house usually sells for even less than what it would have if it had been priced properly at the start.
When you are pricing your house, keep in mind:
The price should reflect the seller's goals
The price should not be appreciably above your agent's estimate of net value based on sold and active comps in your neighborhood
The price should not be set in stone–if you are not getting offers, be willing to lowering it, especially before it has been on the market too long
The price is a specific number (because you have to put a specific number on the listing), but remember that value is a range and is different to different buyers
So now you know how important it is to price it "right". But what does that mean? Well, it means putting it in a price range that comparable sales (as well as current listings) indicate a buyer might pay. Your agent will look up recent sales and houses that are on the market at the time you're getting ready to list and that are similar to yours in area, size, amenities, condition and other factors that would matter—like school district, or being in a quiet neighborhood vs. on a busy street. These "comps" will be analyzed to see how they compare to yours.
For example, your agent will help you figure out what it means if you have 200 more square feet than a house that sold around the block two months and updated bathrooms (which it didn't), even though yours doesn't have a garage nor a finished basement like theirs. You'll also look at what is available now in your area—if there is very little and it tends to be a desirable neighborhood, you might be able to net a slightly higher price than if there's a lot of similar inventory. Careful analysis of several sold and "for sale" properties will determine an appropriate price range for your property.
Note that I say "range" and not a specific number. Because no two properties are exactly the same and because there is not an absolute value to any part of a property (whether it's square footage, number of bedrooms, value of air conditioning or a remodeled kitchen, etc.), there is no way to come up with a single number. Furthermore, the value that any of those features has to a specific buyer is not exactly the same. Consider the value of your house to a buyer whose workplace is in walking distance—probably more than a very similar house a mile away. Let's say there's a house almost identical to yours for sale across the street which has a first floor office next to a powder room vs. one across the street who's office was made into a bedroom with a closet and direct access to that bathroom which was made into a small, but full bath with a shower. To a buyer who needs a house that can accommodate an elderly parent who lives with them and cannot climb stairs, that other house will be much more valuable. Competing inventory also affects the value—if there's a lot for buyers to choose from, your specific property won't be as valuable as if it's the only house on the market in the neighborhood. So recognize that the value of your home will always be in a range and not an exact number.