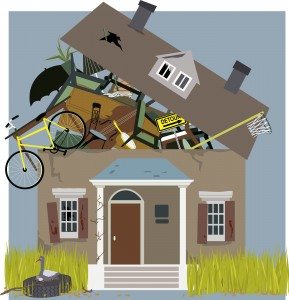 Staging is a vague word and, to some, means setting a table with elaborate place settings and turning down beds and putting breakfast trays with fake grapes and chocolate on them. That silliness is not what I'm talking about when I refer to staging your property. Staging, in my mind, is highlighting the best features of your property and improving the not-so-great ones as much as possible without an excessive amount of effort or money. For example, remodeling your kitchen for $75,000 in order to sell it is not staging. It's not anything but foolish as the ROI is maybe 70% of the investment. Putting a huge bowl full of lemons on your dining room table is also not staging. It's a possible indication the current owners have a fear of contracting scurvy or.
Declutter–take all the magnets and papers off the refrigerator, clean up the mud-room, organize the pantry and your closets (get rid of things you don't need that make it seem cramped or messy), box up the knickknacks, make sure shelving doesn't look crowded. Take a few pictures of the interior, even on your phone, and look at them.  Do they seem well-organized with a place for everything and everything in its place or could they use a little help?
Repair minor problems–touch up paint, fix broken screens, tighten the banister, adjust the hinges so doors all close.  The phrase to keep in mind here is that you want to "remove objections" a prospective buyer might have in a way that your cash and time expenditure makes sense.  Don't decide to build a garage or install central air, those improvements will increase the value of your house, but will cost you much more than that increase.
Cleaning–have a deep clean done inside, including the carpets, but also consider having your windows washed, your siding power-washed and any exterior paint touched up.  Keep the lawn mowed and tend to your trees and other landscaping.
Lighting–lots of people miss this one and it's easy.  Make sure every lightbulb in your house works and is the highest wattage the fixture will take.  Same for exterior lighting.  A dark, dim house (especially in the winter months) is much less appealing than a bright, welcoming one.
Furniture–critically examine each room and consider removing some of the furniture so it looks larger.  Especially in pictures, rooms with fewer things in them look larger and neater.
Exterior–landscaping and how your home looks from the outside creates a buyer's first impression. You cannot underestimate how important it is to do whatever you can to make it more inviting.  Plant some annuals or even buy some flowers for pots along the path or at the entry if the season is right.  If it's colder, try something seasonal like gourds or Indian corn, and, in snow, be sure to keep any paths and the driveway clear and accessible. Look for rot around windows and doors, paint that is flaking, stone work that needs pointing, etc.
The goal of staging is to make your house not only look its best but to make it as easy as possible (while still allowing for you and family to live there comfortably) to enable prospective buyers to image themselves living in the home with their furniture and style. That's why purple walls or other decorating choices that don't have mass appeal are targets for staging. Keep in mind that style trends affect home sales—for example, homes that have that "Pottery Barn" feel tend to sell for more because that style is very popular right now. If a buyer sees décor and furnishings that they consider attractive, (even if they don't have similar furniture), their impression is of a "nicer" house.
So, when I am preparing to list a house, I walk through the home and around the property with my clients and make notes about what I think needs to be done; if something is going to be too costly to make sense financially, I may try to suggest a mini-fix or a credit toward repair. Trying to hide something that is broken or damaged in some way is not staging. You don't need to draw attention to problem areas, but don't hide them. The seller's disclosure asks you about just about everything on the property and that form is a legal document. If a buyer thinks you've lied on it, he could sue your for fraud. So, please, don't emphasize the negatives, but don't be dishonest about them. Then the sellers need a realistic schedule to complete these improvements/changes so that staging doesn't delay listing the property. I do believe it's best to wait until the property is in the best shape before listing it, but only if it doesn't negatively affect the likelihood of a timely sale.