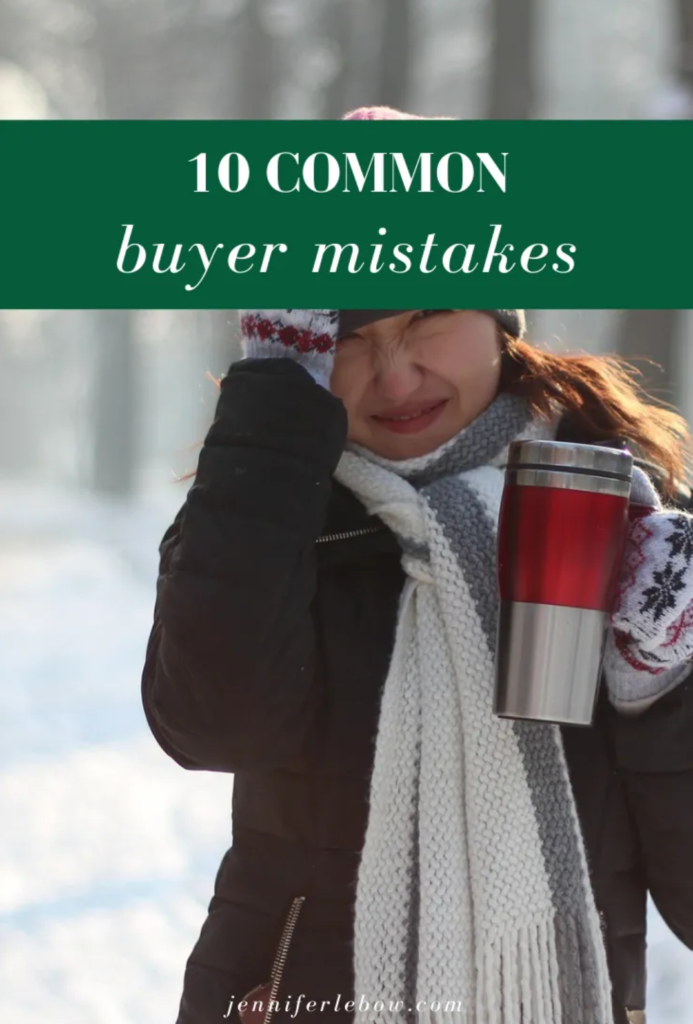 Mistakes home buyers often make
Buying a home is not a simple, linear process. There are lots of considerations and priorities to define. Deciding to make an offer hinges on several factors. Determining the details of an offer is challenging task on its own. Compromises are often required and new information often comes to light after the contract is in place (think: inspections). Educate yourself about the most common mistakes so you are more likely to avoid them.
Not understanding the costs
You want to be sure you understand the costs involved in buying a house. These include down payment money, closing costs, principal and interest on a mortgage, home owner's insurance and taxes. Furthermore, don't forget to budget for maintenance. Maintenance costs include lawn mowing, gutter cleaning, appliance replacement, paint, a new roof, air conditioning and heating replacement, window washing, plumbing repairs, new carpet, driveway sealing, tree trimming….etc. Don't forget there are also moving expenses and costs associated with the purchase of new furnishings and things like blinds and bathroom storage units.
Not having finances in order
A seller will need to see a mortgage pre-approval from your lender (if you are getting a mortgage) and evidence that you have the money for the cash obligation of your purchase. This category includes closing costs as well as your down payment. In many markets, houses are moving very quickly. If you see a property you like and it takes two days for you to get your pre-approval, it may no longer be available when you're ready to make an offer. So, be sure to talk to a few lenders before you start house hunting. Talking to more than one allows you to shop for the best rate, service and type of loan.  Once you have a pre-approval, you not only will have your paperwork ready for an offer, but you will also you know what you can afford and not waste time looking outside of your price range.
Not being realistic
It's fine to have a "dream home" file, whether in the form of a file stuffed with pages torn from magazines, on your computer or in your head. Lots of those pictures or features can be great resources to draw on when both looking for a house and once you have moved in. However, for most of us, our "dream home" is out of our reach. Be realistic about what you can expect, given your budget and other parameters. If you wait until you've found perfection, you'll be waiting forever. Decide which things really matter and which things you can fairly easily live without. And be sure to not look much beyond your budget as it will only lead to disappointment.
Not thinking outside the box
Unless you are building a house, it's  unlikely you'll find a property that has everything you want and nothing you don't. So while it's important to be clear about your "non-negotiables", you also need to be prepared to think outside of the box. For example, if an office is a necessity, consider whether a spot in the finished basement or extra bedroom might work. Consider a house that checks all the other boxes except for having a first floor powder room. What if you could carve out space for one if you took over the coat closet and a bit of the living room?
Not being aggressive enough with an offer
The market and how much interest there is on a given property determines how aggressive you need to be in making an offer. Aggressive, in this case, refers to how quickly you need to submit an offer as well as how favorable the terms to the seller need to be. If you are on the fence or decide you want to come back for a second look next weekend, that house may already be sold by the time you commit to making an offer. In some markets, you may be able to do that. In others, you won't. Once you decide to write an offer, you'll need to figure out the details. The specifics of the initial offer matter most in the event of a multiple bid situation. Your agent should suggest terms that will be most likely to appeal enough to the seller that you end up with the house.
Not looking at the right features
Buyers are often blinded by shiny appliances and surface upgrades. While cosmetic improvements certainly do have value, keep in mind that you can make those kind of change over time. I'd recommend spending more time evaluating whether the layout of the house, size of the spaces, and location suit your needs. Those characteristics are much harder and more expensive (if even possible) to change. For example, if the lot is severely sloped and you have young kids who you'd like to see playing outside, all the new quartz in the kitchen may not make up for the loss of usable outdoor space. If there's no first floor family room and you've determined that that is a priority, don't be so distracted by the gorgeous wood floors that you overlook what could be a major negative.
Not considering the location carefully enough
I always say that your home isn't just your house; it's your neighborhood, too. Think about whether the street/neighborhood is a good fit for you. If you want to be able to walk your dog or jog, can you do that? If you envision taking your kids door to door on Halloween, does this street fit the bill? Is there road noise or headlights from traffic that will be annoying? There are other factors affected by location, like a work commute. Whether by public transportation or private vehicle, how hard it is to get to work? Is it near the activities that are important to you (whether that's museums, shopping or a state park)?
Not doing your homework
Buying a house is a huge investment. While, again, perfection is not what you should be expecting, take the time to do your homework. Once you've decided what is important to you, research can prevent some potential missteps. If school district is important, be sure to find out which ones best fit your children's needs. Take the time to figure out the commute–if you plan on using public transportation, investigate whether there are any parking passes available for the nearest train station lot. What about the community? If you want to build a pool, inquire with the township about whether zoning constraints will allow it. Pay attention to the inspections. When it comes to a specific property, inspections will divulge any major issues you should be aware of.
Not reading the seller's disclosure closely enough
The seller's disclosure is often not given the attention it deserves. It is designed, at least in Pennsylvania, to disclose any defects in the house or on the property. For example, a seller should list there a leak in a pipe, a wet basement, a retaining wall that is leaning, any stucco damage, etc. It also asks the age of heating and cooling systems, the water heater and the roof. Beyond letting you know about any things that aren't functioning properly, knowing the age of the major systems is important. Why? Because as long as they are working, the inspector won't call them defective. However, if they are near the end of their useful lifespan, you'll want to budget for replacement.
Keep in mind that anything that is disclosed (even if the inspector lists it on the report) is something that you will have trouble convincing the seller to repair or credit for. In signing the disclosure (which is a required part of the offer), you are acknowledging that your offer is being made with full awareness of the contents of the disclosure. So coming back to the seller after an inspection and saying you want a credit toward a new heater because the one in the house is 20 years old rarely has any effect if the disclosure said it was 20 years old.
Not balancing emotional response with analytical evaluation
Sometimes, a house is incredibly charming, but does not meet the needs of a client and I have to point out the lack of closet space, or the fact that there aren't enough bathrooms, according to their requirements. Balancing the emotional response to a house with the check list of requirements is not always easy. However, both evaluations are important. If the space/location simply won't work for your family, and the issues are not easy to fix, then you should probably walk away. If a house meets all the requirements, but doesn't "speak" to you at all, you should probably walk away. Sometimes, it takes a little imagination: if the layout works, but it seems to have no personality, it may simply be a matter of decor and putting your personal stamp on the place. If, though, it just seems to be nothing more than a shelter from the elements, keep looking.
Use an agent
The above list is by no means complete as far as errors you can make when buying a house. They are the most common/detrimental. Most people only go through this process every ten years or more, so you can't be expected to navigate it easily. For that reason, I strongly encourage you to use a buyer agent. In almost every state, the seller has already budgeted to pay a buyer agent and if you do not use one, that commission usually goes to the listing agent, not back to you. So you are unlikely to save any money. Even if you could, the potential outcome from your not being intimately familiar with the process and all of the potential problems could end up costing you much more, both financially and emotionally. I liken it to writing your own will. You CAN, but the overwhelming majority of people pay the small price to have an expert (estate attorney) draft it so all the things you might not have thought of are properly covered.
While the house hunting and purchasing process is complicated, it can be fun, too. If you are armed with information, like the most common mistakes listed here, you are off to a good start. Combine that knowledge with partnering with a good agent and you're most of the way there.