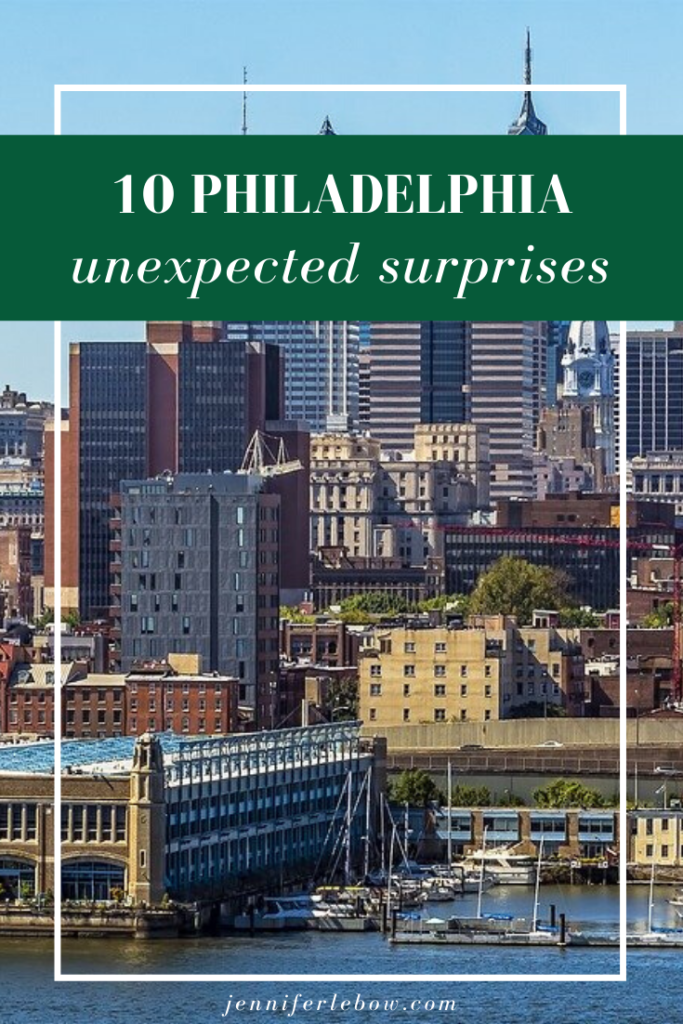 Philadelphia may surprise you.
Whether you are visiting or considering relocating to the Philadelphia metro area, you may be surprised by some of the unique features of the region.
1. Philadelphia is a city of neighborhoods.
Within the city limits, Rittenhouse Square, South Philly, Mt. Airy, Chestnut Hill, Manayunk, Fairmount, Washington Square, Society Hill and Northern Liberties all have distinctly different feels. To read about the different areas, click here. For a more information on the neighborhoods, Wikipedia provides a good list. If you are interested in living in the city itself, you may be pleased to find out that it's considered one of the most walkable cities.
2. Philadelphia is a city of "firsts" and "oldests".
As one of the oldest cities in the country, Philadelphia's history is one of the richest. This list mentions some of the "firsts" and "oldests" records held here. Looking for some interesting trivia about the city? There's plenty, including the oldest brewery (Yeungling) and the first library.
3. Philadelphia is a haven for health care.
Philadelphia is home to the oldest medical school in the country as well as one of the most interesting, if macabre, museums of medical oddities. That theme is reiterated in the robust health care industry of the area. There are so many medical schools and hospitals in this city, one out of every six doctors in the country has trained in Philadelphia. So if good health care is an important consideration for you, Philadelphia is hard to beat.
4. Philadelphia is a foodie's dream.
Sure, there are some great restaurants here. There are also, though, some signature local foods that any self-respecting resident should know about. The cheesesteak, of course, is probably the most well-known. Then there are hoagies, which are know as subs elsewhere. Scrapple, a sort of sausage, is a favorite and soft pretzels, introduced by the Pennsylvania Dutch are ubiquitous. Water ice is also on the list.
Beyond the foods themselves, there are a couple of places that food-lovers will want to visit. One is the Italian Market, the largest and oldest outdoor food market in the U.S. The second is Reading Terminal Market which was originally the train station for the Reading Railroad (think Monopoly). Begun in 1853, it is a wonderful place to try all kinds of food. It is the oldest continually operation farmer's market in the country. Read more about it's history here.
5. Philadelphia is the B.Y.O.B. capital of the country.
If you like dining out, but don't love always paying a lot for wine during dinner, Philadelphia will delight you. Spurred by expensive and difficult-to-acquire liquor licenses, restaurateurs in the Philadelphia metro area took matters into their own hands. With more B.Y.O.B.s than you can shake a wine bottle at, they come in all neighborhoods and cuisines. For a guide, click here and here.
6. Philadelphia's art scene is a marvel.
With Alexander Calder sculptures lining the Ben Franklin Parkway and an incredible number of museums, Philadelphia's art scene is impressive. As the epicenter for mural arts, the city has the largest amount of public art you'll find in the country. The Pennsylvania Academy of Fine Art, found on the Avenue of the Arts in a glorious building designed by famed local architect Frank Furness, is the oldest art school and museum in the nation. Philadelphia is also a hub for impressionism: no other museum outside of Paris has more impressionist paintings.
7. Philadelphia's Fairmount Park offers a wealth of activities.
Fairmount Park is the largest municipal park system in the nation. With jogging, biking and even horse trails, there are plenty of opportunities for exercise. There are open fields, wooded paths and waterways that are all part of the system. It also includes buildings, like the Japanese Tea House and Horticultural Hall. For more, click here.
8. Philadelphia has the Main Line
The western suburbs of Philadelphia, known collectively as the Main Lin,e is an extremely popular place to live. With easy access to the city, it has some of the top-rated school districts in the state (and even the country) and is home to many beautiful stone homes nestled in long-established neighborhoods with mature trees and lovely surroundings. This area is served by public transportation (the "Main" train line is where the region gets its name) and offers the benefits of suburban living with the advantages of easy access to shopping, dining and Center City.
9. Philadelphia is home to many incredible gardens.
Longwood Gardens is one of the most celebrated gardens in the world. In addition to it's incredible grounds (which are enormous), their extensive greenhouses can entertain you for hours in the dead of winter when nothing is growing outside. They put on a wildly popular light and fountain show during the winter holidays and they offer special classes and tours, as well. Longwood isn't Philadelphia's only garden though. Bartram's Gardens, was begun by John Bartram in 1728 in an effort to learn about plants from all over. It continues to be an educational destination with wonderful programming. Chanticleer, in Wayne (just outside of the city) is a beloved garden as well with walking paths that meander through natural displays of artful plantings. Then there are Jenkins, Tyler and Morris aboretums as well. Philadelphia has no shortage of gardens! And if you want to venture to Wilmington, Delaware, Winterthur is not to be missed.
10. Philadelphia is close to more than you'd expect.
Are you wondering what there is to do nearby? Beyond the museums and other attractions, there are tons of activities and destinations within just a few hours of the city limits. You can be in NYC in 2 hours or so, "down the shore" (that means the Jersey beaches), in the Poconos for skiing or lake adventures or in Pennsylvania Dutch Country. There are wineries and tubing/kayaking/canoeing options as well. Plenty of hiking choices, too. Here are some suggestions for day trips. Some other recommendations, with a bit of overlap is here. For more local things to do, click here and here.
To learn more about attractions. hotels, dining, etc. in Philadelphia, go to http://visitphilly.com.
If you are relocating to the Philadelphia/Main Line area, please go to my blog page and search for posts using the relocation tag. Contact me to discuss your Philadelphia area relocation! jen@jenniferlebow.com/610 308-5973