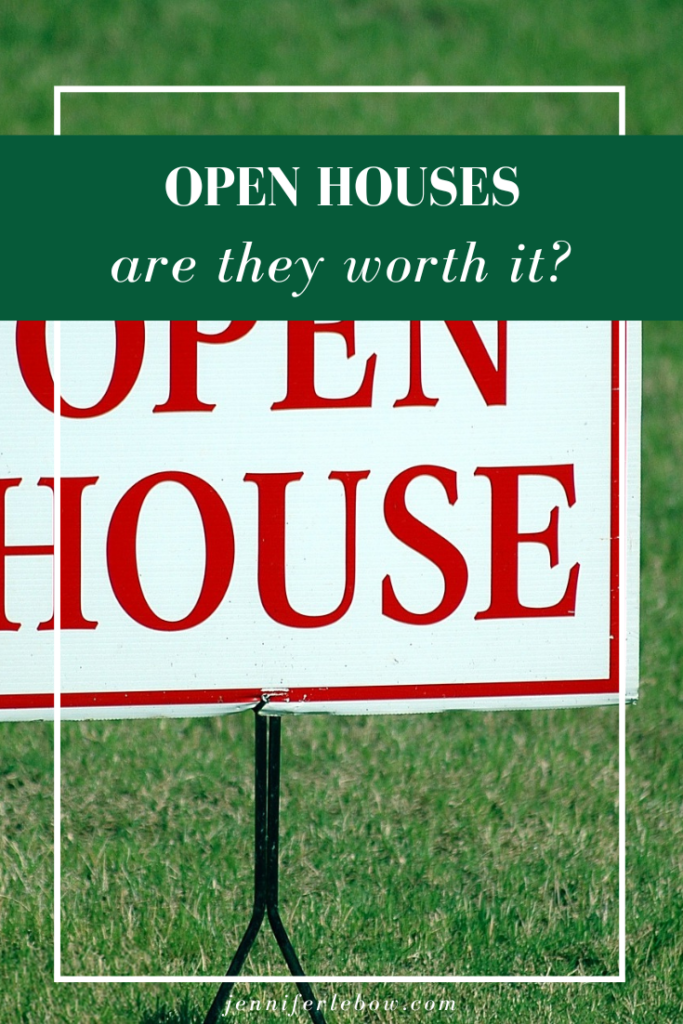 What is an open house?
Just to be clear, an open house is a set period of time (usually 2-3 hours) when prospective buyers can come to walk through a listed property without an appointment. They also don't need to be taken through by an agent; they can just come on their own. Generally, visitors are asked to sign in, providing a name, contact info and the name of their agent (if they are represented by an agent). Is an open house worthwhile? Should you bother to have one?
Who comes to an open house?
In theory, prospective buyers are the target audience for an open house. That said, you may also get extended family members of those buyers, as well as "nosy neighbors" who have no intention of buying your house. Then there are the "lookie-loos", described as people who are not in the market to buy a home (or at least a home at your price point) and come to see "how the other half lives".  You also may get some "tire kickers"–people who might buy, if they happen to find a great deal on the perfect house. These types are usually not seriously looking and don't have an agent, so they can only see the house if it's open. Finally, you may get agents who are either previewing properties for (or with) their buyer clients or are just curious to see how your agent staged your home and ran the open house.
After learning the potential number of visitors who are actually NOT in the market for a house like yours, you might decide it's a waste of time. But wait! Not only are the majority of people actually true prospects, but some of the others might actually be curious about seeing the house because they think someone they know could be interested. Consider this scenario: your neighbor comes to see the house because she has a friend who is ready to downsize and the neighbor would love for the friend to move nearby. Now you might see that open house visitor as not just a "nosy neighbor".
Pros of having an open house
Buyers who might not have made (or been able to get) an appointment for a private showing may come to the open.
Buyers who have seen it already often use the open house to come for a second look. And they often bring family members, which is sometimes discouraged by sellers or their agents for private appointments.
Buyers who can't commit to a specific appointment time can decide at the last minute to come to the open house.
The more people are there, the more that busyness telegraphs that it's a popular house and that people should move decisively to make an offer so they don't miss their chance.
Open house signage and promotion on social media and elsewhere is extra advertising for the property.
Cons of having an open house
You have to get out of the house for several hours (this can be challenging if you have young kids or pets).
You have to get it looking pristine (see above for extra challenges).
You will have lots of people tromping through your home which may make it dirty.
You can't control who comes into your house–as long as people sign in, anyone can come.
If you have anything of significant value, like a wine collection, or sports memorobila collection, you need to either remove it, or have the agent bring a helper to make sure nothing walks away.
Make an informed choice
Some sellers decide to have an open house; others choose not to. There is no single solution that fits everyone. So consider your particular circumstances and talk to your agent about what makes the most sense. A caveat: you should be aware that listing agents personally benefit from holding open houses. They hope to pick up unrepresented buyers who come through the house. Even if your property is not a match for those people, your listing agent is likely to try to engage them to discuss what they are looking for and then offer to send them listings and work with them to find them what they are looking for. Don't get me wrong; I am not suggesting that this benefit means that if your agent wants to plan an open house, that he or she is scamming you, or that it's only to help fill his or her pipeline. However, if your agent is pressuring you to have an open house and, understanding the pros and cons, you don't want to, recognize that the reason to have one might be more about the agent's personal gain and less about selling your house. Either way, determine whether an open house is worthwhile in your specific situation.