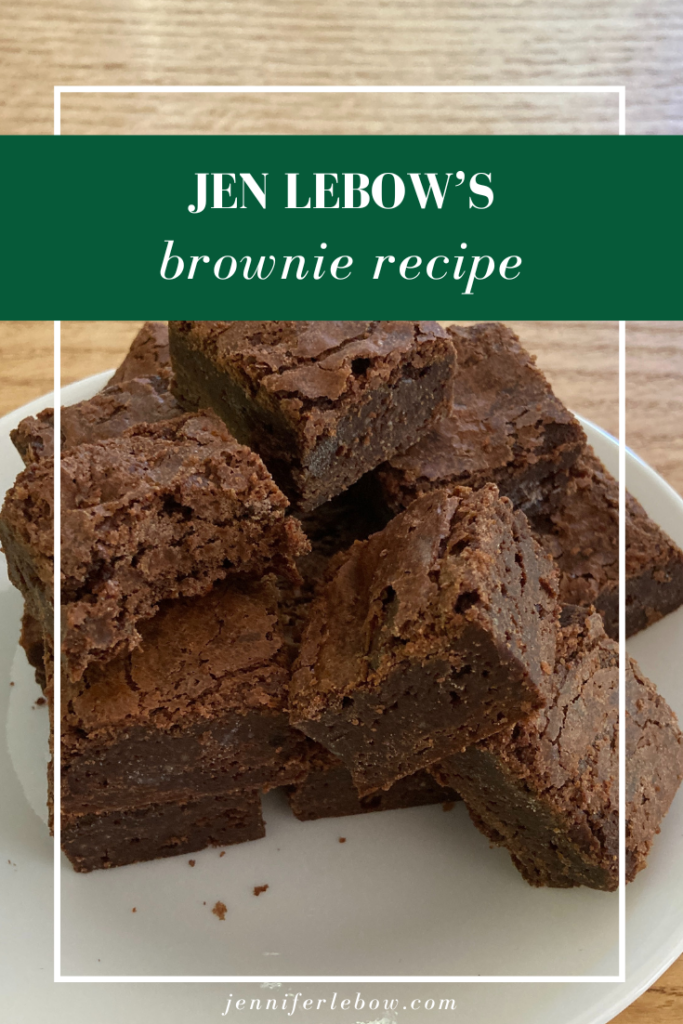 Jen LeBow's Brownies
Preheat to 375 degrees
Line a 10 x 15 pan with foil that hangs over the short edges (so you can lift them out once cool)
If you don't have a 10 x 15 pan, ¾ the recipe and use a 9 x 13.
I never eat these fresh; once I cut them, I put them in the freezer and like them right out of there. Super dense and fudgy.
Melt over very low flame, stirring regularly til smooth:
2 ½ sticks (1 ¼ cups) unsalted butter
2 1/3 cups semi sweet chocolate chips
While metling chocolate and butter, combnie in standing mixer, :
1 2/3 cups sugar
1 cup brown sugar
Add  melted chocolate and butter combo to sugars and mix til combined.
Add and gently combine :
5 slightly beaten eggs (if you  overbeat them,  the top crust will get dry and separate)
2 T vanilla
½ t coffee extract
Add and gently combine:
1 1/3 cups all purpose flour (sifting it is a good idea)
3 T unsweetened cocoa
½ t salt
Pour batter into prepared pan and let rest 10 minutes.
Bake about 45 minutes.
Cool about an hour, then put the pan in the fridge. After about 4 hours, it should be cool enough to lift out brownies and cut them. I put them directly into the freezer.