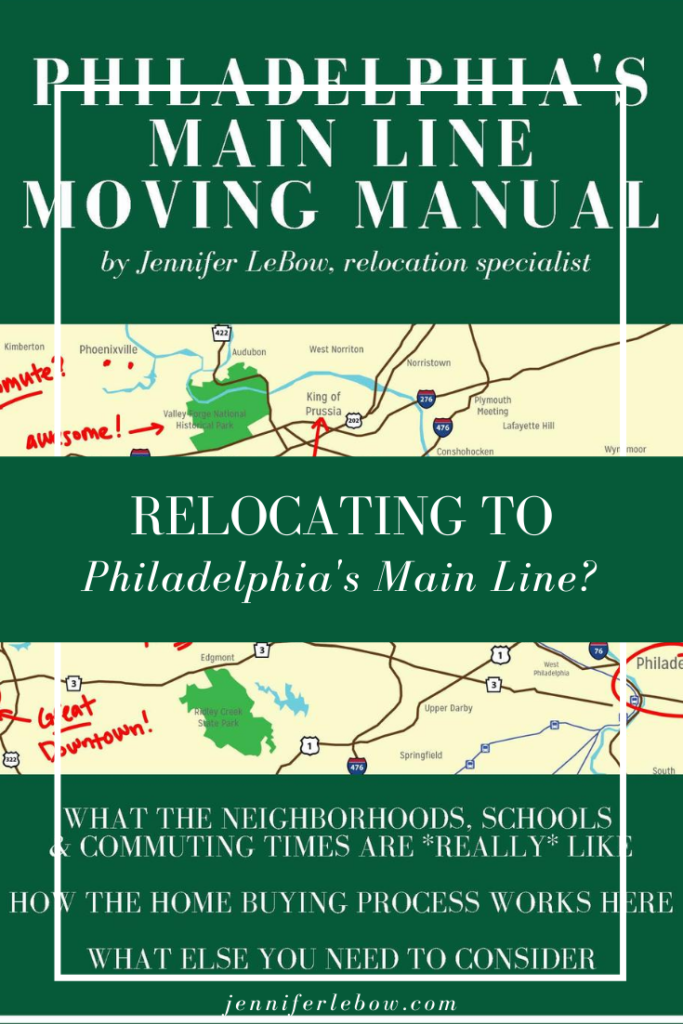 So….you're moving to the Philadelphia area and you think you might want to live on the Main Line (the suburbs to the northwest of the city). First of all, let's make sure this area meets some of your basic criteria.
Location
The Main Line begins at Bala Cynwyd, the eastern-most town. Opinions vary regarding where the Main Line ends, but let's call it somewhere around Paoli. Depending on whether you need to commute, note that if your destination is Center City, it will take about 15-20 minutes in commuter traffic from Bala Cynwyd and up to about an hour from Paoli. That said, the Main Line is named for the train line that was built when the area was developed. Therefore, if you find a home near the train, you can commute that way, avoiding rush hour traffic.
Lifestyle
The eastern communities (including Bala Cynwyd, Merion, Narberth, Penn Valley, Gladwyne, Wynnewood, Haverford, Bryn Mawr and Villanova) offer a variety of neighborhoods, but, in general, they don't feel particularly remote. Shopping, dining and other services are mostly clustered around Lancaster Avenue (Route 30) and are convenient to most of the residential areas. As you move west toward Wayne, Devon, Berwyn, Malvern and Paoli, there are certain sections of those areas that feel a little more rural and/or removed from the hubbub.
As a rule, the Main Line caters to a fairly high-income, well-educated crowd. Not surprisingly, plenty of services targeted to this population are available. For example you'll find farmers markets, Trader Joe's and Whole Foods. There are a multitude of salons and gyms and lots of activities and classes for kids. Restaurants and upscale retail abound but there's also room for Bed, Bath and Beyond, DSW, Staples and CVS.
While there are some "walkable" locations, people who are looking for more of a city lifestyle may not find the Main Line to be a good fit. Ardmore, Narberth, Bryn Mawr, Wayne and Media (just south of the Main Line) each have some kind of town center, but most are centered around Lancaster Avenue, which is a four-lane road. The area is not at all suburban in the way that many areas with lots of development housing is. There is much more of a historic feel to the properties and the streets, with mature trees and none of that "new construction" feel. So, while it's not that kind of suburban, the Main Line is mostly a car culture.
Schools
Many relocators to the Philadelphia area know before they start their home search that they don't want to live in the city. They want a yard, easy parking, a single family home, more of a neighborhood feel. So those people are already considering the Main Line. For those who might not be decided on the suburbs, sometimes they are swayed by the very highly-rated school districts. Lower Merion, Radnor and Tredyffrin-Easttown (T-E) are, along with several others, ranked among the highest in the state. The Main Line also boasts some of the best private schools in the country and there are schools for different special needs or focuses.
Main Line Neighborhood Guide
So, if you think that the Main Line might be worth exploring as a place to live, you'll want more specific information about each town. Please click here for my Guide to Main Line Neighborhoods and here, for the more complete Main Line Moving Manual. You can also click the "relocation", "towns" or "schools" links on the home page of my website for more information. If you'd like to receive my complete Main Line Moving Manual, which includes the neighborhood guide as well as Home Buying 101 (explaining the local process, step-by-step) and lots of other important information, just send me an email and I'll send it right out to you. It's free!
If you are relocating to the Philadelphia/Main Line area, please go to my relocation tab.  If you'd like to read other blog entries related to relocation, please scroll down a couple of lines from here and click on RELOCATION (to the right of FILED UNDER). Thanks!