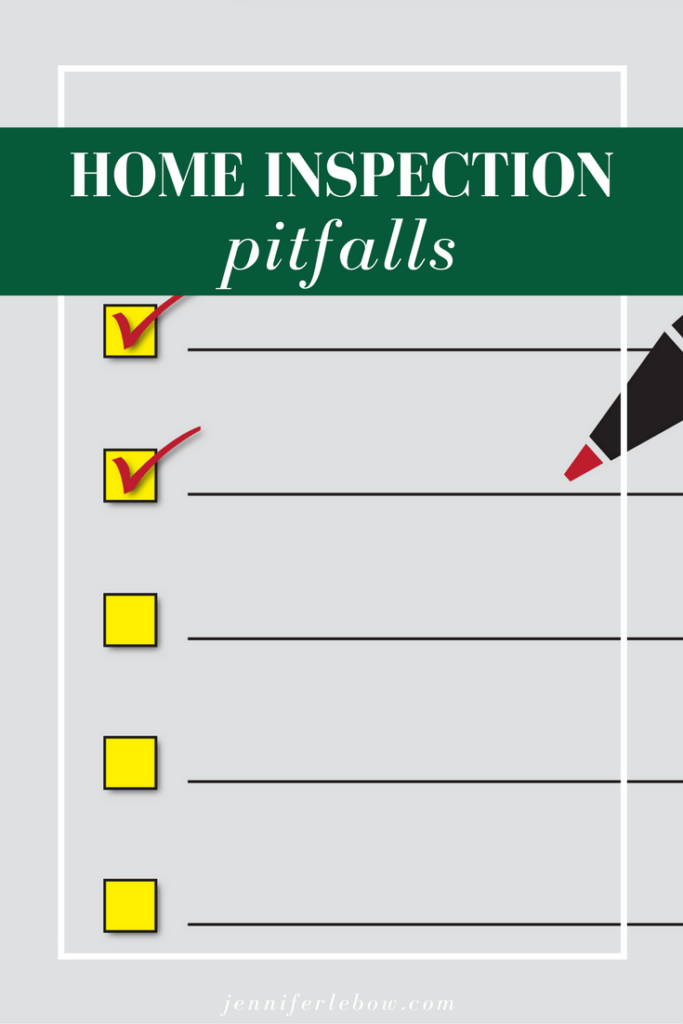 What is the big deal about home inspections?
Home inspections always stress both buyers and sellers. Buyers worry that there will be all kinds of things wrong with the house and that the seller will not want to remediate or credit them money toward repairing them. Sellers worry that they will have to spend a lot of money to keep the buyers in the deal and that they may end up not netting as much as they'd expected or need to.  Guess who else gets anxious about inspections?  Both the buyers' and sellers' agents. The agents know that sometimes, inspectors "scare" buyers into thinking something is a major defect when our experience says it's a common issue and that plenty of people either live with it or find an easy solution. Buyers who are concerned about buying the "money pit" may bail and then both they and the sellers are disappointed by the transactions' failure to come to fruition.
What is the scope of a home inspection?
A lot of the anxiety surrounding home inspections can be alleviated if you take the time to consider what the job of the inspector actually is and what he can realistically report/suggest. One of the very first lines of text on any standard inspection report pertains to the fact that the the inspection is a "snap shot" in time, meaning that the report can only reflect what the inspector was able to observe that day.
So, for example, something like a water stain along a basement wall might indicate a recurring water problem. However, if the inspector's moisture meter doesn't show elevated readings at the time of the inspection, he cannot write in the report that there is moisture penetration in the basement.  He will probably note the stain and write something like "possible water penetration; further evaluation needed by a qualified contractor." Another important point to realize is that inspectors can't see through walls. They have no way of knowing that there could be a wire with a short circuit or a roof that is going to start leaking next month.
What is the purpose of the inspection?
The job of a home inspector is to examine all of the systems, from plumbing, to electrical, to HVAC, to exterior, etc. and to note safety concerns and material defects.  A material defect means that something is not operating as intended (for example, if a pipe is leaking or an air conditioner is not turning on when it should, or the tub is not draining well).  Home inspectors are not meant to perform a township code inspection.
What I mean is that any house, at the time it's built, must pass a township inspection making sure it is built to the current building code. Resale homes may not meet current codes in certain areas (for example, kitchen islands are supposed to have at least one electrical outlet).  If there is a safety concern, like knob and tube wiring, the inspector will note it, but be clear: the sellers are in no way required to bring things up to current code.
What can I expect from the inspection?
Recognize that the inspector's job is to look for problems. An inspection is performed so that the buyer has as few potential surprises as possible.  That said, no house, unless brand new, should be expected to have zero issues.  It just doesn't happen.  Everyone who lives in a house, whether it's for sale or not, could have an inspection done and it would turn up a certain amount of items an inspector would note in his report.  If buyers understand that, they should realize that expecting a seller to fix everything an inspector notes on the report is, in most circumstances, unrealistic. Learn more about what an inspection is meant to be and what you, as a buyer, should expect.
How to read a home inspection report
Different inspectors use different formats. Certain standards apply, though. For example, they all divide the report into sections that correspond to categories like plumbing, electrical, exterior, HVAC, etc. Additionally, they almost always have a summary section which highlights the safety hazards and material defects. There should be plenty of pictures as well of the problem areas. After that, there is some variation. Some reports have a rating system for each item inspected: acceptable, marginal, defective, for example. I've also seen line items labeled "improve", "repair" and "safety". Others are written in a paragraph format with highlighted text for the items the inspector believes are significant issues.
One other note: there is plenty of "boiler plate" language on any inspection report. You'll see notes about grading the soil at a certain pitch away from the house, keeping trees trimmed, caulking windows, etc. Often, the subject property doesn't require any of these improvements, especially if there is no evidence of associated problems. So don't automatically assume that you should be asking the seller to remediate something that has not led to any kind of issue.
How to determine which things to ask for
How to reply to the inspection–what things to ask for–is one of the most difficult things for buyers to navigate. The most important thing to remember is that you are not buying a new house. It's like buying a used car: the systems should function properly, but there may be a scratch in the paint or some wear on the leather seats. Here are two scenarios I often suggest my buyers consider:
This report came back from the buyers of a house YOU OWN. You've been living there for 10 years. Which of these things would YOU find it reasonable of the buyers to want repaired?
If you moved into this house and the sellers had not repaired (nor offered a credit toward) any of the items noted on the report, which ones would you think were major enough that you would repair them yourself?
Trying to look at the report through the eyes of the seller can help. Remember that the inspector's job is to nitpick. Then remember that almost no one lives in a home that an inspector wouldn't find fault with. Keep those things in mind when coming up with your list of items. Here is a helpful list of items it probably does not make sense to ask the seller to fix.
Finally, note that sellers often assume that the reply is another negotiation and many agents caution their buyers that no matter what they ask for, the seller is likely to offer less. Bearing this tactic in mind, you might want to ask for a little more than you really would accept. That's a conversation to have with your agent as it may depend on how much demand there is for the house and many other factors.
Should you request a repair or credit?
Once you have decided which things you'd like repaired, you need to decide if you're asking the seller for a credit or to make the repair.  There are pros and cons to both approaches.  The advantage to taking the seller credit is that you can choose whomever you like to do the work (once you've taken possession) and you can supervise the work. The risk is that whatever amount you and the seller agree to for the cash credit toward that repair may or may not be enough to cover the cost of it. There are two advantages to having the seller make the repairs: work is completed before you move in, so you don't have the headache of having to manage it (time off of work, messy/noisy workmen, etc.) and you don't risk cost overruns.  However, lots of people fear that the seller, in order to save money, may not have the job done to the same standard you would, since it's going to be your home.
IF you decide to have the seller make the repair, my recommendation is to be very clear about how the work to be done:
Be as specific as possible–either use the inspector's language from the inspection report, or have a qualified contractor provide a written estimate describing exactly what needs to be done and provide and reference that estimate in the addendum.
Write in that all work must be done by a qualified contractor (or, if it's appropriate, a "qualified, licensed, insured" contractor.
Include verbiage that indicates that you may inspect the work prior to closing and that it must satisfy you.
Be sure to lay out what happens if you are not satisfied with the work.
Remember, in Pennsylvania, nothing survives closing.  That means that, once you take title, if you then determine that a seller repair was shoddy, while you can hope that the contractor who did the work (for the seller, not for you) will stand by it and make it right, you can't force the seller to do anything without having to sue him.  So the lesson is: be very careful and think things through when negotiation inspection repairs if you decide to have the seller take care of them.
Take a step back
As you can see, navigating inspections is not an easy business. There are potential pitfalls all along the way. Your agent should be sure you are staying within your legal deadlines as far as the timetable, and should also ensure that the language used on the form you submit to the seller protects you. Beyond those details, remember a few things:
The inspector's job is to find fault–I've never had a report without recommendations for repairs.
Consider what you would repair if the report was for a home you had been living in and were planning on staying in
Consider what you would pay to have done in the event that the seller was unwilling to make repairs of offer any credit.
Think carefully about whether you want repairs or credits for specific problems.
Listen to your agent. He or she negotiates several inspections a year and may be able to save you from blowing the deal by educating you about the process, the report and what are "reasonable" expectations.
Read more tips about how to approach a home inspection here.