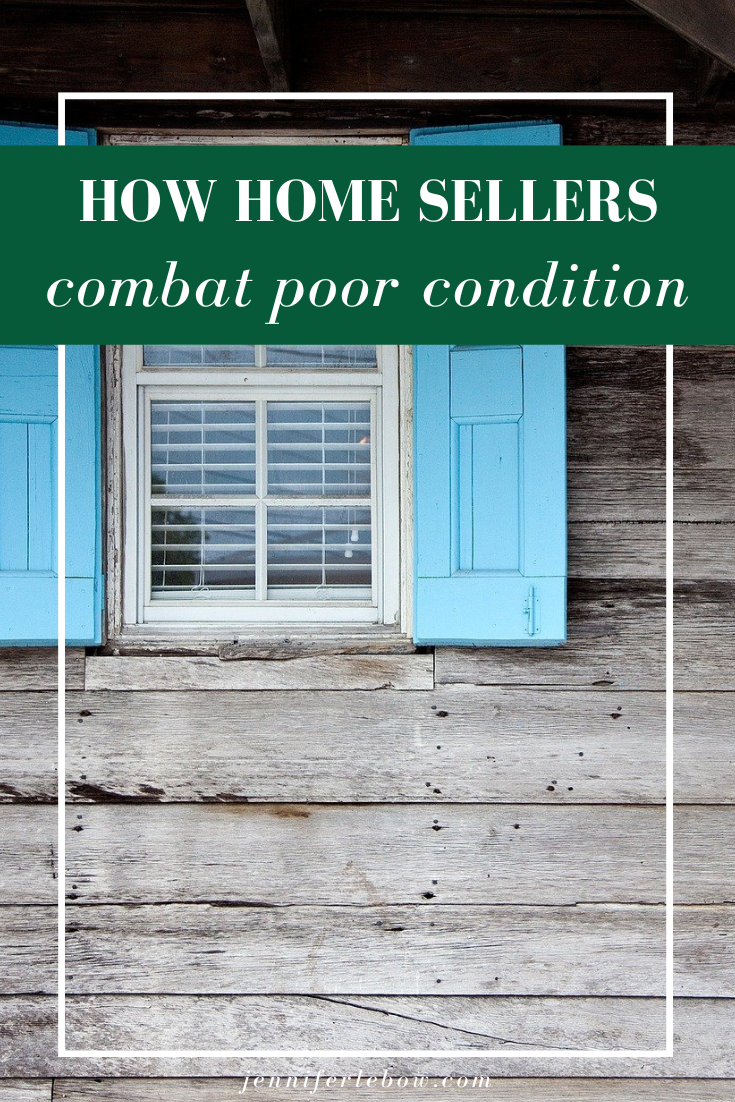 What should you do if you're selling a home that isn't in great condition?
While some buyers are "looking for a project" and would prefer to do their own updating so it is done exactly to their taste, most buyers prefer an already updated house. They also tend not to want to make major repairs like replacing a roof or fixing rotting wood or leaking basements. When it comes to properties feeling "tired" or "dated", sellers often don't recognize their properties as fitting into those categories. If you are a seller and your agent suggest that your home may present that way to a buyer, you'd be wise to listen. It also might be useful to go and see some of your competition (other homes for sale) if they are in better shape so you understand how yours shows in comparison. Ask your agent if you can see some of the competing listings.
Here are some strategies you can employ to encourage buyer interest.
Make the repairs and/or updates. This option is the most obvious and usually the most effective but many sellers don't have the money, time or inclination to fix the problems.
Offer the seller a credit to make some of the repairs and updates themselves. Sometimes it's challenging to adequately estimate how much things will cost, especially if the price varies based on individual preferences (more when updating things like kitchens and baths vs. repairs like fixing leaky pipes).
Provide the buyer with a copy of a pre-listing inspection. You have to be careful with this one. The benefit is that the buyer isn't making assumptions that there is more "wrong" with the house than there actually is. However, it can backfire if there ARE lots of issues. I always recommend a pre-listing inspection as it allows the seller to know what the concerns are and enables her to decide what she wants to fix, update or offer a credit for. Keep in mind, if a material defect is discovered, the seller is required by law (at least in PA) to disclose it. Some sellers don't do a pre-listing inspection expressly to avoid having to disclose problems. Keep in mind, though, that buyers will discover them during their own inspections. It is true, though, that some buyers are waiving the home inspection. That scenario makes a valid argument for why a seller might not opt for a pre-listing inspection. So, again, this is a tricky one.
Offer a home warranty. While warranties don't cover everything and there is definitely fine print to read, they do provide a certain level of comfort to many home owners.
Offer to pay for service contracts and other insurance policies. For example, you could offer an HVAC contract that includes a seasonal check of the systems and coverage up to a certain amount for required repairs or replacement. You can also buy insurance policies that cover things home owner's insurance (and home warranties) don't, like water and sewer pipe insurance.
Try to put yourself in the buyers shoes and pretend you are thinking about purchasing the house that you are currently selling. What improvements would you feel strongly about doing? What would they cost? How inconvenient would it be to have them done? Try to be objective (a tall order, to be sure). Then, when you have an honest, accurate picture of your property as it will appear to a buyer, consider using one or more of the above suggestions as a way to mitigate buyers' concerns about purchasing your home.