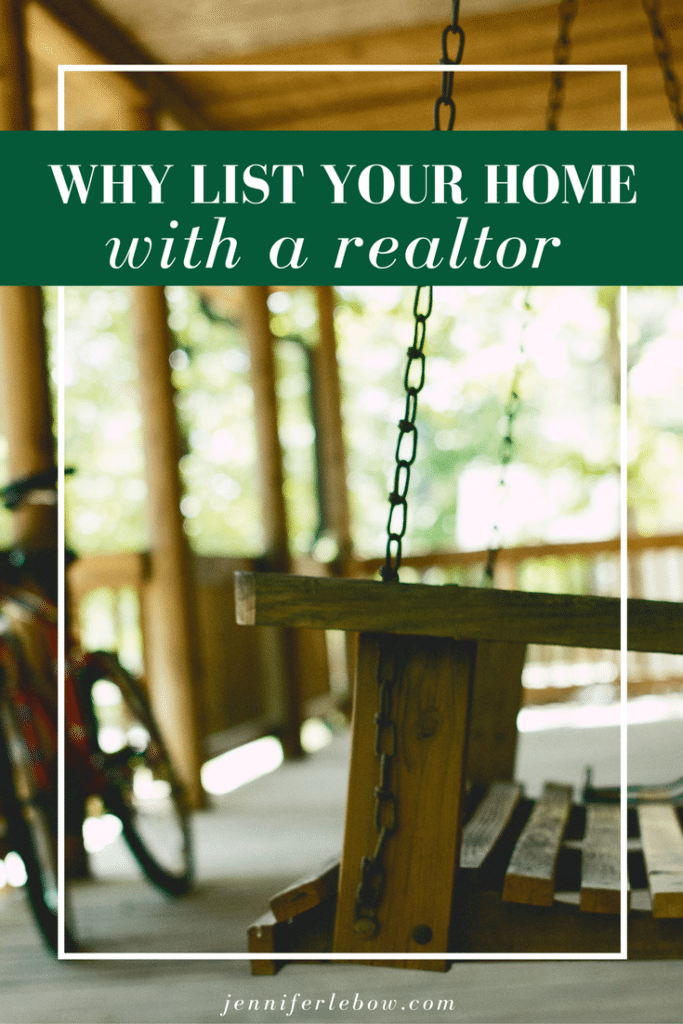 So, you're considering selling your house yourself.  with real estate commissions usually between 5% and 6% of the sales price, it's not a big mystery why some people choose that route.  Avoiding the commission can be a big cost savings. So why do fewer than 10% of homeowners list themselves and not with a broker?  Well, here are some observations I've made that might help explain…
You can't be objective.  The homeowner is unlikely to notice the "tired" carpeting, or recognize that the turquoise wall he so lovingly painted will not be appealing to most buyers.  He is also not bothered by dated kitchens and bathrooms or quirks in his home's layout that he's become used to. He doesn't even notice the view of the water tower or the fact that he lives on a double yellow line road and barely even notices the sound when the train goes by. He also probably won't notice that his yard could use a little sprucing up and that his collections of things proudly displayed throughout the house might make prospective buyers wonder if there is enough storage space. An agent knows what buyers are looking for and which major features are off-putting and which are most highly valued. She can suggest how you might stage your house and which kinds or repairs or improvements are worth doing.
You have no expertise (and fewer resources) in setting the right price. The homeowner is generally less knowledgeable than an agent about how to evaluate comparable homes that have sold (for example, how much more value does air conditioning or a garage add?  What about updated bathrooms or a finished basement? How much does living on a busy street or having three bedrooms as opposed to four detract from the value?).  Also, realtors have access to an MLS database which allows them to use any number of specific criteria—school district, square footage, acreage, age, number of bedrooms, etc.—to compare your house to.  They will look at what similar homes have sold for as well as evaluate what else, in your area, is currently available to buyers, as supply and demand plays a big role in value of a house at any given time.  Our markets are also seasonal.  Did you know that?  Houses sell for more in the spring than at other times of the year because there are more buyers out looking then.
You don't market homes for a living.  Knowing what kind of copy attracts buyers and getting professional quality pictures is just the beginning.  Again, do you know which features are the biggest draws? Where and how will you advertise?  How will you make sure people know your house is for sale and that you are "putting its best foot forward"? Realtors  can syndicate your listing to several on line sites, complete with video tours, school information, links to maps and information about mortgage costs, create e-postcards, share their listings with the rest of the brokerage community, send out "just-listed" cards to all the people in the neighborhood, and much, more more. Statistics show that represented houses not only sell for more than FSBOs (for sale by owners), but also sell faster.
Do you know how to estimate your net proceeds? Most sellers are mainly interested in the offer price–but do you know what you'll actually walk away with? Are you clear on all the settlement fees? What about the Use and Occupancy Certificate? There are lots of costs associated with selling. Net proceeds is really what most people care about. Be sure that you understand what to expect.
Do you feel safe opening you door to a would-be buyer? Showing your house can be not only an inconvenience (as, without representation, you need to be there when someone wants to see it), but how do you know if that buyer is legitimate? Did you know that buyers spend less time in a house where either the owner or owner's agent is present?  They don't like to feel pressured and often don't feel they can speak freely to their agents.  So,  while you may think you are helping to sell your house by following a buyer and pointing out what you think are its best features, you are more likely hindering the sale. Agents are licensed, bonded and insured and a buyer is always accompanied by an agent for showings when a property is MLS listed.  Furthermore, all the info for showings is recorded so you can look back and see who came to see it when.
How do you know how to evaluate an offer?  To begin with, most homeowner's don't know how to determine whether a buyer is financially "strong" and whether he is even likely to be able to close.  Beyond that, unless you do this for a living, it's hard to know which parts of the offer to negotiate and how. The offer will also have other potentially negotiable points, like a seller's assist. Why are they asking for seller's assist?  What is that? What should you ask for in deposits?  How long should the inspection period be?  Agents are intimately familiar with the standard agreement of sale and know all the things that are important to check.  They also know how to negotiate not only price, but all the other nuances that a typical homeowner will not.
Speaking of negotiations, how will you navigate the Reply to Inspection? The what?  Yeah, that's what I mean.  After a buyer has completed inspections, she will supply you with a list of repairs she wants done or a request for a credit for those repairs.  Will you feel comfortable with those negotiations?  Again, agents have expertise in this area and will help you figure out which things you might want to address and what the best method is—a credit? a repair?  They also often have a cadre of contractors that they have established relationships with who can come out and give you estimates so you have a better idea of the cost of the repairs being requested.
How will you deal with the "what ifs"?  What if the property appraises for less than the agreed-to price? What if the buyer doesn't give you his second deposit on time? What if you can't come to an agreement about inspection issues?  Does he get his money back?  What if he has a home sale contingency?  How does that all work?  Very few transactions are completely drama-free.  The agreement of sale is a legal, binding document with lots of prescribed time periods and specific remedies when they are not honored.  Agents keep track of the important deadlines and will be sure you know when your money (or theirs) is on the line according to the stipulations of that contract.
How do you make sure everything is in order for closing? Do you have a title company?  Do you know what things you are responsible for, like the U & O? Providing tax receipts and a payoff statement from the bank?   Do you know how to figure out your net proceeds?  Most homeowners don't know all the specific fees involved (like transfer tax), so they may think they will walk away with more cash than they actually will–never a welcome surprise.
So, am I suggesting that no seller has ever successfully sold a house himself?  Of course not.  I'm just pointing out that there are a lot of opportunities to stumble and, for most people, the highest net proceeds, the quickest sale and the smoothest transaction with the fewest "uh-oh" moments are what the majority of sellers are looking for.  You are much more likely to achieve all of those goals if you use a good agent. Click for more on Why FSBO's Fail.