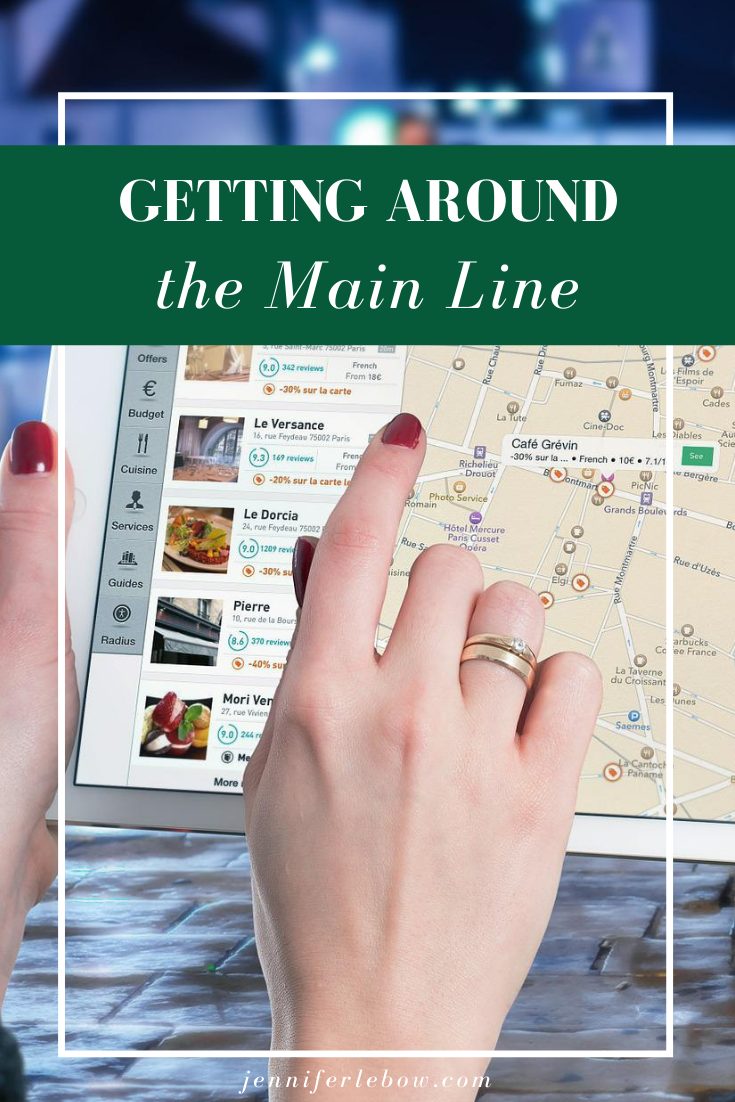 Getting around the Main Line
Navigating a new area is always a challenge. Not only do you have to find where to go (to the dry cleaner, hardware store, bank, restaurants, etc.) but you have to figure out the best way to get there. As far as how you will travel to these destinations, there are a few options: walk/bike, take public transportation or drive (or Uber/Lyft).
Walk/bike
Walking. One of the most common preferences among my buyers is walkability. They want to be able to walk to coffee shops, pharmacies, and, if possible a sort of town center. While there are a few locations where that's possible (Narberth Borough, Media Borough, West Chester Borough and South Wayne among them), it is more the exception than the rule. Walkability is difficult to find for two reasons.
First, the Main Line actually refers to the train line that runs along Lancaster Ave. (Route 30). As a result, the retail/commercial businesses in the area are overwhelmingly clustered along that four-lane road. North and south of Lancaster are residential neighborhoods with very few other shopping options. If you go as far south as West Chester Pike (Route 3), you'll find a similar situation, but, again, it's a four-lane road, not a scenic town center and it's unlikely you'd find a home in a location that would be easily walkable.
The second challenge to finding a home in a walkable location is that many areas don't have sidewalks. Our roads are often narrow and windy and frequently have no shoulders. So even if your destination is close by, it might not be feasible/safe to walk. Riding a bike might be a better option: While bicycling still requires care as far as safety on windy roads, it is a more common choice.
Use public transportation
When I asked past relocation clients about what surprised them most about moving to the area, the topic of public transportation arose more than once. Interestingly, the comments ranged from "worse than I expected" to "better than I expected". So I guess it's all relative, depending on what you're used to. That said, if you're coming from NYC or Paris, you're bound to find it wanting. SEPTA, our local public transit provider offers buses, regional rail lines, the El (elevated), and even trolleys.
Within the city of Philadelphia, there are usually good options. There are also regional rail lines (and, in some cases buses) from the Main Line from Media, Norristown, Chestnut Hill and Doylestown. As far as the Main Line goes, remember that the area is named for the train line: if you are appreciably north or south of Lancaster Avenue, there is very little public transportation available.
Drive/Uber/Lyft
If you're driving, you might be pleasantly surprised. While I certainly wouldn't suggest we don't have commuter traffic, you will benefit from living in an area that was developed before highways existed. Prior to expressways and turnpikes, there were surface roads that were used to travel everywhere. As a result, there are always several routes, other than ones using highways, to get from point A to point B along the Main Line. These alternative routes also mean that our commuter traffic is not quite as bad as you'd expect. One client, when asked what had surprised her when she moved here said:
How easy it is to get into the city and in general how easy it is to get around.
Beware, though: our road system is old. The history of the area makes for a charming landscape; we have roads that go right through creek beds and roads that are made of brick, for example. Additionally, roads were created as needed and don't follow an organized, city planning kind of pattern. A road may make several 90 degree turns and keep the same name. Conversely, many roads start and stop and then pop up again several streets away, which makes is hard to know exactly where you are (good examples is Bryn Mawr Ave. or Old Gulph Rd.). One of my relocation clients made this very accurate observation:
For families new to the Main Line navigating local roads can be tricky. Many roads abruptly end and then randomly resume in other places.  Thankfully we have navigation devices.
You'll find your way
Don't worry, you may need to experiment to find the best way to travel to different destinations but you'll figure it out! That's not a bad thing, though, as it will expose you to different routes and neighborhoods. The good news is that traffic isn't as bad as you might think for a city of this size. So explore different options and decide what makes the most sense for you.
If you are relocating to the Philadelphia/Main Line area, please go to my blog page and search for posts using the relocation tag. Contact me to discuss your Philadelphia area relocation! jen@jenniferlebow.com/610 308-5973