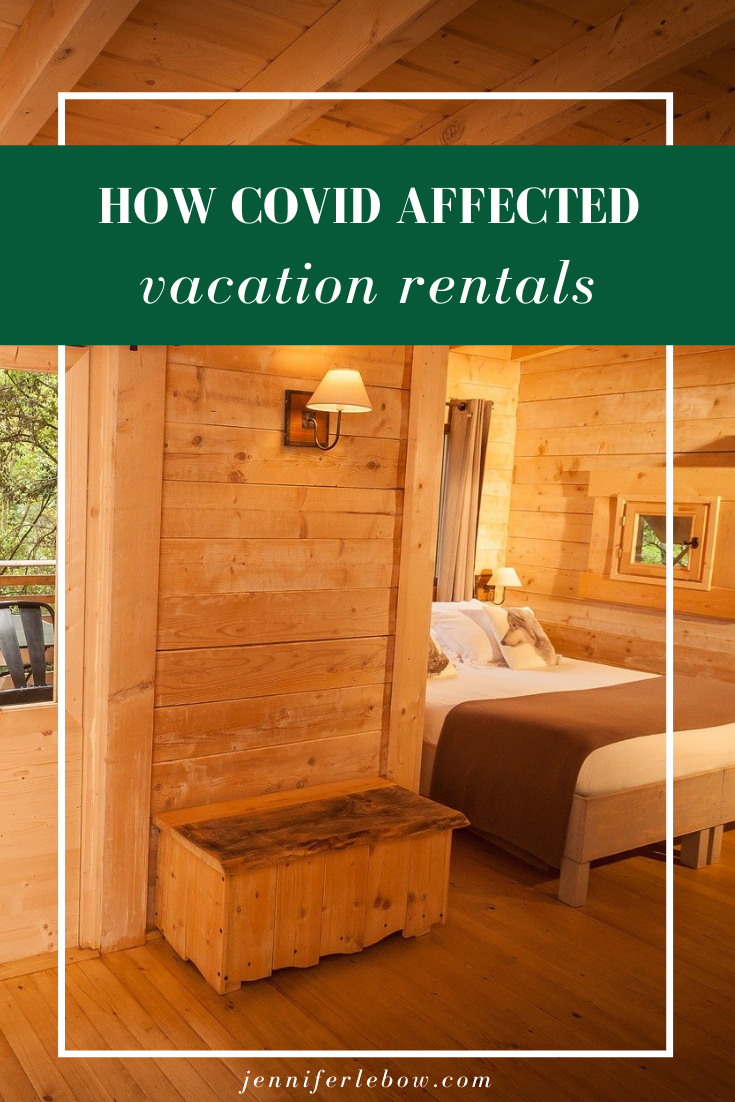 Effects of the pandemic on travel
Vacation rentals like Air BNB and VRBO were just hitting their stride before the pandemic. The initial effect of the virus was to put the kabosh on almost all travel, which decimated the hotel business as well as these kind of rentals. But then a funny thing happened. Business on Air BNB and VRBO websites increased and then exploded. Why? And will it continue?
COVID significantly affected travel. It impacted who was traveling, what kind of experience/amenities were important, what the time frames for a vacation or trip looked like, where they wanted to go (including both geographic location and type of locale) and why we were seeing these shifts. Some of the changes were the results of specific situations caused by the virus.
COVID increased Air BNB/VRBO demand
COVID reality #1: People couldn't visit loved ones for fear of spreading or contracting the disease in crowded airports or hotels or restaurants. The directive was to avoid crowds.
Effect on vacation rentals: Demand grew for larger houses capable of accommodating big groups in a setting that feels like home. Having space to just "hang out" became much more important. With access to destination-based activities and attractions greatly curtailed, the appeal of increased living space while on vacation soared. A standard hotel room doesn't easily allow for informal visiting with the space to spread out.
COVID reality #2: People wanted to avoid airports and not risk being stuck somewhere and not be able to get back home if COVID triggered travel restrictions.
Effect on vacation rentals: Drivable destinations saw a huge increase in travel decisions. As a result, many vacation rentals in somewhat rural or less populated areas (often a draw due to those exact features) were perfectly viable choices. Also, having a car makes longer stays with more stuff easier to manage, as transporting an extra bag is not a hassle.
COVID reality #3: Eating at restaurants was either impossible or risky.
Effect on vacation rentals: Air BNBs and VRBOs with full kitchens negate the need to eat in restaurants.  Additionally, preparing food and eating together has surfaced as a favorite activity among families or friends. The cost-savings can't be ignored either!
COVID reality #4: We have experienced a trend toward socializing with family and friends in an informal environment, often with options to be outside.
Effect on vacation rentals: There has been a major shift in lifestyle and a redefining of what matters and how leisure time is best spent (and with whom). Family and friends have taken center stage and most people want to visit in a comfortable setting where they don't have to worry about getting dressed up for dinners at fancy restaurants. Vacation destinations now need to support activities like reading in front of the fire or playing a board game. VRBO and Air BNB rentals are much better suited to meet these needs than traditional hotels. Outdoor entertainment/recreation has also grown in popularity, so lodgings offering private outside areas are in great demand.
COVID reality #5: more people can work remotely.
Effect on vacation rentals: With so many people now working remotely at least some of the time, the ability to travel without taking time off of work is a boon for vacation rentals. Short stays or extended stays are both options with the remote work model. Again, hotels can't easily compete as they don't often offer the workspace people need. The right Air BNB or VRBO can be the perfect place to "get away" and provides a change of pace while not requiring precious vacation days to be used up.
COVID reality #6: Larger groups looking for longer stays is the new vacation demographic, but cost becomes a factor.
Effect on vacation rentals: It is usually more cost effective to rent a larger home, with several bedrooms, than enough hotel rooms to accommodate a crowd. There are also usually weekly rates that save even more money vs. the hotel model. Additionally, common spaces for games and craft projects as well as outdoor spaces (like a pool or walking trails) allows for no-cost activities. Preparing food at home instead of eating every meal at a restaurant is also a huge money saver.
Vacation rentals (vs. hotel rooms) are continuing to grow in popularity. Some people will choose a city setting and may or may not care about a yard or being a bit far from crowds. Even when the pandemic is behind us, though, I think we will see a continued interest in larger, more "off the beaten track" properties that comfortably accommodate larger groups. Of course, as industries grow, new challenges crop up. VRBO and Air BNB have already exhibited some growing pains and it will be interesting to see what the future holds.