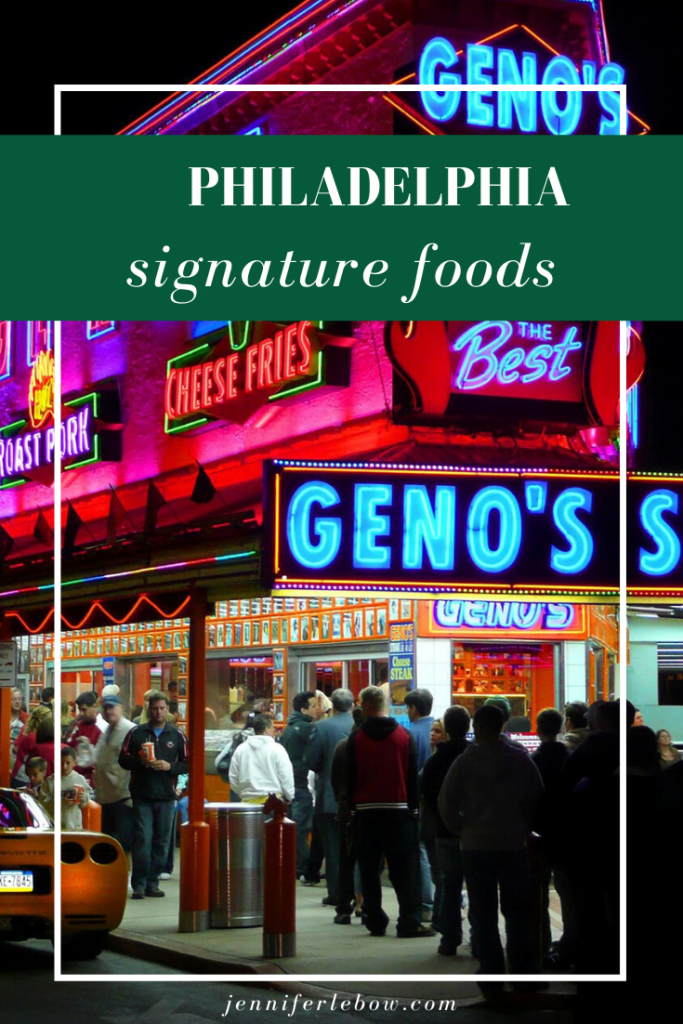 Philadelphia local foods
Every region has certain foods that you are expected to try when in the area. Sometimes, it's because the dish originated there, sometimes it's because a food became very popular and all the local restaurants try their hands at it. Either way, these signature foods are identified as local favorites. In Oklahoma, it's chicken fried steak. Maine must-haves include lobster and blueberries. In Vermont, you can't leave without having maple syrup. In Philadelphia, we have an interesting mix of signature dishes.
Cheesesteaks
As "Philadelphia" as Rocky, the cheesesteak is a true institution. Originally made by Pat Olivieri, a hot dog vendor in the 1930s, several local establishments continue to vie for the title of "best cheesesteak". While it can be ordered with provolone or other cheese, the favored topping is Cheez Whiz. When you order yours, to blend in with the locals, be sure to order "one Whiz wit". You will receive a cheesesteak with Cheez Whiz "wit" onions (imagine a Philadelphia accent). Click the article below for more.
Hoagies
Philadelphia may not have been the location of the first sandwich that other cities refer to as a "submarine", but we believe we do it best. Philadelphia even has its own name for this signature food: the hoagie. While they are available in many places, and some are better than others, there is agreement about a basic level of ingredient quality. Local meat and cheese purveyor like Boars Head or Dietz and Watson are common and the rolls are not some preservative-laced item you find on a supermarket shelf. Most locals would identify Amoroso's as the roll of choice. Plenty of oil and vinegar, mayo, spices, shredded lettuce, tomatos, pickles and other condiments are part of the experience as well. Find out more below.
Soft Pretzels
Technically, the first soft pretzels were made in Italy. As these new snacks spread throughout Europe, they became especially popular in Germany. The earliest known ones in the U.S., though, were made in Lititz, PA, a Pennsylvania Dutch stronghold, in the 1860s. Fun fact: Philadelphians consume 12 times the national average number of pretzels every year. While other cities also have soft pretzels, Philadelphia's are unique as far as their figure-eight shape and crust outside, with dense, doughy interior. You can find them all over the city, so be sure to grab one next time you're here! See below.
Tomato Pie
While some other mid-Atlantic cities are also big on tomato pie, it is arguably most traceable to Philadelphia. It's basically dough with tomato sauce. Again, the quality of the dough is of immense importance as is the flavoring of the sauce. For more on tomato pie, click here.
Scrapple
While not for everyone, scrapple deserves a try. It is another dish introduced by the Pennsylvania Dutch and it is a meat "loaf" but similar to breakfast sausage without a casing. It's made from leftover pork parts combined with cornmeal and seasoned generously. It is then baked. More on scrapple below.
Water Ice
Water ice is often considered just a Philadelphia name for Italian ice and, while very similar, it actually is subtly different. Philadelphians eat a lot of it and local chains like Rita's speak to local fanatacism over this cool treat. Eater Philadelphia says:
The texture — looser than Italian ice and smoother than shaved ice — is unique to Philadelphia producers. Chunks of fruit often signal a good product. And the pronunciation is always "wooder ice."
To find out where to get the best water ice, click here.
Tastykakes
Tastykakes are consistently described as nectar of the gods. They are what Hostess and Little Debbie aspires to be: The very best ready-to-eat baked treats. They are available in a variety of flavors that are truly addictive. The Kandykakes (short, chocolate-enrobed cakes, available with a layer of peanut butter) are to die for and there is a large butterscotch crumpet fan club as well. The cupcakes (with the signature white stripe in the icing on the top) with their cream center are probably the most popular. Find out more and see all the choices here.
Wawa
What is Wawa? It's a convenience store (think 7-11) but with food of an incredibly higher quality. The offerings are vast and the touch screens allow for incredible customization (want that hoagie roll toasted? regular amount of mayo or extra?) There are Wawas all over the place but Philadelphians tend to be very territorial and loyal to "their" Wawa and will often drive past three others to reach their "home" Wawa.  Another reason to love Wawa is their dairy. The store began (and still has its dairy operations) as a dairy in Wawa, PA. So their milk, ice cream, sour cream, etc. is locally made and very good. Once you've been to a Wawa, there's no going back to another convenience store. See why here.
Next time you're in Philadelphia, be sure to see the iconic sights–the Art Museum, Reading Terminal and the Italian Market, Independence Mall and the historic section, the murals scattered around the city and more. When you're hungry though, now you have a list of "must-try" foods! For more on the above and some other traditionally Philadelphian fare, click here.