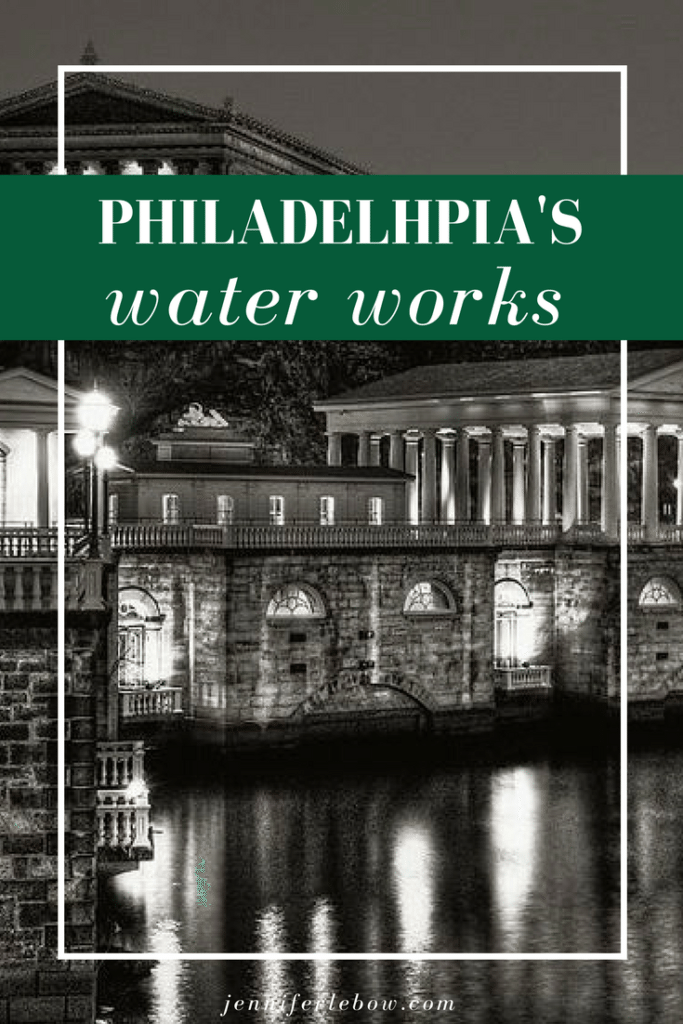 After several yellow fever epidemics in the later 18th century, in 1799, city officials in Philadelphia (who thought the fever was caused by unclean water) formed a committee to design the country's first municipal water system.  The original design was fraught with problems, but, the second one, designed by John Davis and Frederick Graff, became the Philadelphia Water Works, whose iconic Greek Revival architecture remains a tourist draw even now.  Begun in 1812, it's decorative style was intended to hide its decidedly industrial function.  While visitors wanted to understand how this new engineering marvel worked, many people came to see it for its beauty and location along the river. It attracted so many, in fact, that it became the second largest tourist attraction in the U.S., only topped by Niagra Falls!  (Notice the water theme here?)
On the site of the current Philadelphia Museum of Art, a reservoir holding three million gallons of water was built and two steam engines operated the pumping system.   A few years later, the dam that still spans the Schuylkill river was constructed to funnel water to a mill house.  Wooden water wheels replaced the steam engines and so effectively moved the water that watching them work was a highlight of a trip to the Water Works. Later, turbines replace the water wheels and the mill house was modernized to match advances in the industry. Over the years, the Water Works grew to be a destination in itself with promenades, formal gardens and sculptures creating an outdoor space along the river that appealed to local residents and visitors alike. Its hey day was from around 1830-1850 and in 1860, the first boathouse was built as the pooling effect from the dam created a perfect sculling environment.  Even once the Water Works became obsolete (and closed in 1909), it was not abandoned.  It became the Philadelphia Aquarium in 1911 and remained so until it closed in 1962.
Today, a restaurant occupies the space above the river, but the inner workings of the most recent version of this engineering masterpiece have been refurbished and tours are available explaining how the system worked.  The classical architecture ensures that the Water Works is a very visible part of the river's edge, much like the boathouses just beyond, which wouldn't have existed without it. A fairly recent project on the other side of the river built a skateboard park and other walking/biking trails that connect to the original promenade, making it a destination for residents and visitors alike, just as it was 200 years ago.