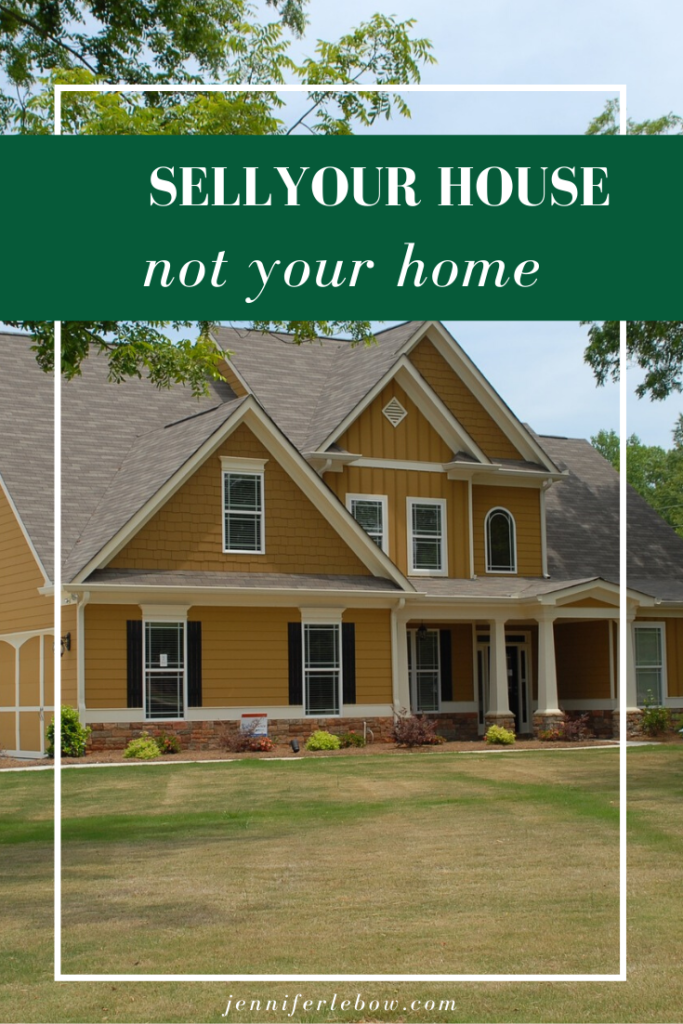 Sellers: What are you selling?
Selling your house/home can be confusing as far as the message. On one hand, you are trying to sell the experience of living there ("home"). While the layout and size, yard and location are the most important features to most buyers, you want them to remember that the property will function as more than just walls and floors. The goal is for the buyers to imagine your house becoming their home. However, what is the best way to accomplish that?
Stop thinking of it as home
Showings
As difficult as it is to do, the best thing you can do when selling is to create some emotional distance between yourself and the house (remember, stop thinking of it as home). This distance will enable you to be better prepared to leave the house for showing requests. One of the biggest deterrents to buyers is not being able to see the house at their convenience and you don't want to miss the opportunity. They could buy something else before ever attempting a second showing request.
Neutralize
If you think of the property as a house as opposed to your home, it should be an easier pill to swallow when your agent recommends changes that will appeal to a wider market. If your premise is "I want to sell this asset", the more people you appeal to "as-is", the better. So paint it, even if you think the suggested color is boring, switch out the kitchen cabinet hardware, and live with "vanilla" for a little while.
Stress: home vs. house
While home is where most people go to reduce stress (as it should be), that emotional attachment is exactly what makes it stressful to sell your home. It has memories and history that are meaningful to you, but not to the buyer. When a buyer submits a lower offer than you believe is merited, being able to have some emotional distance will help you see the transaction as a business one, not a personal one. The buyer isn't trying to insult you; he just doesn't put the same value you do on the memories you do that have made it home to you. Having a clearer head will help reduce the stress during the negotiation process.
Depersonalize
The specific furnishings and design choices that have made it feel like your home often do not match the prospective buyers' taste. Even if their taste is similar, the fewer distinctly personal effects (photographs, collections, etc.) there are in the house, the more easily buyers can imagine their own possessions in the house. So, while, in the end, you do, indeed, want to sell the idea of "home", (almost counter-intuitively), the best way to do that is to depersonalize it. Paint, carpeting and fixtures should be as neutral as possible. Not only may the flocked wallpaper and dusty rose carpet reduce the appeal of your home to a buyer, but they also leave the buyer thinking, "I will have to put money aside and deal with the disruption of installation in order to change that."  Remember: you want the buyers to easily imagine how they could make the space feel like their home with little or minimal effort.
Be objective
Seeing your home objectively is nearly impossible, but try! Put yourself in the mindset of a buyer coming to the property for the first time. Note what most people would consider the negatives (on a busy corner, very small back yard, dated kitchen and baths) as well as the positives (great street, lots of storage). You may have gotten used to the train running through your back yard, but recognize that, to most buyers, that will be a "strike against". Again, listen to your agent if she tells you that your house will be much more appealing to buyers with a coat of paint or new counter top. She knows what buyers are currently looking for. (Obviously, a cost-benefit analysis is in order prior to any investment in updating.) Being objective can help with pricing as well. Pay attention to the comparables that your agent shares with you and focus on the more tangible features (square footage, lot size, updatedness, layout) to see how yours compares.
You can still sell the idea of "home"!
I can't stress this last point enough. The rest of this article has been focused on helping you think of your house as an asset to be made marketable to someone else. However, as I mentioned earlier, the goal is to get the prospective buyer to envision is as home.  So while you need to stop thinking of it as your home when you look at the physical space, you want to demonstrate other features that communicate "home" to the buyer. For example, make up a "Why we've loved living here" sheet that includes neighborhood and community features as well as property characteristics. Maybe you mention the access to the train or the neighborhood book club and annual end of summer party. Talk about the great schools or dining options nearby. You might also include a list of improvements/updates you've done to show pride of ownership and to remind the buyers of projects you've done so they don't have to budget for those updates.
See the opportunity
While you may love your home exactly as it is, try to think of your move as an opportunity to create a new home. Whether you're downsizing, upsizing, or moving to a new area, think of it as a blank canvas. Over time, you will put your own personal stamp on your living space and the house you bought will become your next home.