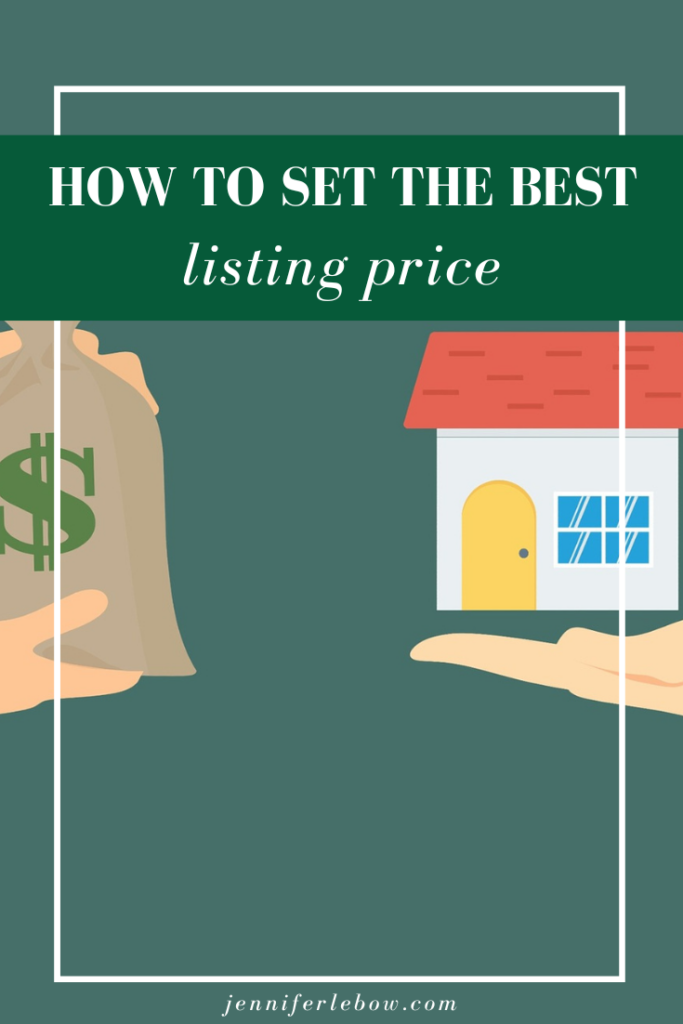 Examine current market conditions
Are sale prices increasing or decreasing?
If they are falling, be very careful not to be "chasing" the market by continually needing to lower the price to remain competitive. That tactic will leave your house sitting on the market and selling for less in the long run. If prices are increasing, while you definitely don't want to leave money on the table by not asking as much as you could, consider that, even if your price is slightly lower than market value, you may still end up getting top dollar for it due to the amount of interest and number of bids that underpriced homes usually generate.
Are days on market increasing or decreasing?
If properties are starting to sit on the market longer, take note. Not only does that statistic affect the likelihood that yours will too, but it is usually connected to a softening of values. If there aren't lots of people who rush out and make an offer the first week, it indicates that demand has lessened. Reduced demand goes hand in hand with lower prices. Conversely, if houses are flying off the market, you are well-positioned to sell. You can set a higher price if the general level of buyer demand has houses selling very soon after they are listed.
Is amount of inventory increasing or decreasing?
Similarly, a change in inventory levels is closely tied to values. If there are more homes for buyers to choose from (unless there is a correesponding increase in buyer demand, for some reason), your property isn't as valuable. Buyers don't have to offer the sun, moon and the stars to get your house if there are plenty of others available. If, though, there is a dearth of supply, you can expect your home to fetch a higher price. Severe competition for very low supply translates to higher sales prices.
Analyze the comps
All comps should be as similar as possible for the comparisons to be valuable. Comparing a small, old Colonial to a recently updated split-level doesn't provide much useful information. While certain characteristics are quantitive and fairly simple to adjust for (like square footage, lot size, number of bedrooms and baths), consider differences like whether there's a garage or central air or a finished basement. Furthermore, condition  of the property and how updated it is, along with features like how busy the street is or how desirable the lot is come into play as well. Coming up with a value range for a property based on analyzing comps is definitely more of an art than a science.
Solds
Some agents only look at properties that have been sold. We call these "sold comps". To be fair, they do give the clearest picture of what the public valued similar properties at. Therefore, they are most predictive of value. Note: sold comps do need to be as recent as possible, since market dymanics can shift quickly and what a similar property was worth eight months ago may not be what it's worth today.
Actives
Active comps shine the light on the competition. If there are no similar active comps, that bodes well for the seller from the perspective that there is limited competition. However, if there are no properties for sale in your neighborhood because there's not a martket for that area, you could be in for a challenge as far as selling. That said, it is usually considered beneficial to a seller when there are fewer similar homes for sale in the neighborhood.
Under Contract/Pending
Examining the properties that are under contract or pending demonstrate how long things are staying on the market under current conditions. If (and I say, "If") your agent can discover what prices these properties are under contract for, that information is extremely useful in setting an appropriate price. If things are selling quickly, they are usually selling for list price or over, but, that's not necessarily the case. On the contrary, if things are taking a long time to go under contract, it's an indication that the market may be cooling and you should probably be considering a slightly lower price.
Pricing Strategy
Now that you have gathered the available information about the market in general and about the sales history of very similar properties (the comps), it's time to process that information. Your agent should come up with a price range for your home. The reason it's a range is that the exact price you choose will depend on your inidividual circumstances and motivation.
Pricing it higher than what the comps suggest
This strategy (which is not always a bad one!) may be more likely to appeal to a seller who has the luxury of time. Someone who is not in a hurry to sell. Additionally, a seller who doesn't have to sell, but would if she could get a certain amount often chooses a higher price. There are a few key points to keep in mind if you set a higher than recommend price:
If you end up having to lower the price, it will probably sell for even less than if you'd started out at that lower price. Why? Because a listing becomes stigmatized when it has sat on the market and, even with a price reduction, buyers don't feel that there's much competition to purchase that home and tend to offer lower than asking price.
Properties see the highest level of engagement within the first 10 days of listing. If you price your home too high and it hasn't sold by then, you will reach many fewer new prospective buyers from that point forward, reducing your buyer pool.
Some sellers in this category believe that there's no harm in pricing above what the market value is as someone can "make me an offer". If the home is significantly overpriced, that strategy brings in the wrong buyers–people who wouldn't want to buy that home even for much less. Let me explain. If a property that is, realistically, worth $500,000 but the seller lists it at $550,000, the buyers who are looking in that price range and come to see it will be disappointed (as it doesn't offer the same total value as other properties they are seeing at $550,000 that are priced at true market value). Those buyers are looking for a "better" house than what you're offering. So they don't want your house. They are looking at homes in that range because they are prepared to pay that much–but not for a property they consider to be sub-par as compared with others in that range.
Pricing it at the price the comps suggest
Pricing your home right in the middle of where the comps suggest it will sell is what most sellers do. As long as your agent is marketing it well, you should see a reasonable amount of interest and showings. Of course, that number is dependent on how active the market is when you are selling. Either way, if you have had several showings and no offers, you may want to reevaluate the price; it may be too high.
Pricing it lower than where the comps suggest
Pricing your home slightly lower than where you think it will sell has become somewhat more popular in our recent market where there is so much demand. Pricing the property a bit low drives so much traffic and such a feeding frenzy, that it almost always results in mulitple. over-asking bids. And remember, when there is that much interest in a given property, the bids are much more likely to waive contingencies (mortgage, inspections, etc.) in order to be as competitive as possible.
If you thought choosing a list price for your home was cut and dried, you probably realize now that it is not. Market conditions can change quickly, and markets are hyper-local. So it's vital that you understand the current market in your neighborhood. Interpreting the comps requires assigning monetary value to things like a flat vs. sloped lot or a quiet vs. busy street. Then the seller's personal situation and strategy also must be factored in. Good luck!