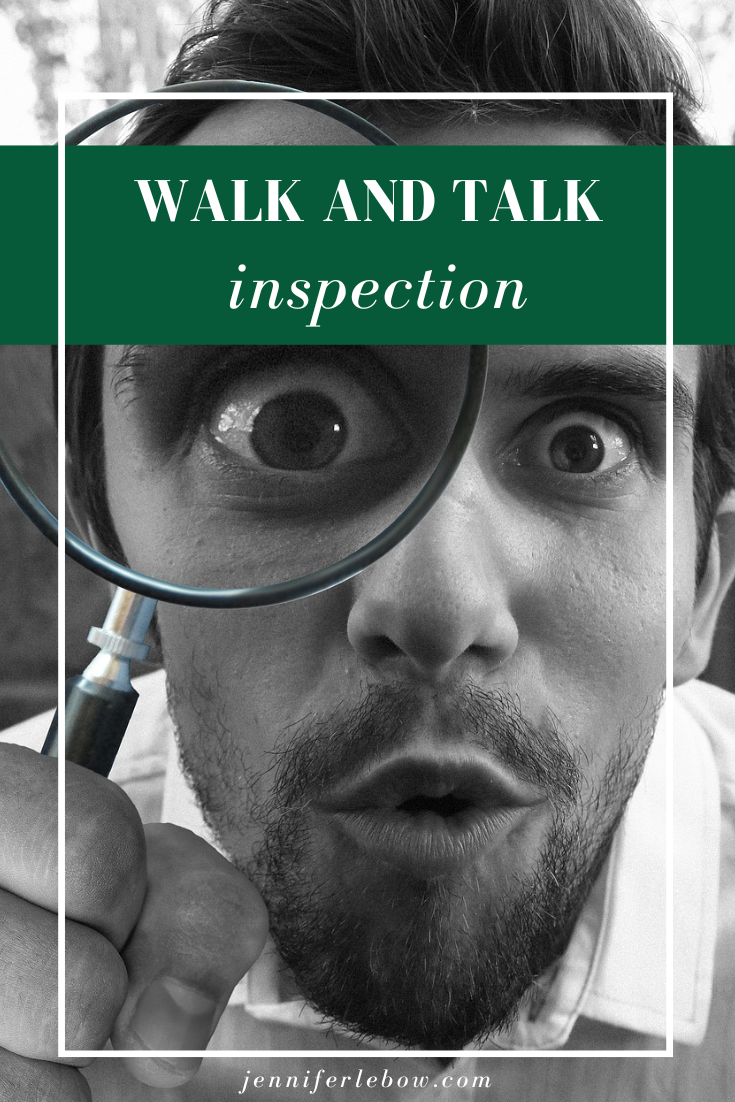 The topic of this post, the walk and talk inspection, was not even on most people's radar six months ago. But, as they say, times change and necessity is the mother of invention.
Who conducts a walk and talk? It's up to you, but now accredited home inspectors are offering the service.
What is a walk and talk?  It's an abbreviated, less thorough version of a traditional home inspection.
When does a walk and talk take place? This is the most unusual aspect of this new trend: Often, if buyers fear the property will be under contract if they wait to schedule a walk and talk after they have already seen the property (which does sometimes happen), many buyers schedule a tour with their agent and arrange for the inspector to accompany them on what may be their only visit to the property before they write an offer.
Where does a walk and talk happen? The inspection takes place on the property, like a regular inspection would.
Why consider a walk and talk? This answer to this question is what spurred the popularity of this option. With so many properties going under contract very fast and with no inspection contingencies, many buyers who were not comfortable waiving inspections found this work-around. The truncated version of a home inspection focuses on the "big" stuff that represent the bulk of what buyers are worried about–structural problems, major issues with systems including faulty wiring, and failing roofs, etc. Inspectors don't necessarily note things like loose shower mastheads and recommended hinge adjustments during these walk and talks. They are designed to allow the buyer to form a clear enough picture of the condition of the property to decide whether to make an offer and NOT have it be contingent on a home inspection (which would normally not be scheduled until after the property went under contract). Seller's don't want home inspection-contingent offers for a variety of reasons and for many buyers, the option for a walk and talk eliminates the need for that contingency, allowing them to make a more competitive offer.
How does a walk and talk work? The main difference between this modified version of an inspection and its full- length relative (besides the level of detail) is that, in a walk and talk, nothing goes in writing. Because they are not conducting a thorough inspection, home inspectors don't want to held liable for a "30,000 ft overview". Therefore, they walk and they talk. Many buyers take notes and ask questions, but the inspectors do not generate a written report in this scenario.
Is a walk and talk a good idea for you? Maybe. Obviously, this choice is better for those with higher risk tolerance and is more appropriate for newer homes or homes that appear to be in well-maintained condition. You should also always read the seller's disclosure carefully to determine whether there seem to be areas of concern.
If you are relocating to the Philadelphia/Main Line area, please go to my relocation tab. If you'd like to read other blog entries related to relocation, please scroll down a couple of lines from here and click on RELOCATION (to the right of FILED UNDER). Thanks!