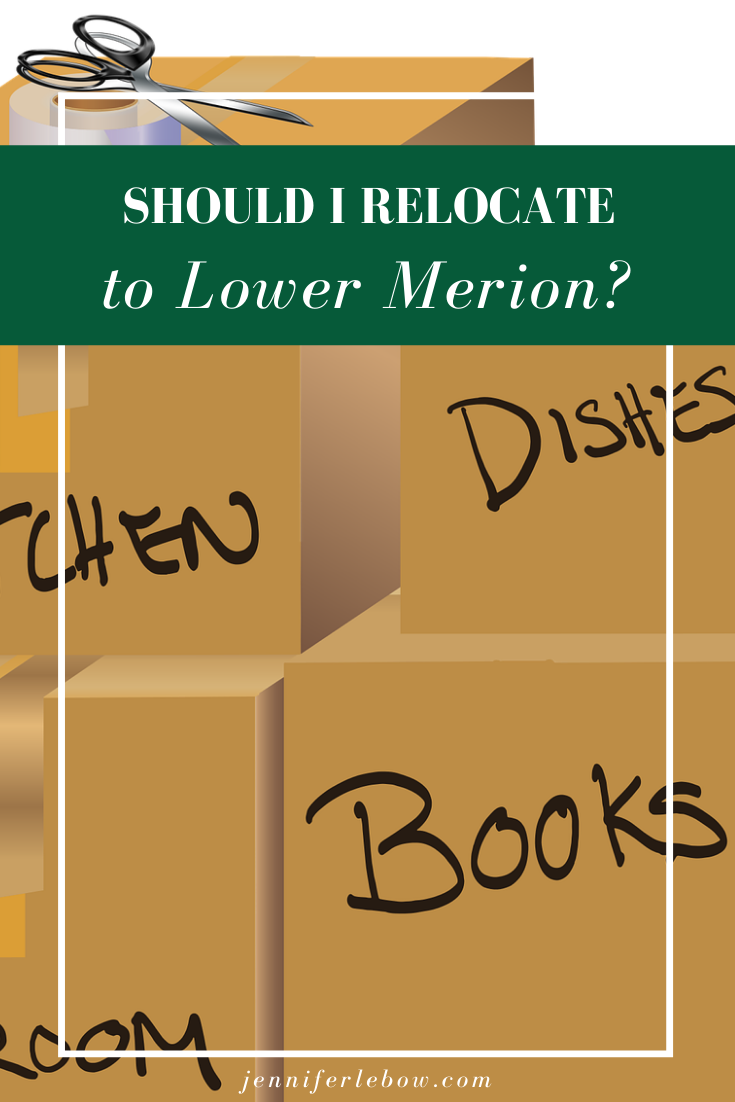 Should you move to Lower Merion?
Pre-pandemic, much of the decision of where to live was tied to where you worked. For many, the recent shift in employer tolerance of a work-from-home model has opened up lots of new options. Lower Merion, a township comprised of a group of towns along Philadelphia's Main Line, has proven a strong contender. Recently voted one of America's top 100 places to live and #2 in the nation for best places to live for remote workers, Lower Merion offers some of the most sought after features, including:
An extremely highly rated public school district
Easy access to public transportation, highways and the airport
Proximity to arts, culture, sporting events, world-class restaurants and other big city advantages
High safety index
Beautiful natural surroundings
Historic identity
Consistently desirable real estate
Significant job opportunities
Ample township services
School District
Lower Merion School District, depending on which ranking website you use, is rated one of the best in the state. Niche rates it #4 out of 500 districts. School Digger rates it #7. US News and World Report rates Lower Merion High School #10. High test scores support the ratings, but other metrics, including teacher "grading", sports participation, student body diversity and facilities/resources are also considered.
Access to transportation
Whether you want to drive, fly, take the regional rail or bus or get on Amtrak or a bus to another city, Lower Merion is incredibly well-located. It is about 30 minutes from the airport, and less to Amtrak's 30th St. station which provides both train and bus options. The regional SEPTA bus and train systems offers routes and stops throughout the township. Major highways, including 76, 276, 476 and 95 are all within minutes.
Proximity to arts, culture and other city perks
From museums to theater, music and other performing arts, nearby Philadelphia doesn't disappoint. The capital of the mural arts movement and home to many festivals, annual events and historic attractions (as well as the Jersey shore and Poconos), this general region is highly attractive. Lower Merion is about half an hour from many of these destinations. Professional sports teams (football, baseball, basketball, hockey and soccer) play nearby as well. The township is remarkably well-positioned to take advantage of all the city has to offer without the negatives–parking here is easy, there are lots of parks and trees (it is not a "concrete jungle") and little traffic.
Lower Merion is safe
While no area boasts zero crime, Lower Merion rates as very safe. The most common crime is property crime and violent crime occurs rarely. Most residents report feeling safe walking alone, even at night. Additionally, the Lower Merion Police Department has very quick response times and maintains a visible presence, adding to the sense of safety.
Beautiful natural surroundings
People often remark on the beauty of the area and refer to it as a park-like setting. Because Lower Merion has been populated since the late 1600s, the landscape features mature trees and other plantings. The streets are, in many cases, windy and somewhat hilly, so the effect is the opposite of an open plain. Lower Merion is home to many creeks and historic old mills. Add in the many attractive stone buildings and the result high marks for curb appeal in the township.
Historic identity
Lower Merion has a rich history including many "firsts" and well-known figures. Developed originally as a summer community for wealthy captains of industry, there are many stunning estates.
The building of the great houses of Lower Merion began in the latter half of the nineteenth century. Many of officers of the Pennsylvania Railroad and the Baldwin Locomotive Works built homes along the Main Line for summer or year-round use, apparently rivaling each other for the largest and most impressive estates. The railroad company had to buy farms between Haverford and Rosemont and so could ensure the quality and size of the lots sold north of the new tracks. It built the Bryn Mawr Hotel (now the Baldwin School) for summer visitors to encourage use of the railroad. This building was listed on the National Register of Historic Places in 1979. Courtesy Lower Merion Historical Society
Settled in the 1600s, mills were the primary industry in Lower Merion, and many ruins still exist today. Furthermore, the water necessary to operate those mills are the creeks that crisscross the township and provide beautiful scenery.
Consistently desirable real estate
While most people don't move to an area and purchase a home with an eye on selling, it is unwise not to consider resale value. Fortunately, Lower Merion is insulated from the kind of volatility seen in some markets. The consistent appeal of great public schools, proximity to Philadelphia and a healthy employment landscape keep our values from dropping with short-term trends that can hurt other areas.
Good job opportunities
One of the most important factors in any location's desirability is the number and quality of job opportunities. As I mentioned at the beginning of this post, newly increased options to work from home means that people have much more mobility and don't have to live within commuting distance of their employers. However, there are certainly people who do need (or want) to work "on site".  Lower Merion has the benefit of being surrounded by an impressive number of colleges and hospitals. Along with some major pharmaceutical companies, these institutions as well as the growing tech sector provide substantial job opportunities.
Township amenities
Lower Merion Township wins accolades from its residents for keeping the infrastructure in good shape. Trash and leaves are collected regularly, snow plowing happens punctually and I've already mentioned the well-respected police force. There are two Lower Merion outdoor pools residents can join and there are lots of other benefits, including access to Main Line School Night, which is an incredibly popular program. Personally, my favorite township amenity is the fabulous Lower Merion Library System. It is wonderful.
This list of reasons to consider relocating to the Lower Merion area is by no means exhaustive, but it certainly should provide some food for thought! If you have any questions about the area, please feel free to contact me!
If you are relocating to the Philadelphia/Main Line area, please go to my blog page and search for posts using the relocation tag. Contact me to discuss your Philadelphia area relocation! jen@jenniferlebow.com/610 308-5973