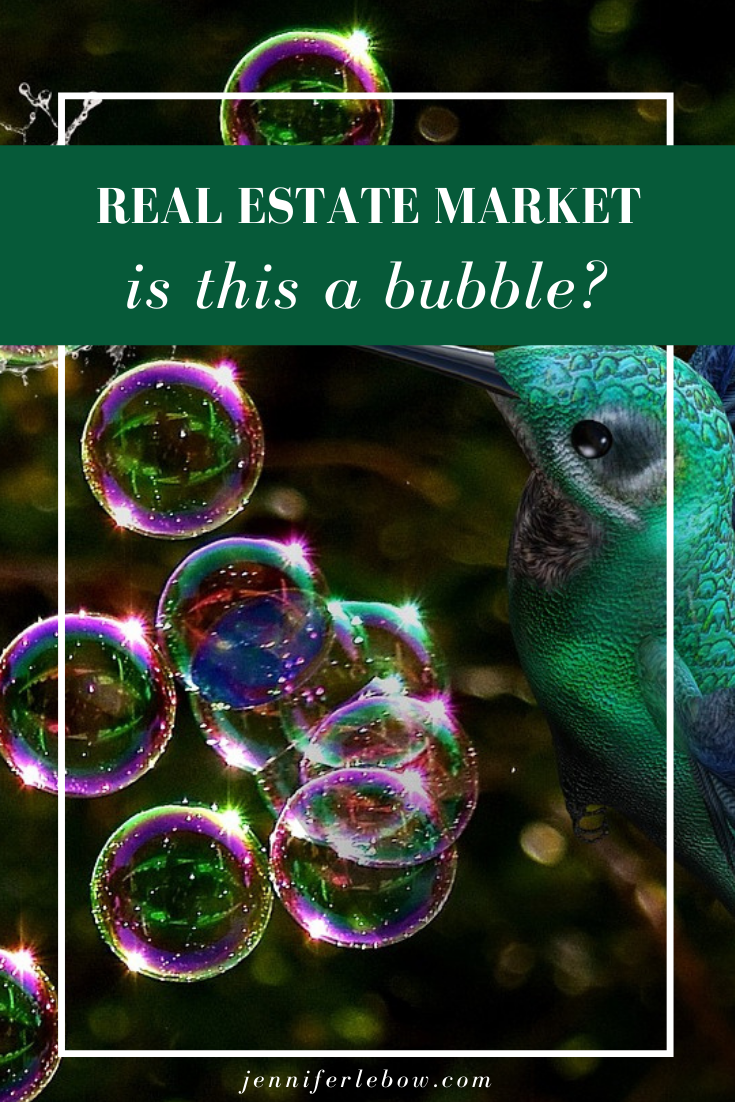 When will this bubble burst?
The most common question buyers ask me about the current real estate market is "When is this bubble going to burst?" They want to know when the intense competition for houses and over-asking, non-contingent offers is going to abate. And even though I'm not trying to buy a house at the moment, I can tell you it's no fun having to call buyers who have put a seriously competitive offer on a house only to tell them that the seller chose another one. We are all wondering how long this situation will continue. The unwelcome news (unless you're a seller who doesn't have to buy another property) is: no time soon.
How is it different than last time?
So how is this market different than the one that preceded the 2008 crash? First of all, the factors driving the increase in prices are markedly different. Then, mortgages were so easy to get, you barely had to have an income to qualify. Now, lenders are much stricter about whom they qualify. Even the type of loans are different. Back then, roughly 35% of mortgages were adjustable rate loans. Often, when those rates adjusted, borrowers were ill-prepared for appreciably higher payments and defaulted. Now, less than 2.5% of new mortgages are adjustable.
Why is there no inventory?
Second, and probably most important, there was more inventory then. In 2007, there were plenty of homes available, which negatively affected value and contributed to tumbling prices. We have been experiencing a housing shortage consistently for the last six years or so. New home construction, which has been lagging behind demand for several years, has been incredibly hard hit by COVID. The delay in supply change and labor shortages due to the virus has made the build time almost double. And unless you've been living under a rock, you've probably heard how building supply costs have skyrocketed during COVID, further reducing the availability of new homes.
Why is there so much demand?
Along with the reduction in supply, we are now seeing increased demand. Now, with incredibly low mortgage rates, people who might not have otherwise been in the market are actively looking for houses.  Additionally, the (substantially large) millennial cohort is buying at an earlier age and with more cash in savings. The impact of such a large group entering the market sooner and with more money is significant. Of course, we can't forget how COVID has spurred an exodus from expensive cities as people no longer have to live where they work. Wanting a lower cost of living, more interior and exterior space, many people are making lifestyle changes beginning with a move. The demand for suburban homes has increased sharply.
Don't expect a crash
No one can predict with certainty when the market will come back into balance. However, the most basic principles of supply and demand indicate that it won't be in the immediate future. An analysis of situation and the contributing factors illustrates how different our current market is than just before the crash in 2008. That artificially high market was a bubble and it did, indeed, burst. What we are seeing now, though, is no bubble. In the next couple of years, as supply and demand realign, we should start to see a reduction in the intense level of competition, but it is unlikely prices will fall drastically. For a recap/summary, click here.
If you are relocating to the Philadelphia/Main Line area, please go to my blog page and search for posts using the relocation tag. Contact me to discuss your Philadelphia area relocation! jen@jenniferlebow.com/610 308-5973