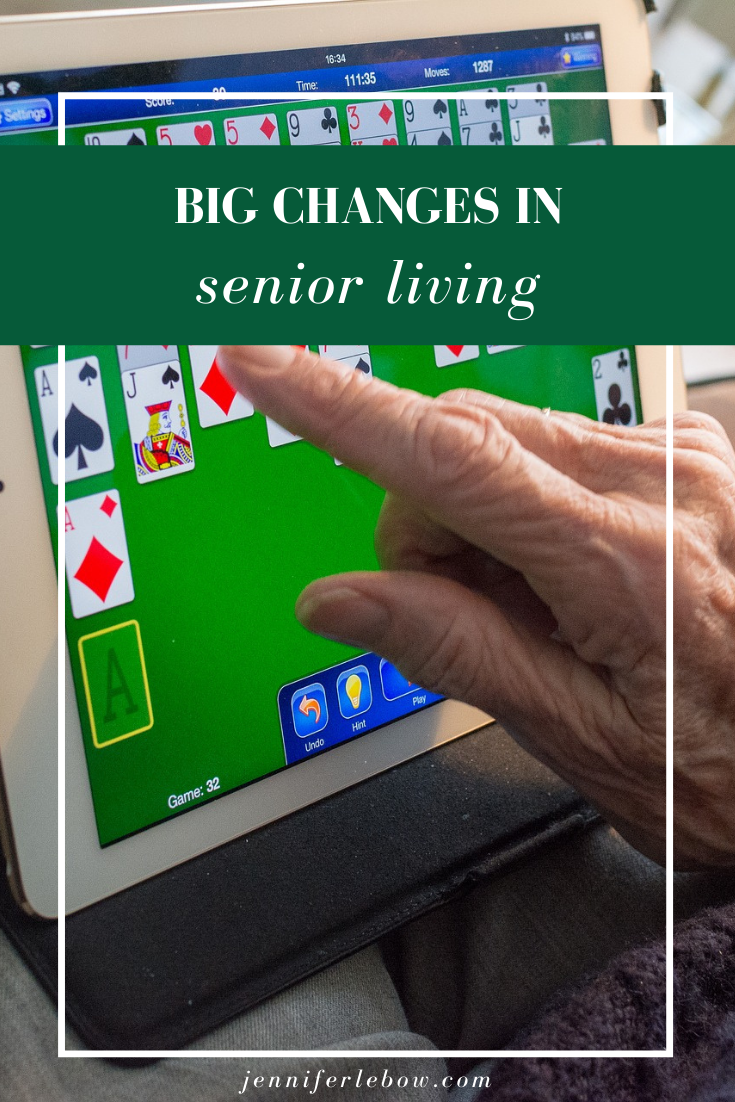 Types of senior living
Whether you are considering moving into a senior living facility or you are researching this topic for a parent or other relative, there is a lot to learn. While there are still options that are reminiscent of the traditional nursing home, that model is no longer the only game in town. Some offer step down units which may or may not include independent living, help with housekeeping/meal prep/personal care, memory care, full time nursing and hospice. There are typical high rise buildings, pod/cottage style homes, low rise, sprawling buildings and just about everything in between.
Trends in the new senior housing
New patterns are developing as far as the facilities themselves, as well as the services provided and how care and amenities are delivered. Those in the know expect there to be a diversification in the types of buildings designed for senior living. Several factors contribute to the new trends, including COVID, an aging baby boomer population, costs, lifestyle choices and advances in technology. Here's how they may affect the spaces that accommodate older people.
As most people know, the hardest hit communities when COVID began to spread was nursing homes. Not only were the residents often at high risk for infection, but they were in very close quarters as well. As a result, more small, neighborhood-based facilities are popping up. Interestingly, the opposite is also true and another by-product of COVID: some assisted living facilities are eyeing what has become deeply discounted real estate in the form of hotels/office buildings that have not been able to withstand the economic effects of the drop in hotel stays over the last two years.
Aging baby boomer population
There will be a surge in the need for housing for the elderly as the baby boomers continue to age. This increase in demand will likely create not just more housing, but more variety in what is available. The fastest growing sector is in memory care, which is expected to continue to grow.
With labor, insurance and material costs all on the rise, senior living costs will increase, as well. Part of the industry response in order to stay in business is to offer more customized pricing for residents. Expect fewer one-size-fits-all options and more a la carte services. This model will capture a larger pool of residents.
There has been a great shift in the role of senior living facilities from just providing food, shelter and skilled nursing to creating vibrant, active communities. Programming will continue to evolve and include field trips, arts, exercise, lectures, games/clubs and more. As people live longer and medicine continues to develop, many seniors are living more active lifestyles.
Choice continues to be the driving force in elder care. Historically, most facilities have either served the luxury market or the lower end of the economic scale. The luxury market is booming with some facilities nearly indistinguishable from resorts. However, the middle market, which has been ill-served, is growing. are we are seeing more facilities targeted toward people in the moderate income bracket.
One of the most exciting trends in assisted living communities is a move to have more on-site medical care. Not only does this change make it easier for residents to have access to care, but, as a result, the likelihood is that they will remain healthier. If simply getting to the doctor is not a barrier, people will be more likely to address health issues sooner rather than later.