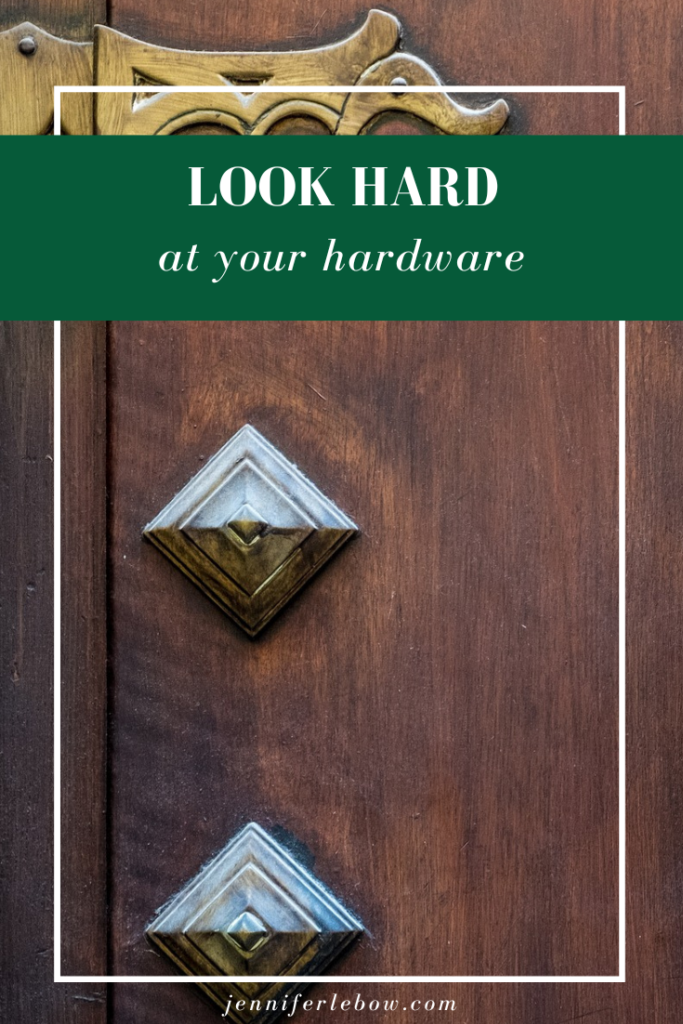 What today's buyers are looking for is updated properties, especially in areas when the housing stock is older. While remodeling kitchens and baths certainly makes your house more attractive, those improvements are quite costly and sometimes don't provide as high a return on investment as you might hope. One of the least expensive, but highest ROI projects you can do is updating the hardware. So….what's included in hardware?
Hinges–on doors, these only need to be changed if they are a metal that contrasts with the door knobs or levers OR if they have been partially painted. You'd be surprised how often hinges are splattered with paint which make the house look ill-cared for. As far as cabinet hinges, if the color is dated, change them.
Door knobs–not only the color (brushed nickel is much more popular than brass these days), but the style matters. Would levers vs. knobs be appropriate to the archtictural style of the house? If not, look at the choices and select consciously.
Drawer and cabinet pulls–while refacing kitchen cabinet doors can make a big impact, there is a cost associated with it that may or may not be in your budget. Regardless, the hardware of those cabinets also sends a "modern" or "dated" message, so look at it critically and decide if an upgrade is worthwhile.
Light switch plate covers–shiny brass is not what today's buyer is looking for. You can find white, black, and muted metal finishes that will modernize your home's look. Pay attention to the switches themselves as well. Might rockers or switches with dimmers make a noticeable improvement? At the very least, make sure your switches are clean and match throughout the house.
Outlet covers–see above.
Lighting: while I'm not suggesting you need to update your ceiling light fixtures and fans (though it's often a very good idea), you should at least assess whether any of your recessed lighting has dated or damaged metal rings that surround the edges and often give a dated appearance.
Faucets–Some people replace sink and/or shower and tub faucets to update them, but it can be costly; check the prices first.
The cost of the materials discussed above is minimal and if you can weild a screwdriver, you can probably do just about everything yourself. The return on that kind of investment is high and I guarantee you'll be surprised at what a difference it makes in how updated the house feels.