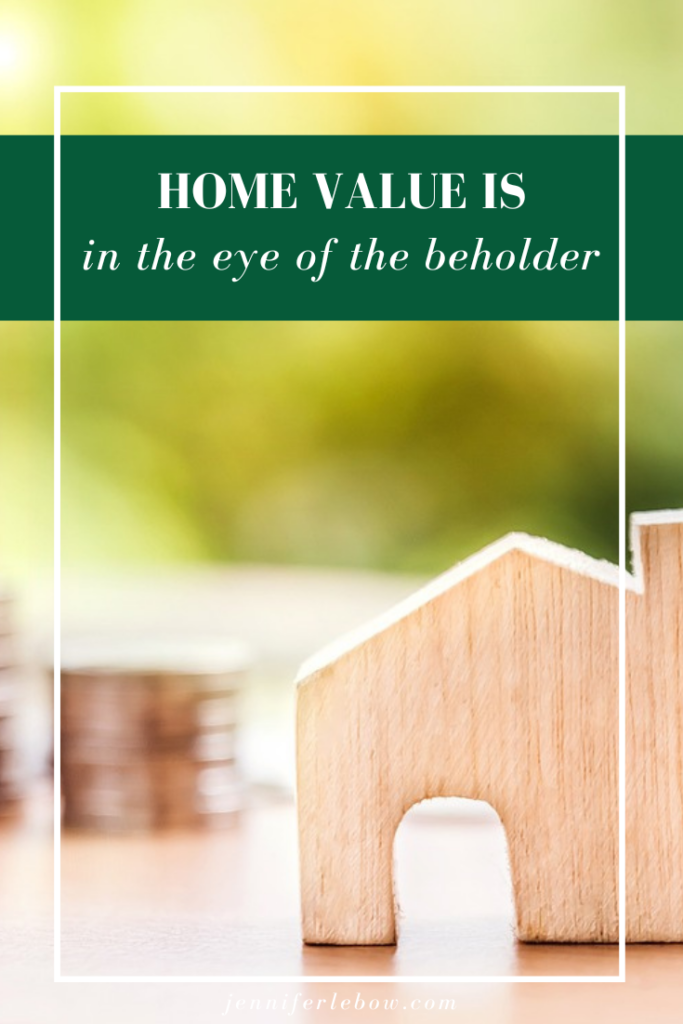 Using the comps to determine property value
If you are considering putting an offer on a house, you need to determine what it is worth to you. Any property usually has a market value within a range–for example, you may be looking at a house, which, based on comparable sales, is worth between $600,000 and $675,000. Those "comps" are the primary basis for determining value. You and your agent will compare similar properties in the same neighborhood, if possible and try to add and subtract for their differences. The idea is to compensate for variables like square footage, property condition, amenities like a garage, air conditioning or a finished basement. Evaluating the subject property in relation to the comps is the first step in assessing that property's value.
What do comps NOT take into account?
Comps are a great place to start when you are establishing value. However, they cannot take into account individual situations. They can't reflect differences in people's specific needs, whatmight be meaningful or important to them or their specific situations.
Consider the value of the home's features
What some buyers might describe as "must have" features, others might call "bonuses". I had a buyer who had looked at several homes, some three bedroom (all she really needed) and some four bedroom. Across the board, they all had at least some bedrooms that were quite small. When I took her to see a property that had four truly enormous bedrooms, we absolutely noticed and appreciated that feature. It also had a finished basement. This particular buyer is a single woman whose kids are out of college and living on their own, though they do visit sometimes. When we were discussing an offer, seated in my car outside the house, several other interested buyers arrived for showings. Clearly, there was a great deal of interest. When she told me what she was comfortable bidding, I explained to her that I respected her decision, but thought it would go for more. When she asked why, here is what I said:
The bedroom sizes and the fact that there are four that big? That finished basement? While you see them as bonuses, for many families, those are necessities. Furthermore, we have looked a lot of houses and haven't seen bedrooms the size of these. If you have a guest, their room doesn't really need to accommodate much more than a bed, a night stand or two and a small dresser. For a larger family, with kids who have desks and dressers and other furniture, the number of bedrooms and their large size is more valuable to them than it is to you. If you had three kids living at home and were looking in this price range that we've been looking in, is there a home that we've seen that you'd buy before this one?
When I posed the question that way, she understood why a different buyer might consider some of the homes features more valuable than she would and, therefore, offer a higher price. The age-old concept of "supply and demand" for a scarce commodity cannot be ignored!
Consider location, but on a personal level
When I say to consider location on a personal level, I mean that there are certain characteristics of a street or locaiton that will be more valuable to one buyer than another. I had a client who was used to walking her three high-energy kids to school every morning. It was time spent together that was important to them and help the kids shed some of their excess "sillies" to be ready for school. That buyer said that being able to walk to school was crucial. Well, in our area, we have few sidewalks. Therefore, they were willing to spend more than other buyers might on a home that met their families other needs AND allowed for them to safely walk to school.
Location can also affect value when it has a bearing on your social life and/or your work life. What if a house you are looking at would allow you to have a 7 minute walk to commute to work? Or what if your best friend lives three doors down? Suddenly, that property is worth more to you than to another buyer.
Consider how desperate you are
When a buyer client asks, "How much should I bid on this; what do I need to do to get it?", I respond that those are not the same questions. How much you should bid depends on its value to you. Then I explain what I call the "desperation factor" If there are other buyers out there who are more desperate than you to own it, they are likely to present stronger offers.
What do I mean by desperate? Let me paint a picture for you. Imagine a buyer who is moving to the area and whose house is under contract and settling in six weeks. It is July and the buyer has two children whom she needs to register for public school. This family has three dogs.
They have to move out of their home because it is going to settlement soon, so they do not have the luxury of taking their time to find something; they have to get something under contract so they have a place to live.
They can't register their kids for school without an address and the school district the kids attend is tied to the location of the property. So they to find something fast to finalize the school piece of the puzzle.
With three dogs, renting is not a viable option, so they have to find a house to buy.
That is an example of a desperate buyer. Beyond the value of the house itself, there is value to that buyer to securing a property. Any property. So that buyer is going to write a more competitive offer than you might.
Value is in the eye of the beholder
Obviously, the comps provide a solid starting point for evaluation what a property is worth. However, specific features may hold more value for certain buyers than others. A first floor office may be a nice extra for you, but a necessity for someone else. The location may be considered generally convenient and a nice neighborhood by anyone's standards, but if it borders the nature trail that you love to walk on every week, you might be willing to pay more for the house. Finally, your level of desperation comes into play as well. If you don't have to move, but will for a property that meets your needs and fits your budget, you might not bid as aggressively as someone who feels that their back is against the wall as far as getting a home under contract ASAP.  For all of these reasons, the value of any property varies depending on who is looking at it; it's in the eye of the beholder.
If you are relocating to the Philadelphia/Main Line area, please go to my blog page and search for posts using the relocation tag. Contact me to discuss your Philadelphia area relocation! jen@jenniferlebow.com/610 308-5973