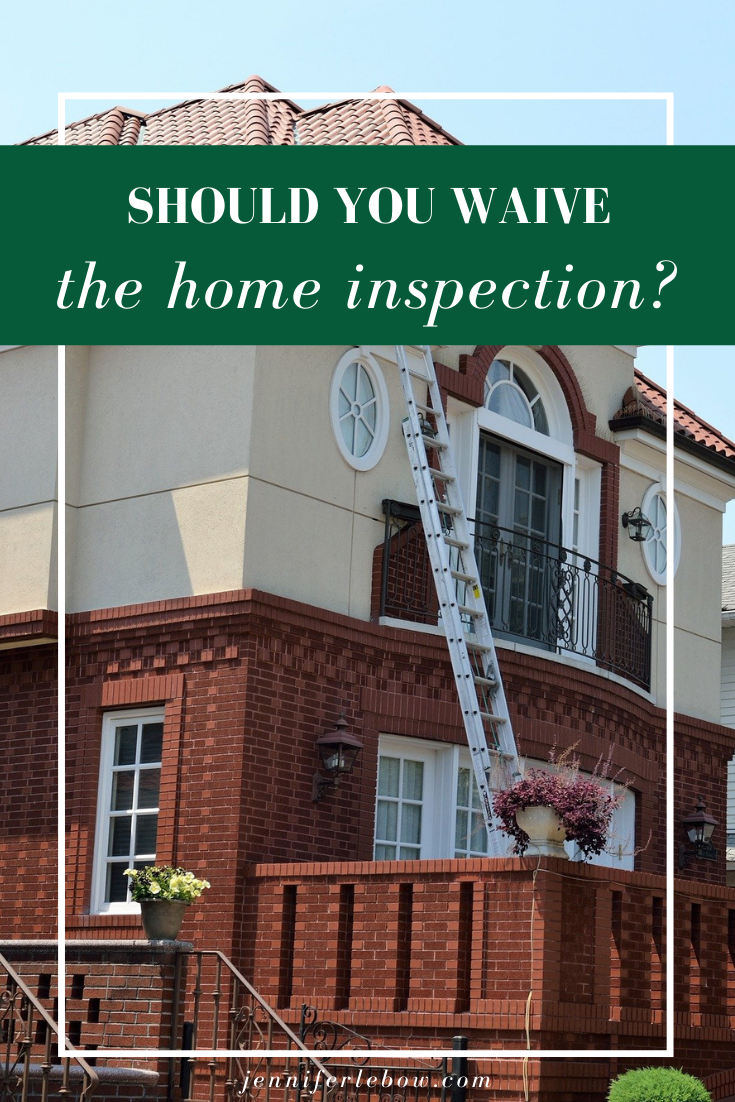 In today's extremely competitive real estate market, many buyers who are successfully winning bidding wars for houses have opted to waive inspections. Should you or shouldn't you? There is no easy answer. On one hand, remember that you are buying a used house (like a used car) and you shouldn't expect every hinge to be tightened and perfect baseboards with no signs of wear. What you should be concerned about are safety issues (like unsafe stairs or a heater that is building up carbon monoxide) or material defects (like a roof that leaks, electrical problems or a leaking plumbing waste pipe).
To state the obvious, there is a substantial risk to buying a house and forgoing the professional home inspection. There are, however, some circumstances in which you might consider it.
If you or someone you know (and can bring through the house) is knowledgeable about construction, systems and other things a home inspector would examine
If the home seller has had a pre-listing inspection report done and is willing to share it. Then you can see what the issues are and what the seller will or won't address.
If you have the time and receive permission to get an inspector to do an inspection PRIOR to submitting an offer. That way, your offer reflects whatever issues are discovered and you can plan accordingly.
If it's new construction, in which case you almost always have a year to make a punch list of items for the builder to rectify. You might, in that case, choose to have an inspection done once you've moved in, in the event there are things you might not notice.
If you plan on doing a major renovation, in which case you'll be redoing the roof and electrical, plumbing, etc. Since you'll be replacing a lot of those systems, their current state is relatively unimportant.
If the risk-reward equation justifies waiving them. If your worst-case scenario of what you could discovered balanced against the possibility of losing the house to a better offer is manageable, you might choose to skip inspections.
The discussion above applies to the traditional home inspection. When it comes to termite inspections, septic, well or stucco inspections, those need to be evaluated individually. Significant termite damage can affect the structural integrity of the house, so you might want to consider inspecting for wood-boring insects. Septic systems can be upwards of $30,000 to replace, so that's another inspection you should think carefully about before waiving it. Stucco, too, can be a tremendously expensive repair, if it has failed. You may have to replace doors and windows in addition to the stucco, so consider the potential cost of remediation compared with how much you want the house if you are opting out of a stucco inspection.
If you are relocating to the Philadelphia/Main Line area, please go to my blog page and search for posts using the relocation tag