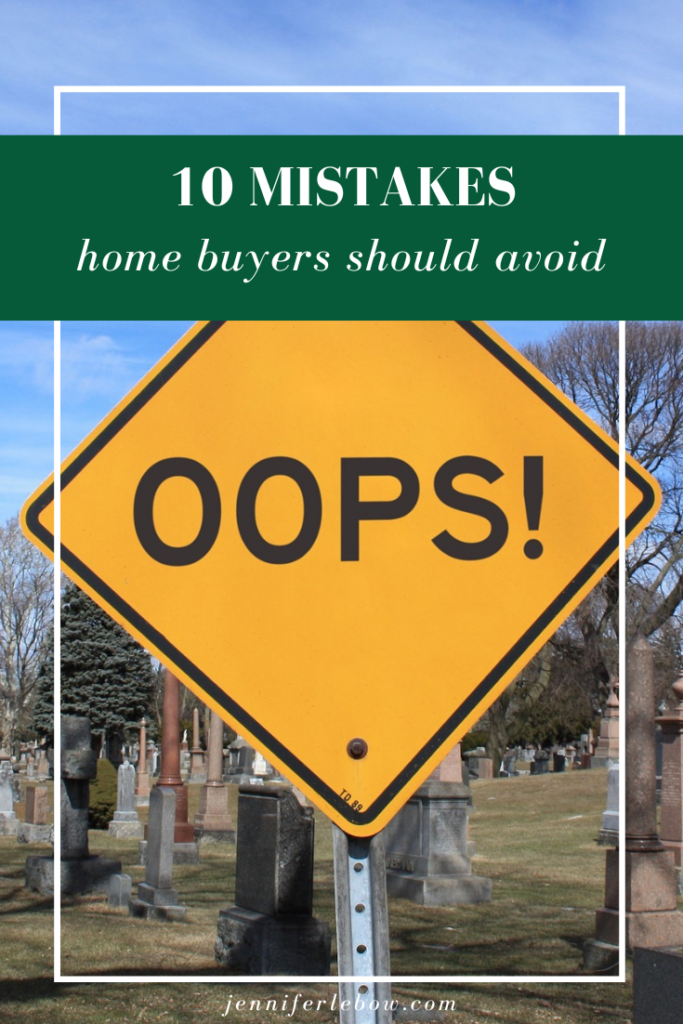 Mistakes home buyers wish they hadn't made
Of course, hindsight is 20/20. Here are10 mistakes home buyers admit to making. Familiarizing yourself with them should help you avoid some significant headaches. Please note, there are countless others, and there may well be a few you still make, However, these are errors that come up again and again when buyers are asked what they wish they had done differently.
1. Not paying enough attention to the property
This mistake can manifest itself in many ways. Here are some examples:
The topography of the lot (the house is in a depression, or it slopes too steeply for the kids to play, or gets swampy in rain). It's very hard to change the lot. While you may be able to have an excavator terrace it or make other changes, if the house sits at the top or bottom of a hill, that's unchangeable. Another concern is if the property is located very near a highway or industrial/commercial business. Beyond noises, proximity to roads and certain types of businesses, there can be odors as well. Chemical plants, water treatement plants, gravel pits…..And keep in mind that if you visit on a weekend, if those businesses are closed, you may not be getting an accurate sense of sound/smell.
If you want to build an addition, add a swimming pool, garage or patio, you should not assume that the zoning regulations for the property will allow it. Whether it's a maximum impervious surface amount, set backs or just certain uses that are not permitted, contact the zoning department of the governing body to find out what is and is not allowed.
2. Not clarifying closing costs early on
Some real estate agents do not address closing costs with their clients until they are writing up an offer, or, worse, a few days before closing! In my mind, that oversight is inexcusable. Where I practice, closing costs (cash, not financeable money) can run over 5% of the purchase price in some areas, so I always discuss it at the first conversation.
3. Foregoing inspections
Buyers have lamented skipping all kinds of inspections: the regular home inspection, termites, pool, sewer line/septic, well, stucco (a biggie in my neck of the woods). If you don't do inspections, any problems discovered once you own the house (unless you believe they were purposely hidden and not disclosed) are your problems. Any of these inspections can identify issues that are very costly to repair, or might convince a buyer to walk away. If you do discover problems, strategize with your agent to determine the best way to fix them–should the seller make the repairs or provide you with a credit?
4. Not paying attention to the seller's disclosure
Sometimes, people just sign everywhere their agent tells them to sign in order to submit an offer (especially if there is time pressure to hurry and get the offer in). Please ask your agent to review the disclosure with you so you are not surprised to move in only to learn that the air conditioning needs to be replaced and that the basement gets wet during heavy rain. If the retaining wall in the backyard has shifted (and that's on the disclosure), you should take the time to either have it inspected or at least understand how serious (and costly) any required repairs are.
5. Not using an experienced local real estate agent
Working with someone new does not necessarily mean you will have a negative experience. Many new agents are smart enough to align themselves with someone who has been in the business a while and confers with that person throughout the process to make sure nothing important is missed. However, that system is not perfect and not all inexperienced agents make use of it. Between understanding the documents, deadlines, lender and title requirements, closing costs, inspection negotiations, inclusions and exclusions, etc., there is a LOT that can go wrong or slip through the cracks. Working with someone with dozens of transactions (or more) under his or her belt will make it much less likely that something is missed or improperly handled.
Working with someone who is not experienced in the area you are considering is also a bad plan. Even if that person has industry experience, he or she may not know, for example, that a particular development has many houses that have stucco problems, or that a new school is going to be built just around the corner, creating eyesore and noise in the short-run and increased traffic in the long-run. The agent may be unaware of unusual local ordinances like not being permitted to install a fence or add a garage. So be sure to work with someone who sells homes in your target area.
6. Not learning more about the community/neighborhood
Some buyers have reported that they focused solely on the property and house and didn't take the time to learn about the neighborhood. The community you live in determines the convenience of getting to places you frequent (whether that's work, shopping, dining or simply general highway access or public transportation). It also influences who your neighbors are. There are on line sources for data regarding the percent of renters vs. owners, the average income of the area, crime statistics and more. You can also determine the way certain areas vote, if the political leaning of the neighborhood is important to you. Please be careful in whatever research you do, including talking to local people, to not ask questions that could be construed as discriminatory in any way. Along those lines, remember that real estate agents are subject to fair housing laws and cannot answer questions about the make up of a neighborhood when it comes to race, familial satus, sexual orientation, religion, nationality, etc.
7. Inclusions/Exclusions
Make sure you understand what items in the house and on the property are included and excluded in the sale. The trampoline? Fire pit? How about the bathroom mirror, televisions, curtains, refrigerator and washer and dryer? Check with your agent and tell him or her which things you would specifically like removed or included.
8. Skipping the walk through
While the walk through is an opportunity to make sure that the inclusions and exclusions discussed above are as they should be, it is about more than that. You should make sure there are no new leaks (in pipes, roof or basements), broken windows, doors or locks. Check that the heat/ac are working properly and that the water heater is still working. Finally, note whether any repairs the seller has agreed to complete have, in fact, been done. And if the seller is NOT entirely moved out, make sure your agent contacts the listing agent to confirm that everything that should be removed will be gone prior to settlement, including the trash.
9. Not reading HOA rules
The complete HOA rules and regulations must be provided to the buyer prior to settlement. The buyer has five days (here in PA) from receiving them to terminate and receive all monies back. Unfortunatley, since these documents can be long and tedious, some buyers don't read them carefully. Doing so is the buyer's responsibility, so take the time to read through them. Can't have a grill? No fences allowed? Not permitted to park an RV in your driveway or paint your shutters a different color? Can you have a garden or plant a tree? If these things matter, read carefully.
10. Not considering costs associated with a larger home
If you are considering purchasing a home appreciably larger than where you are coming from. do not neglect the costs of heating/cooling, furnishing and cleaning a much bigger house. And with any house, don't forget to budget for routine maintenance. Whether the heat needs to be replaced, the roof needs repair or it's time to reseal the driveway or power wash the deck, houses cost money to maintain. Budget accordingly.
If you are relocating to the Philadelphia/Main Line area, please go to my blog page and search for posts using the relocation tag. Contact me to discuss your Philadelphia area relocation! jen@jenniferlebow.com/610 308-5973