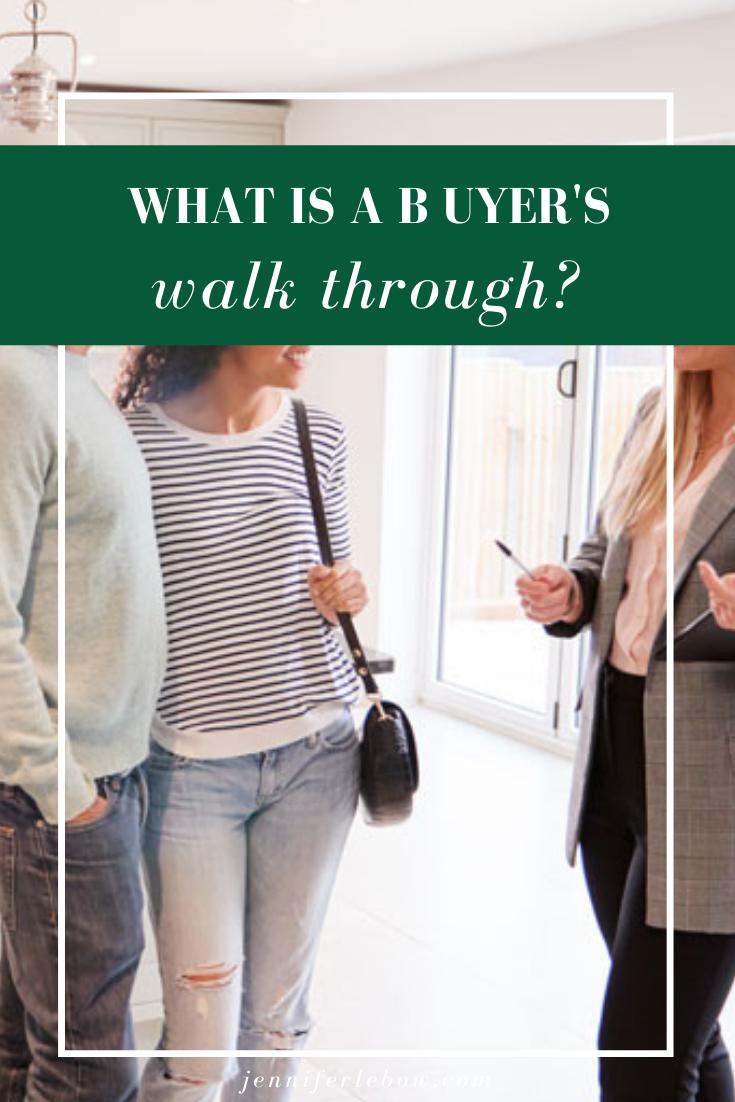 What is a walk through?
If you are under contract to purchase a home, your agent is likely to ask you when you'd like to do the "walk through". What is that? That is a quick tour through the property just prior to settlement. It is best done after the seller has moved out, so everything is visible. That said, you might want to do it a couple of days ahead of settlement if possible, in the event that there are issues that you need to resolve. (When settlement is delayed due to problems discovered at the walk through, it's messy and can have significant negative consequences.) The purpose of the walk through is to confirm that the property is in the same condition it was when you agreed to buy it. It also allows you to check that any and all repairs the seller agreed to complete have been done.
What to look for at a walk through?
Repairs
Now you know what a walk through is. But how do you do it? First, check that any repairs have been made. While your agent should have received copies of work orders/invoices for any repairs made, you can also visually inspect. For example, if there was an attic joist that needed replacing, look to see whether a new one has been installed. If GFCI outlets were to be added, make sure they have been.  Obviously, some things, like electrical work, might not be easy to confirm if you're not an electrician. For those repairs, the invoices are particularly important.
Checklist
Other than repairs, you want to be sure everything is in the same condition it was before. So test out the garage doors. Turn on all the sink and showers and let them run a few minutes before checking for leaks. Make sure the dishwasher runs and doesn't leak. Test the garbage disposal, oven and stove. Look for any broken windows. Be sure the toilets flush properly. Do the doors all close and lock? Beyond those basics, you want to be sure that, in the moving process, there was no damage to walls or floors or any other part of the house. Be sure the heat and a/c are operating (you can usually only check one, depending on the time of year).
Finally, be sure that the seller has taken everything that is supposed to have been removed. Beyond furniture and personal possessions, this category can be a little hard to define. What about hoses? Extra paint cans in the basement? Shelving units in the garage? While the language in the agreement of sale states that anything not attached is considered personal property, sometimes items like the ones above are overlooked and left behind. If you, as a buyer, specifically do or do not wish to inherit those kinds of "leftovers", be sure to tell your agent either when you're writing your offer or replying to inspections. It's best to ensure all parties have the same expectations.
Seller responsibility
Some people ask: "Does the seller have to have the house cleaned before settlement?" The answer is fairly straightforward: the agreement of sale says it must be "broom clean". That means no debris or trash on the floor or counters. However, it does NOT mean that the seller has to actually clean it. Bathrooms may well need a scrubbing and ovens and stoves are often left dirty. As far as the refrigerator, all contents should be gone, but don't be surprised if it hasn't been clean.
This question comes up often as well: "Does the seller have to fix all the nail holes left from pictures hung on the walls?" Establishing how big/small a nail hole needs to be painted or spackled is less clear. Some people suggest that if a hole is larger than about 1/4″, it should be spackled, so that there is no longer a hole. Of course, spackle won't match the paint, so be prepared to paint or at least touch up (which some sellers may do as well).
Perspective
Keep in mind that the house will look different once it's empty. You may notice more imperfections (in flooring, paint, etc.). The walk through is not meant to be an opportunity to re-evaluate the purchase or the cost of updating or improving the house. Try to remember what its purpose is and focus on checking repairs, and confirming that there are no major changes in condition. For more, click here.
If you are relocating to the Philadelphia/Main Line area, please go to my blog page and search for posts using the relocation tag. Contact me to discuss your Philadelphia area relocation! jen@jenniferlebow.com/610 308-5973