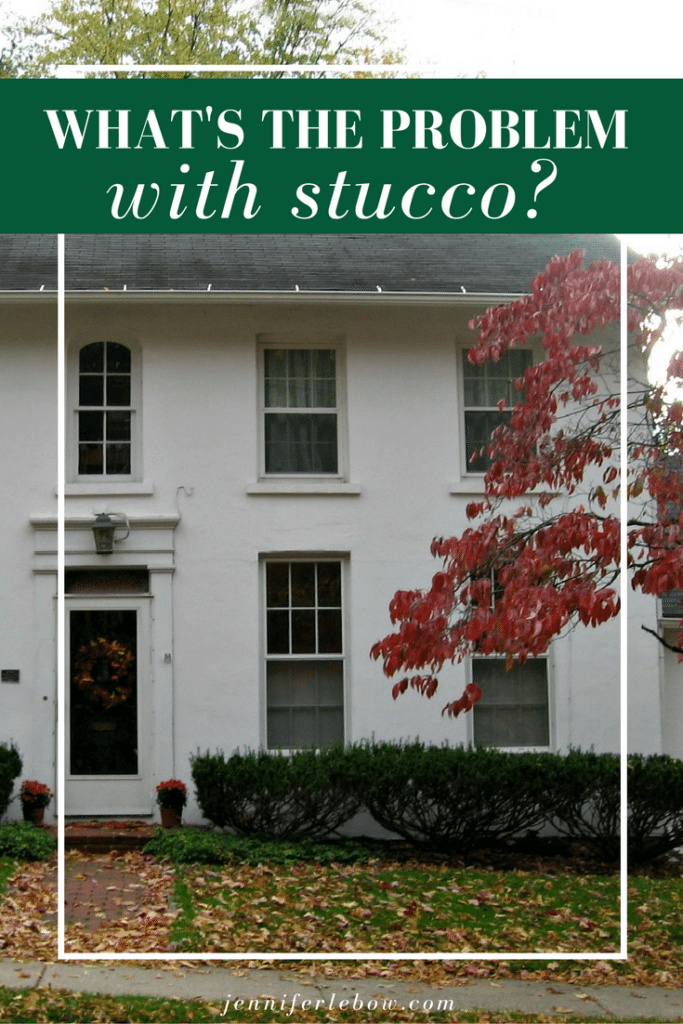 You may or may not be aware that houses whose exteriors are sheathed in stucco have the potential to require costly repairs if the stucco has failed.  Certain relocation companies and mortgage companies require stucco inspections or they will not participate in the transaction. If you are considering purchasing a house with a stucco exterior, you should understand some of the potential problems you might encounter.  Any kind of stucco, due to the materials it uses and way it is installed, can be a water trap, causing mold and/or deterioration and rot of interior wood framing.
In the late 1970s into the early 1990s, a particular kind of stucco, referred to as EIFS, was installed in many new developments.  This type of stucco has proven to be the most likely candidate for water problems as it had a very strong vapor barrier that didn't necessarily prevent water intrusion, but did a fantastic job of not letting any moisture escape.  It resulted in several stucco failures and law suits which put some builders out of business. This particular stucco system is no longer used, but if you are considering buying a stucco house built during that time period, be especially cautious. However, other stucco products and how they were installed can also have problems that may be quite expensive to remediate.  I don't mean to suggest that you should necessarily avoid buying a stucco house, rather, that you should take steps to ensure that it is not compromised or failing. Here's how you can protect yourself and your investment.
While visible staining beneath windows, especially, can indicate water problems, it doesn't always.  Conversely, there are often no visual clues to problem areas.  That's why you need more information. As a result of the frequency of stucco problems, the Pennsylvania Seller's Disclosure document asks whether the house is constructed of stucco and/or EIFS. Read the seller's disclosure to determine if the seller is acknowledging any existing problems with the stucco or any previous problems that were addressed.  Find out all you can about whatever is disclosed there.
Then, I'd strongly recommend a stucco inspection, above and beyond the standard home inspection.  There are two kinds; one is non-invasive and uses a laser to detect for moisture behind the exterior walls. The other is more thorough and involves drilling small holes (which are later filled in and are nearly invisible) to test manually for moisture levels. These inspections are not cheap, but when remediation can cost well above $100,000 in extreme cases, it's something I'd suggest you seriously consider.