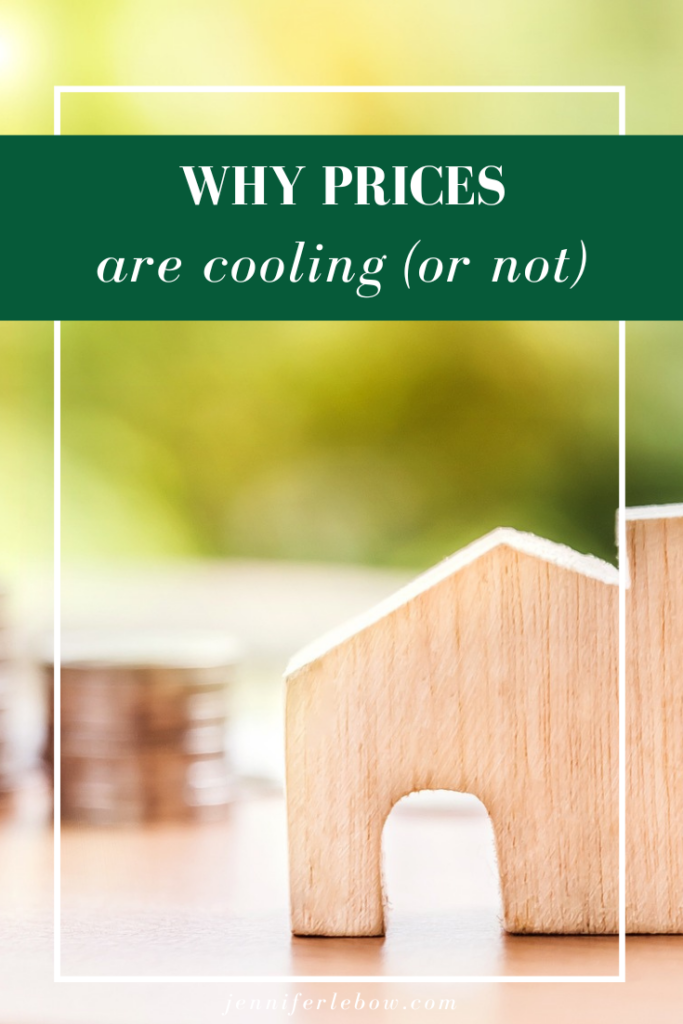 While national averages concerning the cost of housing (increasing or decreasing) probably has some value, mostly to the Fed, averages in real estate values provides nothing useful to prospective home buyers. If one market has decreased 10% and another has risen 5%, that would indicate an average of a 2.5% drop–not an accurate reflection of either market. The news is full of headlines about a cooling housing market and prices that are dropping. However, those reports are based on those averages, which, again, don't represent any market, much less every market. You might wonder why, though, prices are dropping in some places but not in others.
The factor that most directly affects value, though, is the balance (or imbalance) of supply and demand, which varies incredibly from place to place. But what affects supply and demand? Lots of things.
Mortgage rates
Mortgage rates  have an enormous effect on home values. Most people would assume (and, indeed, this is the idea behind the fed's aggressive increase in rates) that higher mortgage rates reduce the amount buyers can spend on a house because the monthly payment for the same dollar amount of loan has increased. Certainly, demand has gone down as fewer buyers can afford to buy. Mortgage rates actually are the same across the country (about the only thing about real estate that isn't hyper local) so why aren't all markets responding in lock-step? Because there are lots of other factors in play. For example, don't forget to consider the other side of the equation. These rates affect the supply of homes just as radically as the demand for them, if not more.
Today's high mortgage rates, more than ever, are keeping sellers in their current homes. The average mortgage holder in the US has a loan origination rate (meaning this figure does not include the hundreds of thousands of people who refinanced at the historically low rates we saw within the last two years) of 3.8%. As I compose this blog post, rates are at 7.25%. Few sellers who don't have to move (change of job, move to retirement facility, change in life circumstances, etc.) are choosing not to because the cost of a new mortgage is double what they are paying.
This lack of inventory is even worse in areas like where I live, in the Philadelphia suburbs. Because of our very good schools and jobs in medicine, pharma and academia, there are always more people trying to move in than out. (Once they are here, many people want to remain in the area.) As a result, many sellers, historically, have been what we refer to as "move-up" buyers. Those are people already living in the area who are looking for a "better" house. Therefore, in markets like mine, where most of the sellers don't need to sell because they are not moving out of the area, the dearth of listings is even worse.
Desirablility
The desirability of a certain city may change, too, leading to less demand for houses there (and a corresponding drop in prices). What might cause a decrease in a city's popularity? Maybe it experiences an industry-wide employment shift. Just like values in Detroit plummeted when much of the auto manufacturing business was moved overseas, the huge reduction in tech jobs is having a similar effect. In tech hubs like Austin, TX, fewer people are interested in living there if their jobs are no longer local to that area.
We are also seeing a bit of a boomerang effect as far as people who fled cities to rural areas for space, safety and tranquility during the pandemic. A certain percentage of those people are feeling a little too remote and some have chosen to return to cities or larger suburban regions with more culture,restaurants, entertainment and goods and service. I'm confident there are many more reasons that some places that were very popular might wane in popularity. (For example, while I have no data for this opinion, I could believe that changing weather and climate patterns might also make certain regions more or less desirable.)
Valuation
Another interesting feature of different local markets, highlighted by COVID migrations to certain areas is the valuation of a city. You have probably heard the term "overvalued". Boise was listed as the most overvalued city in 2021 (80.8%). To understand why, consider that lots of wealthy people (mostly from California where they were used to paying very high prices for real estate) relocated there during the pandemic. They were willing and able to pay high prices for what many perceived as a higher quality of life. The definition of "overvalued' is the ratio of the average cost of housing to the average income in that city. When a city is egregiously overvalued, it denotes a big gap in income and housing prices. Over time, as the influx of wealthy people slowed, those high housing prices began to fall. Why? Because when such a large percentage of the population can't afford homes, the buyer pool shrinks and the demand goes down. Less demand translates to lower prices. In contrast, Philadelphia, where I work, was overvalued at 11%. That much lower percentage has expressed itself in prices keeping steady or actually rising in many local neighborhoods.
Total supply available
While the number of homes for sale fluctuates, what about the absolute number of houses that exist in a local market? Well, in many areas, new construction accounts for a growing number of houses. In places like Salt Lake City and many places in Texas and Phoenix, new building is booming. In areas like mine, where there is no new land to build on, the potential number of houses for sale is limited by the fact that we are dealing with (basically) the same, fixed number of structures. When the potential supply is fixed and doesn't increase, the effect is more demand on that limited supply. And more demand means more competition for the properties that are available. Competition means higher prices.
Are you starting to see why different markets are responding differently to current conditions? I am certain there are several other factors that come into play, so please don't view this post as an exhaustive exploration of the issue. The most important take-away is to find out everything you can about your local market and don't assume that the news you see/read is representative of your area.
If you are relocating to the Philadelphia/Main Line area, please go to my blog page and search for posts using the relocation tag. Contact me to discuss your Philadelphia area relocation! jen@jenniferlebow.com/610 308-5973