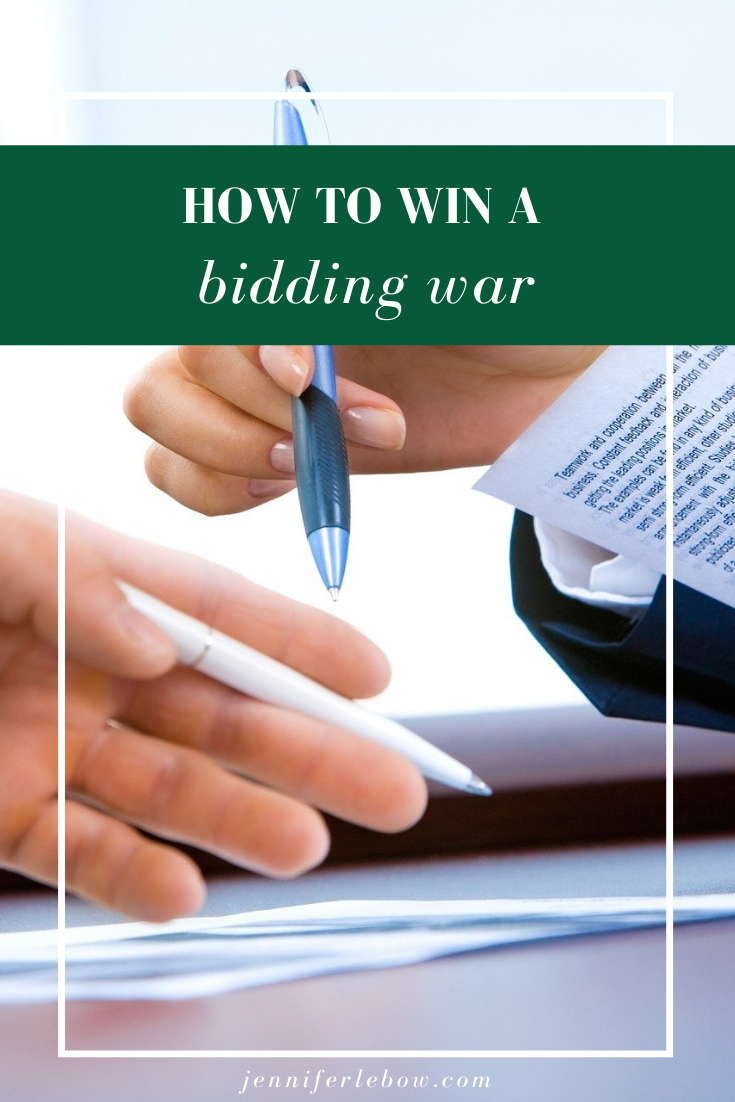 Competitive home buying market
Unless you've been living under a rock for the last couple of years (arguably, not a bad idea), you'll know that there is much more demand for houses than available listings. This imbalance has led to a common headache for buyers: the multiple bid situation. Sellers are smiling ear-to-ear, as they are inundated with strong offers, with terms designed to appeal to their preferences–waived inspections, cash deals with no appraisal contingencies, seller-designated settlement dates and more. Many buyers are discouraged and frustrated, understandably.
Be prepared
As obvious as it sounds, one of the simplest and most vital steps you can take to increase the likelihood of winning in a competitive bid climate is to have your ducks in a row. Sure, I'm talking about having your pre-approval in place. I also insist my clients have already filled out their Buyer Financial Information form. You'll need to make sure you have enough funds liquid to make your deposits. Click here for a list of suggestions to be well prepared.
Make your offer as strong as possible
Beyond those concrete tasks, your agent should be sure to explain the different ways you can strengthen your offer. Can you offer the seller a flexible settlement date? Some sellers put a premium on having some leeway with the exact settlement date. Do you understand the appraisal component of an offer and how your lender uses it? You might consider covering a certain amount of gap between the purchase price and a low appraisal, but be sure you understand your risk and the worst case scenario. Your agent should explain what an escalation clause is and how it is used (as well as the pros and cons of using one). What about absorbing a certain amount of inspection items and the different options you have to do that? Is there a scenario in which you might waive inspections altogether? You may have the ability to write an offer that is NOT contingent on a mortgage, even if you don't have enough cash to purchase it outright without a loan. Again, your agent should address all of these points and more.
Be prepared, part 2
All of the above topics should be discussed before you are bidding on a house. I have worked with a few clients who have terminated their relationships with other agents because they felt that they were not receiving the best possible advice/education in this highly competitive market. In some cases, buyers felt that they had not been apprised of all of their options. In others, they didn't fully understand them and there was no time to ask questions or make informed choices because their agents mentioned them as they were writing offers (which were due in mere hours).
Advocate for yourself
While I firmly believe it is your agent's job to educate you about anything and everything involving the home buying process (including the specifics of writing a compelling offer), don't be passive in this process. Ask questions. Be sure the answers are clear. Pose different scenarios so you are certain you understand. Also discuss how high you should bid. While, clearly, there will never be an exact answer to this question, you should consider how to arrive at your offer price. For more on this topic, click here.
Unfortunately, a common refrain among realtors regarding buyers they've had who have lost offers is "Sometimes they just have to lose a few to understand how aggressive they need to be." While I have said this myself, I understand that not all buyers CAN bid more than a certain amount or waive a mortgage contingency, etc. So it's important to recognize that you may be outbid because another buyer is simply in a stronger position and can (and did) write an offer that was superior. You can only put your best foot forward. Sometimes, someone else's foot is just better than yours. You can't change that, but you can and should do everything you can to make your offer as appealing to the seller as possible.
If you are relocating to the Philadelphia/Main Line area, please go to my blog page and search for posts using the relocation tag. Contact me to discuss your Philadelphia area relocation! jen@jenniferlebow.com/610 308-5973