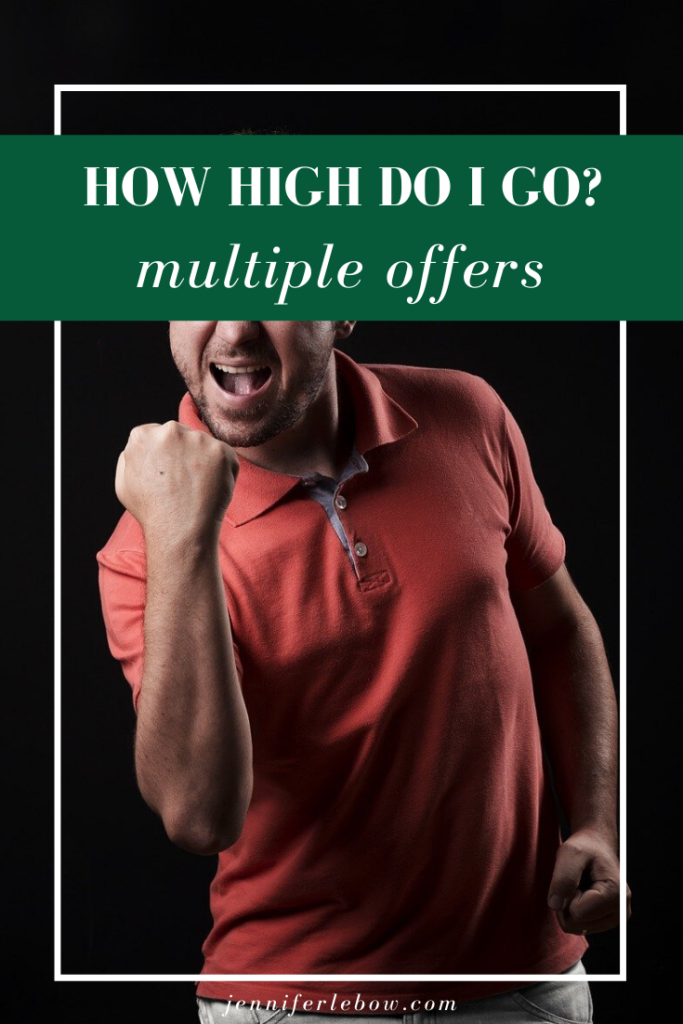 Buying a house in a seller's market
You've probably heard the expression "seller's market". It means that the housing market favors sellers because the demand for houses outstrips the amount of properties for sale. When you are buying in a seller's market (which currently describes Philadelphia's Main Line suburbs) you have to be willing to spend more and commit to making a strong offer faster than in a normalized market (where supply and demand is equal). Obviously, in a buyer's market, you can be choosy, take your time and often pay below list price.
Competitive bids/Bidding wars
When there is low housing inventory, the "good ones" tend to receive multiple bids as soon as they hit the market. Almost always, many of these offers are above the list price. How should you, as a potential buyer, decide how much to offer? Not surprisingly, the answer depends on a few factors. The main one is what you can afford. You, clearly, shouldn't offer more than you can spend. When I say "can spend', I'm talking both about the amount you are qualified for as far as a loan, but also what you feel comfortable affording on a monthly basis and for a down payment. Beyond what you can afford, you have to think about the appraisal. For more on how to write a competitive offer, click here.
(When a bank is providing a mortgage, they will only loan you a percentage of the property's appraised value. So offering high above the list price may land you in a situation where you are the winning bidder, but three weeks later have to terminate the contract because the appraisal is too low for you to afford the purchase. For example. if you put a house under contract for $700,000 and are planning on an 80% loan, that means you're expecting the mortgage to be $560,000 and the balance of $140,000 to be your cash contribution. If the property appraises at $670,00, the bank will now only loan you 80% of that number ($536,000). In order to honor your $700,000 price, you now need to find an extra $24,000 in cash. If you are not prepared to do that, the deal may fall through.)
So how high do I go?
Either you are willing to waive the appraisal contingency (and guarantee the seller the amount on the contract, regardless of appraisal) or not waive it and understand that, in the event of a low appraisal, you may have to find that "extra cash" to prevent the transaction from falling apart. Once you've figured out all of that, you need to decide how high you will go to get the house. Remember, we are talking about being in a multiple bid situation, where the seller is not going to negotiate with each buyer, but, rather, will ask for everyone's "highest and best" offer. You get one shot at it.
So how do you pinpoint that magic number? Here's how I always explain it to my buyers:
Let's assume you put your offer in and I call you the next day to tell you that someone outbid you. And let's assume that, somehow, I was able to tell you in that moment what the winning bid was (which almost never happens). If you would say, "Oh no! Seriously? I would have paid that!" then your offer was not your highest. At what number would the response to that same message become "Oh no! We really wanted the house, but you know what? If we'd gotten it, but had had to pay that much, I think I would have had buyer's remorse".
The number at which the buyer's response shifts to the latter one is the one that should be your highest bid.
Highest and BEST?
Note: If you look back a couple paragraphs, you'll notice the description of the final competitive offers as "highest and best". "Highest" refers to the price, but what about "best"? There are a lot of other terms, like settlement date, deposit amount, loan specifics, etc. that can sway a seller. Sometimes it's not the highest offer that gets the house. There are several ways you can make your offer more appealing to a seller beyond price but I don't really want to publish them for public consumption. Trade secrets…you know? . I'd be happy to talk more about them with anyone who contacts me directly, though! 610 308-5973, jen@jenniferlebow.com