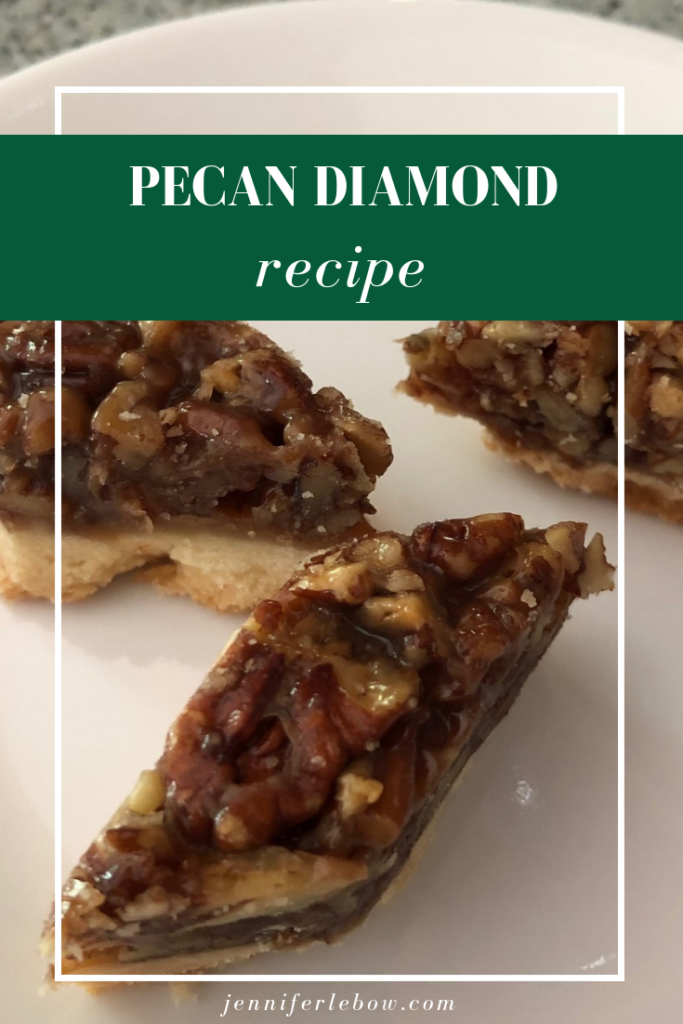 Jen LeBow's Pecan Diamonds
Preheat to 325° and line a 9 x 13 pan with sprayed aluminum foil. Make sure there's foil hanging over the ends; you'll want to be able to use it to lift the entire thing out once it has baked and cooled.
Crust
In food processor,combine just until crumbly:
1 ¾ cups flour
2/3 cup powdered sugar
2 ½ T corn starch
½ t salt
¾ cup cold butter (1 ½ sticks), cut into ½" pieces
Press mixture into sprayed, foiled pan.
Bake 22 minutes. Set aside.
Pecan filling
In 4 quart pot over medium high heat, combine:
1 ¼ cups brown sugar, packed
½ cup light corn syrup
¼ cup (½ a stick) butter
Let it begin to bubble, then boil 1 minute.
Add and combine:
4 cups coarsely chopped pecans
½ cup heavy cream
2 t vanilla
Boil 3 minutes, or until mixture begins to thicken.
Pour into pre-baked crust and bake at 325° for 25 minutes or until candy is bubbling.
Cool completely (you can refrigerate) before cutting.
To cut into diamond shapes
Use the foil overhangs to remove the contents of the pan and place on large cutting board.
Cut parallel to the long edge about an inch apart. Then cut on an angle from the other direction (you're really making pecan parallelograms!)