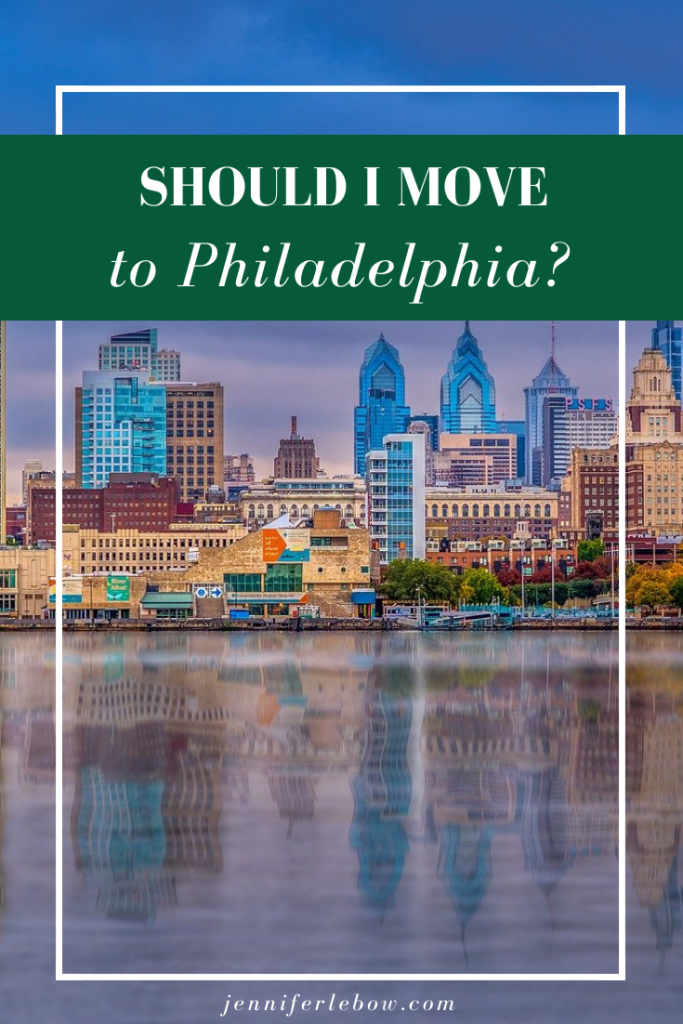 Should I move to the Philadelphia metro region?
It depends. (What? you thought you were gonna get a "yes"or "no" answer?) Relocating to a new area is never easy and the decision to do so hinges on lots of different factors. Job, family, access to airports/location near where you want to go, commute, schools, cost of living, lifestyle (outdoors, cultural institutions, sports teams), climate…etc. Then, of course, there's the ever-elusive and hard to define "vibe" though that is usually more neighborhood specific and few metro areas have a consistent feel to them, so we can leave that for another discussion about individual communities in the Philadelphia area. For more on which neighborhoods might be a good fit, click here, here and here.
Why are you considering moving to Philadelphia?
Usually, there's a catalyst for a move. Unhappy with your job? Dissatistifed with your kids' school options? Want to be closer to family? So, first of all, you'll want to investigate whether the Philadelphia area offers solutions to those problems. On the flip side, you should also consider what "good things" you might be leaving behind and whether this area can either provide the same ones or ones of equal value to you. Thinking about what you want to leave behind and what you want to make sure is available in your new home can become overwhelming. I recommend making a list titled "What is important to me". Then list the things in both categories.
What is important to me?
Disclaimer: no list will have every important feature on it and the following one is sure to be incomplete. Please use it as a jumping off point–you can add and subtract as appropriate.
Climate (yeah, gonna start with the easy stuff)
Philadelphia has four distinct seasons, which is, in my opinion its best characteristic when it comes to climate. While summer has reasonably high humidity, it's not as bad as Washington, D.C. or Florida! Fall here is spectacular in terms of beautiful foliage and crisp, clear days interspersed with some rainy or overcast ones. (I maintain that you have much greater appreciation for great weather when you don't have it everyday and, honestly, a cold rainy day is a perfect excuse to bake cookies or even clean out closets). Winter does bring some snow–usually not enough to prevent people from getting to work or school more than a couple of times a season. Personally, I love to watch it fall and sitting by a fire during a snowfall is one of my favorite things to do. It doesn't get too awfully cold (under 20 degrees) more than a few days a year. Spring does see a good amount of rain, but Philadelphia is home to lots of flowering trees and they are a stunning and welcome sight after a winter of bare trees.
Location
Location, in my mind, means access to where you want to go. Philadelphia is about two hours from NYC and about three from Washington. It takes under two hours to reach the mountains or the beach. We have a very large airport with lots of both domestic and international flights. Amtrak is easily accessible and bus service to major (and not so major cities) is, as well. I figure a note on the physical landscape would not be out of place here: outside of the city, you will find gently rolling hills, lots of trees, many streams and rivers and very few straight or flat vistas.
Schools
The suburbs of Philadelphia boast some of the most highly rated schools not only in the state, but in the nation as well. There is also a tremendous number of private and charter school options available as well as numerous schools offering specialized approaches. Definitely "something for everyone" as the saying goes. School rankings can be difficult to interpret; feel free to contact me for more information.
Jobs
Obviously, there's no way for me to tell you what your individual job prospects are in Philadelphia. According to Wikipedia, "Philadelphia's economic sectors include higher education, manufacturing, oil refining, food processing, health care and biotechnology, telecommunications, tourism and financial services". There is a wage tax if you work or live within the city limits of Philadelphia, so be aware of that. It's around 4% (a bit less if you live but don't work there).
Cost of living
Compared with other cities on the eastern seaboard, Philadelphia has one of the lowest costs of living–lower than Boston, NYC and Washington, D.C. Housing is more affordable. Because of the BYOB phenomenon here, eating out is less expensive as well. Real estate taxes vary–they are lower in the city than outside the city limits, in general. After that, each township is a little different. As a generalization, they are higher in Delaware County than Montgomery and Chester County is usually a bit lower than Montgomery.
Philadelphia's Backdrop
Philadelphia is a large city and is similar to many others as far as public transportation, lots of restaurants, plenty of retail (including the King of Prussia Mall, with more stores than even Mall of America!). Because of the large population (it's the 6th largest metro area in the country), we host many concerts, festivals and other events year-round, so there is always something to see or do. If you're a sports fan, between the Eagles, Phillies, 76ers and Flyers as well as the Union soccer team, we got you covered.
So, sure, Philadelphia is similar to many large cities. But what features create its unique personality? Well, there is the historic aspect of the city and the municipality takes great pride in showcasing and maintaining the historical sites. All over Philadelphia, you will see evidence of its place in American history. It is a place of many "firsts" (first hospital, first pubic library, etc.) and the city has a very stable feel. Interestingly, the population is overwhelmingly (compared with other large cities) comprised of native Philadelphians. It is not a transient city. (Of course, that doesn't mean there are no transplants or that they are unwelcome!)
Philadelphia is home to a large number of colleges which brings new ideas and progressive thought to this old city–a nice mixture. We also boast the highest concentration of hospitals anywhere. So medical care is unparalleled, which is an important consideration to some relocators. If cultural institutions like museums and theater are on your list, we have an unbelievably wide array of offerings. Art has a special place in Philadelphia culture; this city is where mural arts began, and there are murals and mosaic scattered all around the city. Food is a big deal here, with lots of signature creations like scrapple, cheesesteaks, water ice and the soft pretzel. From Reading Terminal Market to the Italian Market, food is front and center in Philadelphia. So many features contribute to the uniqueness of Philadelphia that I clearly can't include them all, but hope that I've imparted the "flavor".
If you are relocating to the Philadelphia/Main Line area, please go to my blog page and search for posts using the relocation tag. Contact me to discuss your Philadelphia area relocation! jen@jenniferlebow.com/610 308-5973