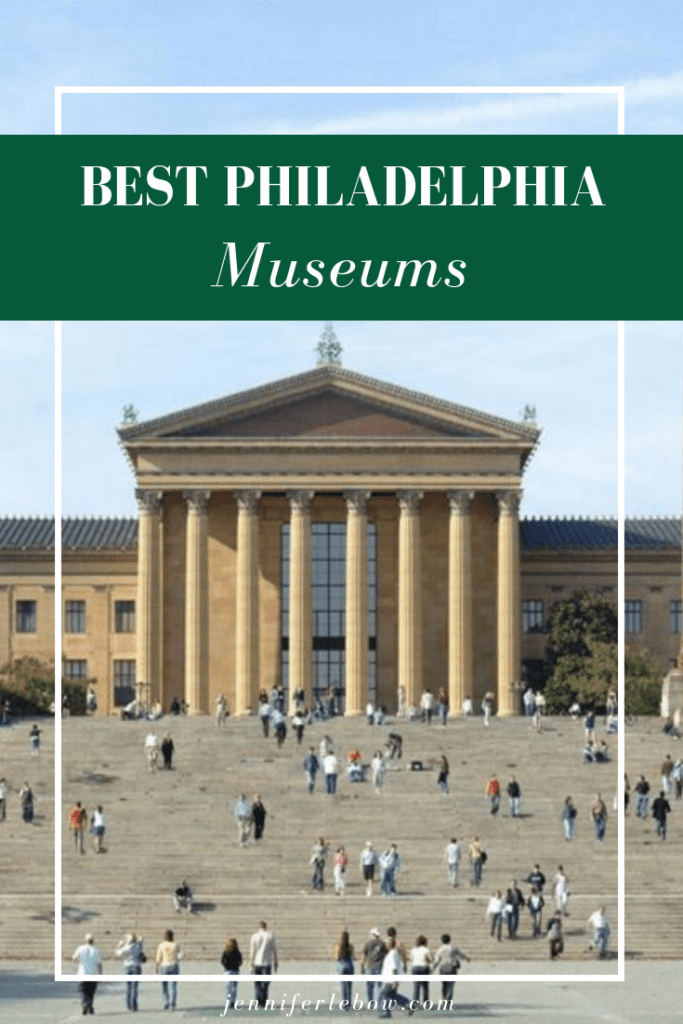 It can be challenging to find the best museums in and around Philadelphia since there are so many. We have some wonderful art museums, several museums that celebrate our country's history, much of which took place in Philadelphia, and some that are focused on very particular or unusual collections or experiences. This is not an exhaustive list, but it does contain the majority of the larger museums in the area.
Art and Artifact Museums
The Philadelphia Museum of Art (home of the "Rocky steps") is one of most visited art museums in the world and is an incredible building in its own right.
The Rodin Museum houses the largest collection of Rodin sculpture outside of France.
The Barnes Foundation was the private collection of Albert Barnes and consists mostly of impressionist, post-impressionist and modernist paintings. All the paintings are displayed within the strict arrangements Barnes mandated.
Pennsylvania Academy of Fine Arts is the oldest art school in the country and is contained within a spectacular Frank Furness building on Broad Street.
Woodmere Art Museum in Chestnut Hill is a mansion on beautiful grounds that collector Charles Knox Smith purchased in order to display his collection.
Brandywine Museum of Art occupies a lovely setting and features a large collection of Wyeth paintings.
Michener Art Museum celebrates Bucks County artists and is a local favorite. Native James Michener, a lifetime supporter of the arts, had wanted to open an art museum since the 1960s and was happy to lend his name to the establishment.
Rosenbach Museum specializes in rare books and manuscripts and is houses in two beautifully maintained period Philadelphia townhouses.
University Of Pennsylvania Museum is one of the oldest archaeological museums in the country. It occupies an architecturally significant building located across from Franklin Field, where the Army-Navy football game is played.
Mercer Musuem in Doylestown is not your average museum. Henry Mercer built a state-of-the-art (at the time) building to showcase his collections of Americana before the industrial age erased them from memory. He designed rooms intended to replicate (for example) what a blacksmith's shop, apothecary or dairy barn would have looked like.
Wharton Esherick Museum in Malvern is the preserved home and workshop of this gifted and untraditional wood artist and sculptor. It is small, but so unusual, it's worth the trip.
Historical Museums
Independence National Historic Park and the National Constitution Center are the start of a great history lesson in the city of many of our country's "firsts" happened. Created to be very walkable, this set of buildings and the historically-garbed interpreters make the past come alive.
Museum of the American Revolution is the only museum dedicated to preserving and explaining the history of the birth of the United States as an independent nation.
African American Museum of Philadelphia is dedicated to sharing the life and work of African Americans in this country. It was the first institution of African American heritage to be built by a major city and is located in the historic district near Independence National Historic Park.
National Museum of Jewish History seeks to share the culture and heritage of Jews in America. It strives to educate both Jews and non-Jews about the Jewish-American experience.
Science Museums
Franklin Institute is a wonderful, hands-on science museum in a beautiful building on the Benjamin Franklin Parkway.  It offers great electricity exhibit, Sir Isaacs's Loft, the Sports Zone, the Fels Planetarium and much more, but it's the giant heart that will always be the most loved exhibit.
Academy of Natural Sciences, owned by Drexel University, is focused on education and research of bio diversity and environmental science.  Visitors can see live butterflies as well as replicas of dinosaurs and many animals in between.
Philadelphia Insectarium and Butterfly Pavilion is located north east of the city in an area where you might not expect to find a 7,000 sq. ft. area dedicated to butterflies. There are also two floors of museum space teaching about and celebrating the world of insects
Specialty Museums
Please Touch Museum is a museum created for children which encourages learning through experience. The supermarket is always a popular attraction as are the water play area (called River Adventures), Alice's Wonderland and Imagination Playground. The Please Touch Museum is houses in Memorial Hall, built for the 1876 World's Fair and the lower level has a scale model of the buildings at the fair with information about the exhibits.
Simeone Foundation Automotive Museum is a (previously private) collection of antique and rare racing cars. Each car's history and significance is detailed in a placard next to it. A must-see for a racing enthusiast.
American Helicopter Museum, located in West Chester, is about an hour west of Philadelphia, but if you are a fan of rotary winged aircraft, it's worth the trip.
Eastern State Penitentiary was the most expensive public building ever erected in America at the time of its completion. It was a testament to prison reform stressing rehabilitation vs. punishment and its architecture was intentionally designed to promote penance. It is most visited during October when Terror Behind the Walls brings Halloween ghoulishness to a new level with a haunted house experience unrivaled anywhere.
Mutter Museum might be your favorite if the macabre fascinates you. This institution, owned by the American College of Physicians, is a collection of medical history. It features some of the oddest, most disturbing anatomical specimens, historical medical equipment and even Einstein's brain! It is not for the faint of heart.
Mummer's Museum is an unapologetically Philadelphian institution. It is the repository for the costumes that are worn in the annual Mummer's Parade, the oldest continuous folk parade in the country. These costumes can take nearly a year to create and are on display alongside information about history of the parade.
This list is by no means complete, but I hope it's a good start! If there are museums you think I should add, please just drop me a note at jen@jenniferlebow.com.
If you are relocating to the Philadelphia/Main Line area, please go to my relocation tab.  If you'd like to read other blog entries related to relocation, please scroll down a couple of lines and click on RELOCATION (to the right of FILED UNDER). Thanks!