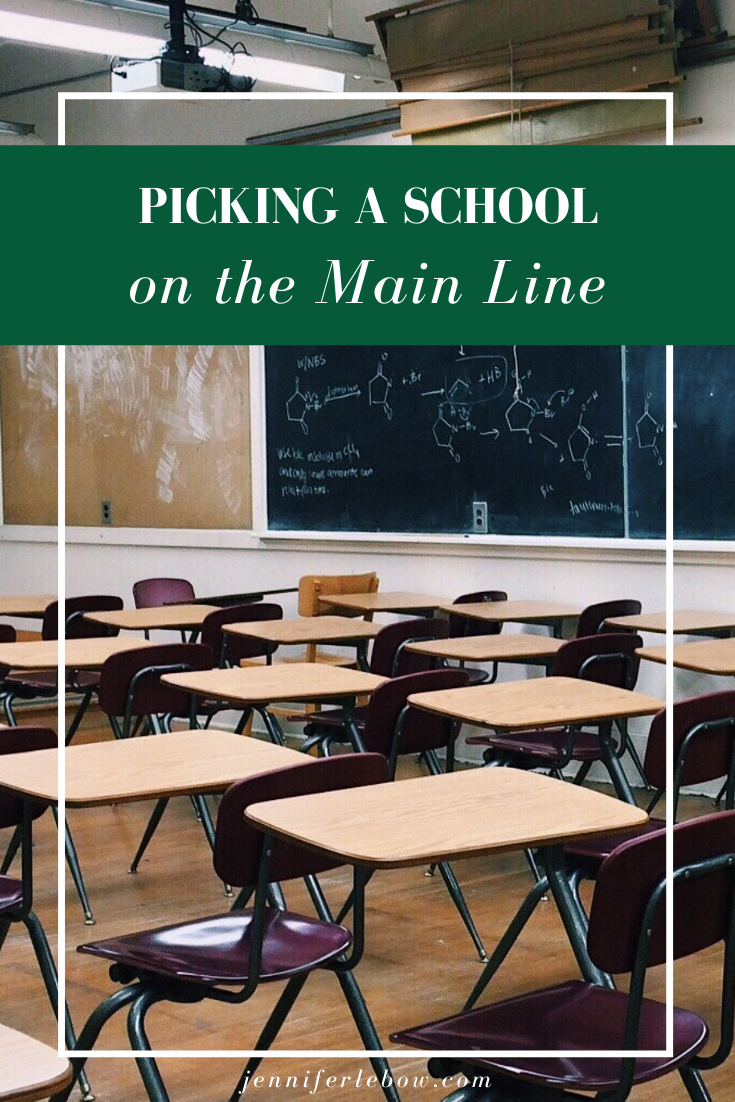 Main Line Philadelphia school rankings
If you are considering relocating to Philadelphia's Main Line and you have children who will be attending school, you are in luck. Why do I say that? Because the Philadelphia suburbs has several very highly rated school districts. That said, it's important to understand how these rankings are determined. There are several different website that rate schools (with some only rating public schools and others examining private schools as well). Greatschools.org uses a 1-10 system and focuses most on four weighted categories: student progress, equity, college readiness and test scores. For more, click here. Schooldigger.com uses only state test scores. Niche.com uses an A-D grading system based on data in addition to less quantitative information like student and parent reviews. Click here to learn more. There are other ranking websites, including publicschoolreview.com and US News and World Report.
Local school options
On the Main Line, you have choices. There are public schools, parochial schools and a large number of independent schools. For specific information and website links, click here. Also, you should educate yourself (or call me and I'll explain it to you!) how school district boundaries work in this area. Unlike in many other regions, you cannot assume that two people living in the same town, with the same zip code, will be districted to the same schools. Click here to learn more and here to see which towns are districted to which schools.
How to choose a good school
Define good
First, recognize that low ranked schools still boast students who perform well academically as well as in sports/arts/music, etc. Similarly, high ranked schools have their share of unhappy and underperforming students. The point is that, while the school's curriculum, teachers, programs, extra-curriculars and test scores certainly contribute to student experience, other factors influence it as well. The child's individual personality, background, family emphasis on education, all matter, too.
So how do you choose a school that will be a good fit for your child? I'd recommend making a list of the attributes that matter most to you. Maybe it's college readiness, measured by SAT/ACT scores. Maybe it's class size, diversity, music education. It could be variety of course options or level of support services. Whatever is most important to your child's success should be your focus.
Do the research
To get the most accurate idea of how different schools you are considering measure up, you'll need to do two things. The first is to speak to someone at each of the schools and ask them about the things concerning you. Request to be shown (in person or through data) any corroborating evidence; school representatives are likely to paint a very rosy picture of their schools and may not portray a realistic version. Second, see if you can talk to any parents. One way to connect to local parents is to search Facebook for parent groups in the communities you are considering. Simply pose your questions as straightforwardly as possible. You'll be pleasantly surprised at the responsiveness. (Note: virtually meeting some of these people is a great way to develop a bit of a network/friend group ahead of your arrival.)
Keep your perspective
Remember, as I mentioned above, a school ranking does not guarantee a certain level of performance or happiness. So don't approach your school search as a way to define the "right" or "best" school. In all likelihood. there are several schools on the Main Line that would be a good fit for your child. Remember, too, that, no matter which school you choose, there will be days your student has a bad day. A tedious assignment, a poor grade on a test, a soccer game loss, an art project that did not come out well–these are all parts of life. They are not only character-building, but unavoidable, regardless of the specific school. So definitely do your due diligence, but remember there is no single right choice. For more (with some overlap) on the topic of choosing a school on the Main Line, click here and here. For additional information on school district boundaries, click here and here. To see an interactive Main Line school district boundary map, click here.
If you are relocating to the Philadelphia/Main Line area, please go to my blog page and search for posts using the relocation tag. Contact me to discuss your Philadelphia area relocation! jen@jenniferlebow.com/610 308-5973