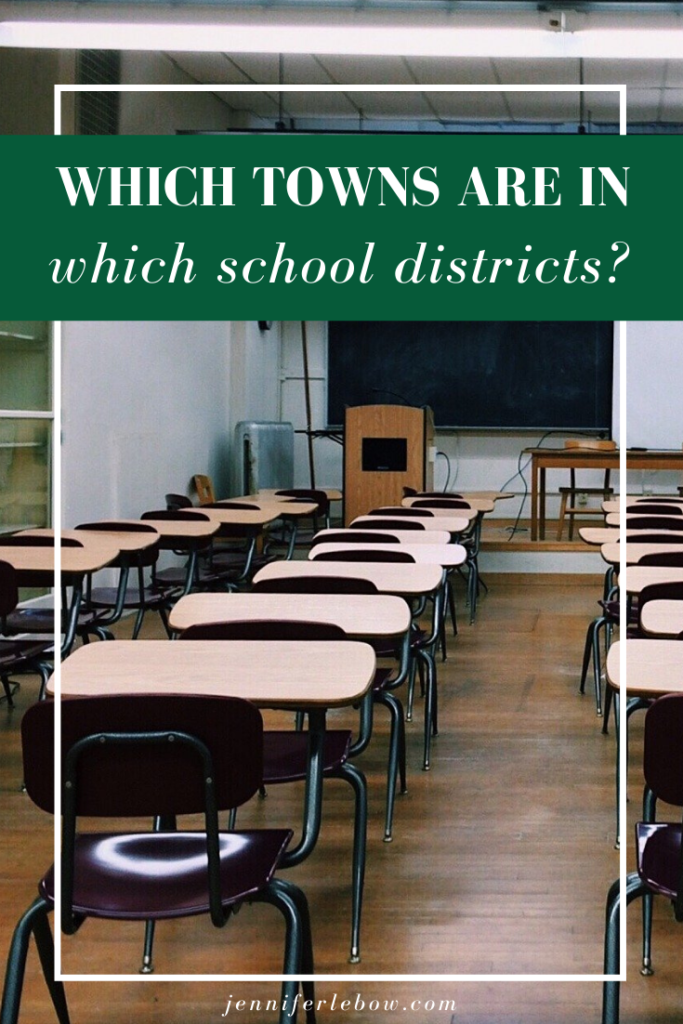 How are school districts determined?
So you want a quick answer to which Main Line towns go to which school districts. Seems like a simple question, right? Maybe it is. But I assure you, it's not a simple answer. The first thing to understand is that, in Pennsylvania, it's the township you live in that determines your school district. There could be many different schools within a single township, but they are all part of the same school district. For example, in Lower Merion Township, there are six elementary schools, two middle schools (with a new, third one, being built) and two high schools. All of those schools are Lower Merion School District Schools. With me so far? Ok, here comes the tricky party.
How do I know which towns go to which schools?
Well, see, here's the thing. In many cases, a single town may be divided into different school district areas. Here's an example. The town of Bryn Mawr straddles two different counties (see how complicated this is?). Townships are completely contained within counties. However, there are multiple school districts within a single county. All of the Montgomery County properties in Bryn Mawr fall in Lower Merion Township and, therefore, are districted to Lower Merion School District. The southern portion of Bryn Mawr is in Delaware County, but not in only one township. Some of the Delaware County section of Bryn Mawr is in Radnor Township and some of it is in Haverford Township. As a result, that first group goes to Radnor School District schools while the second attends Haverford School District. So, how can you tell which area a given property falls in? By looking at the school boundary maps or the public record (or real estate listings). If you are not certain, don't guess. Ask your real estate agent or look it up.
Does school district matter that much?
Yes. School district is a huge determinant of home values on the Main Line. While we have some of the very top ranking districts in the state, we also have some that are ranked slightly lower and others a little lower still. Other than rankings, there are other considerations which might push you toward or away from a specific school district like diversity of student population, AP course offerings, class/school size, emphasis on sports, STEM opportunities, support programs, availability of art or music offerings, etc. So it's vital that you know which school district a property is in if you are considering buying a house on Philadelphia's Main Line.
Town and School District pairings
While I fear this list may just further muddy the waters, I've been asked so many times to provide it, that I'm going to. The name of the town is on the left and all of the school districts that serve ANY portion of that town are on the right. The school district a property is assigned to is directly tied to the township it lies in. There is no option to attend a different school district than the one your property is assigned to. (Please note: this list is not exhaustive as there are no strict boundaries for what comprises the Main Line. Some of the towns toward the end of this list are not always considered Main Line communities, but they are certainly adjacent and many relocating buyers choose to purchase in these areas, so I am including them.)
TOWN                          SCHOOL DISTRICT(S)
Bala Cynwyd:               Lower Merion
Merion:                        Lower Merion
Penn Valley:                 Lower Merion
Narberth:                     Lower Merion
Gladwyne:                   Lower Merion
Wynnewood:               Lower Merion, Haverford (a very small percentage of properties)
Ardmore:                    Lower Merion, Haverford
Haverford :                 Lower Merion, Haverford (Yes, just to confuse you, Haverford is a town and is also a Township,  but not all of Haverford is in Haverford Township.)
Bryn Mawr:                 Lower Merion, Haverford, Radnor
Villanova:                   Lower Merion, Radnor
Wayne:                       Radnor Township, Tredyffrin-Easttown, Upper Merion
Berwyn:                      Tredyffrin-Easttown
Devon:                       Tredyffrin-Easttown
Paoli:                          Tredyffrin-Easttown
Malvern:                     Tredyffrin-Easttown, Great Valley
Havertown:                 Haverford
Newtown Square:       Marple Newtown, Radnor, Great Valley Rose Tree Media
Media:                        Rose Tree Media, Marple Newtown, Wallingford-Swarthmore
Wallingford:               Wallingford-Swarthmore
Swarthmore:              Wallingford-Swarthmore
For more on school district boundaries, click here. To learn more about how to choose a good fit for your child(ren), click here, here and here. For an interactive Main Line school district boundary map, click here.
Contact me if you'd like to talk about your relocation! 610 308-5973, jen@jenniferlebow.com.
If you are relocating to the Philadelphia/Main Line area, please go to my blog page and search for posts using the relocation tag. Contact me to discuss your Philadelphia area relocation! jen@jenniferlebow.com/610 308-5973